Revolutionary MultiPad adds setlists, improved navigation/loading times and enhanced hi-hat playback versatility to its already standard-setting roster of unmatched features.
Cumberland, RI USA (November 5, 2019)—Alesis (alesis.com), the world's leading manufacturer of electronic drums, today announced feature update v1.2 for their Strike MultiPad electronic drum instrument. Since its introduction at NAMM in January 2019, the Strike MultiPad has established an industry-leading reputation as an incredibly capable and versatile instrument that far surpasses the performance and creative potential of any previous electronic drum pad. Never before has such sheer percussive power been built into a single unit or been so easy to play.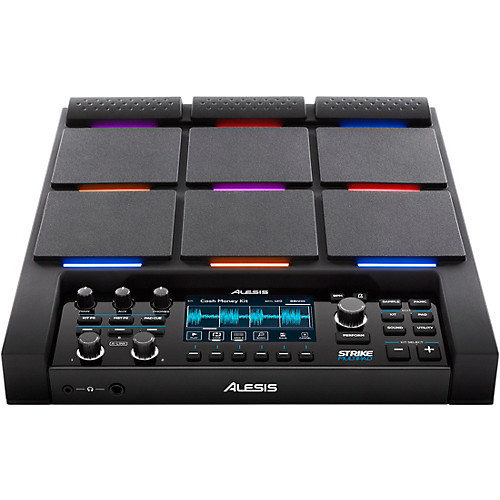 Now, with feature update v1.2, the Alesis Strike MultiPad lengthens its lead over all other electronic multipads.
Specifically feature update v1.2 offers these enhancements:

• Setlists: Users can now save and arrange custom Setlists of any Preset or User Kits. Setlists can be edited from the Kit Menu by pressing F6-Setlist. See the full Strike MultiPad User Guide for more information.
• Improved Kit Navigation and Loading Times: Users can now use the Main Encoder to browse kits without loading them in the Perform and Kit menus. While the kit name is flashing, press the Main Encoder to load the kit.2
• Hi-Hat Playback Mode: Assign open and closed sounds to a single pad for quick and easy hi-hat pedal setup.
• Footswitch Playback Mode: Switch between Wave A and Wave B of a pad with the click of a footswitch.
• Quick Wave Copy: In the Sound menu, press and hold the F1-Wave button to copy a sound from one wave to the other
Strike MultiPad feature update v1.2 is available now as a free download at www.StrikeMultipad.com.