Category

Value

Rating

Features

35%

Usability

35%

Sound

n/a

n/a

Documentation & Support

10%

Price

20%

OVERALL RATING = 3.7 Stars, which earns it a WIHO Award!


3.6 stars or better: Outstanding, WIHO Award




3 stars or better: Worth considering




2 stars or better: Suited to specific needs




1 star or less: Not recommended

German pro audio manufacturer RME has stood the test of time by consistently delivering top-shelf, highly versatile audio gear accompanied by what are generally regarded as the most reliable software drivers available anywhere for both Windows and Mac OS; all of the key elements needed to attain levels of quality that the professional studio demands.
Released back in 2012, the long-standing powerhouse HDSPe MADI FX internal PCI card continues to deliver exceptional performance, and is still a highly viable centerpiece from which the most elaborate and advanced studio setups can be built upon.  Whether you're building a commercial facility or a professional project studio, the HDSPe MADI FX will provide you with that all-important foundation for exceptional computer-based audio production.
Features

The first thing to consider and keep in mind about the HDSPe MADI FX is that it is not an actual analog audio interface per se, but rather, it can be thought of as a centralized digital audio "hub," providing all of the necessary connections to accommodate high channel counts from outboard A/D/A interfaces, as well as control many of these devices via the included TotalMix FX software, which is an extremely powerful software-based interface mixer.  This card is capable of supporting relatively complex audio setups and solutions, both live and in the studio, and it provides plenty of expandability as your requirements evolve.
At first glance, the hardware-based features provided by the HDSPe MADI FX may seem scant, due to having only a single analog output (a 1/4" TRS phones jack).  No, there are no analog audio inputs on this card!  However, the goal of this device is not to provide an all-in-one "prosumer" audio interface solution, but rather, the opportunity to expand its capability far beyond that of typical audio interfaces by implementing modern connection formats that utilize the highest I/O channel counts.
The RME HDSPe MADI FX card, with all of its digital connections fully utilized, can route up to a staggering 192 input and 192 output digital channels (at up to 48kHz, 384 in total) simultaneously. For higher sample rates, the channel count decreases to 96/96 I/O channels at 96kHz sampling rate, and 48/48 I/O channels at 192 kHz sampling rate.
TotalMix FX
On the topic of TotalMix FX, due to its large feature set and sheer power, we will not be reviewing it here, as that would end up being an in-depth review in of itself.  However, we will mention how the HDSPe MADI FX takes advantage of some of its powerful features.  You may be wondering, for example, how you could keep track of so many channels in TotalMix, but the engineers at RME have carefully thought this through by implementing a number of convenience features including a "channel hiding" scheme, which keeps unused channels from getting in the way and otherwise making the relevant channels more difficult to notice.  Also, for the sake of performance, these hidden channels are essentially disconnected from the card's onboard processing chips in an effort to keep the mixer as responsive as possible.  No stones were left unturned.
One notable and welcome feature in TotalMix FX, especially in the case of interfacing to a large number of outboard devices with the HDSPe MADI FX, is the ability to fully control most, if not all of the parameters of many RME devices from within TotalMix itself. This may not seem like anything new when working with most other competitors' mixing interfaces, but RME goes further by making these features dynamic in nature.  In other words, the TotalMix interface will change its functionality based on how it's set up with other connected RME devices.
For example, when connecting one or more RME XTC 8-channel preamps to the HDSPe MADI FX, then configuring TotalMix FX to control these devices, the TotalMix interface will change both visually and in functionality to accommodate the control of these particular parameters; in this case, control of phantom power, gain level, padding, and "Autoset," a feature of the XTC preamp that keeps tabs on actual input level and adjusts the input gain accordingly to compensate.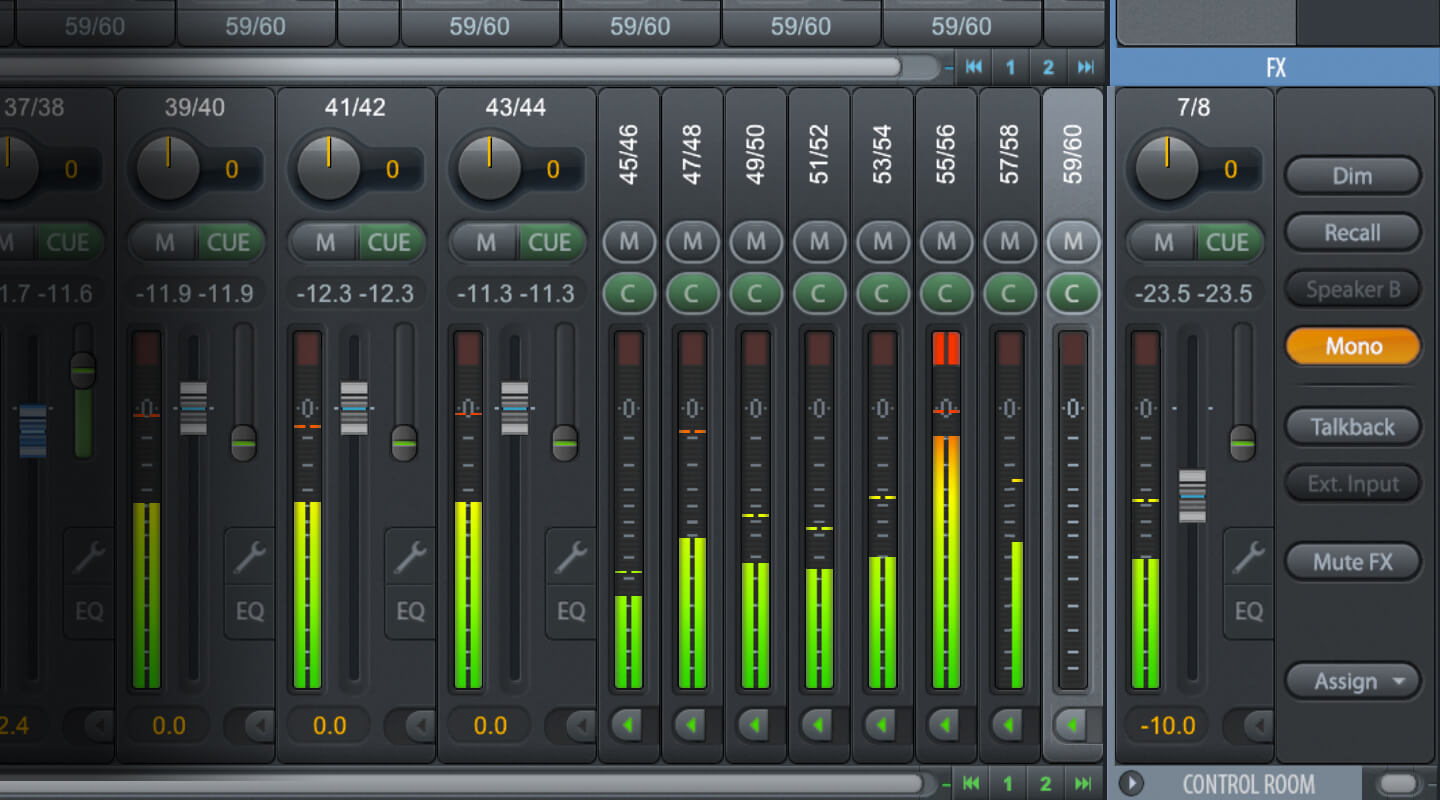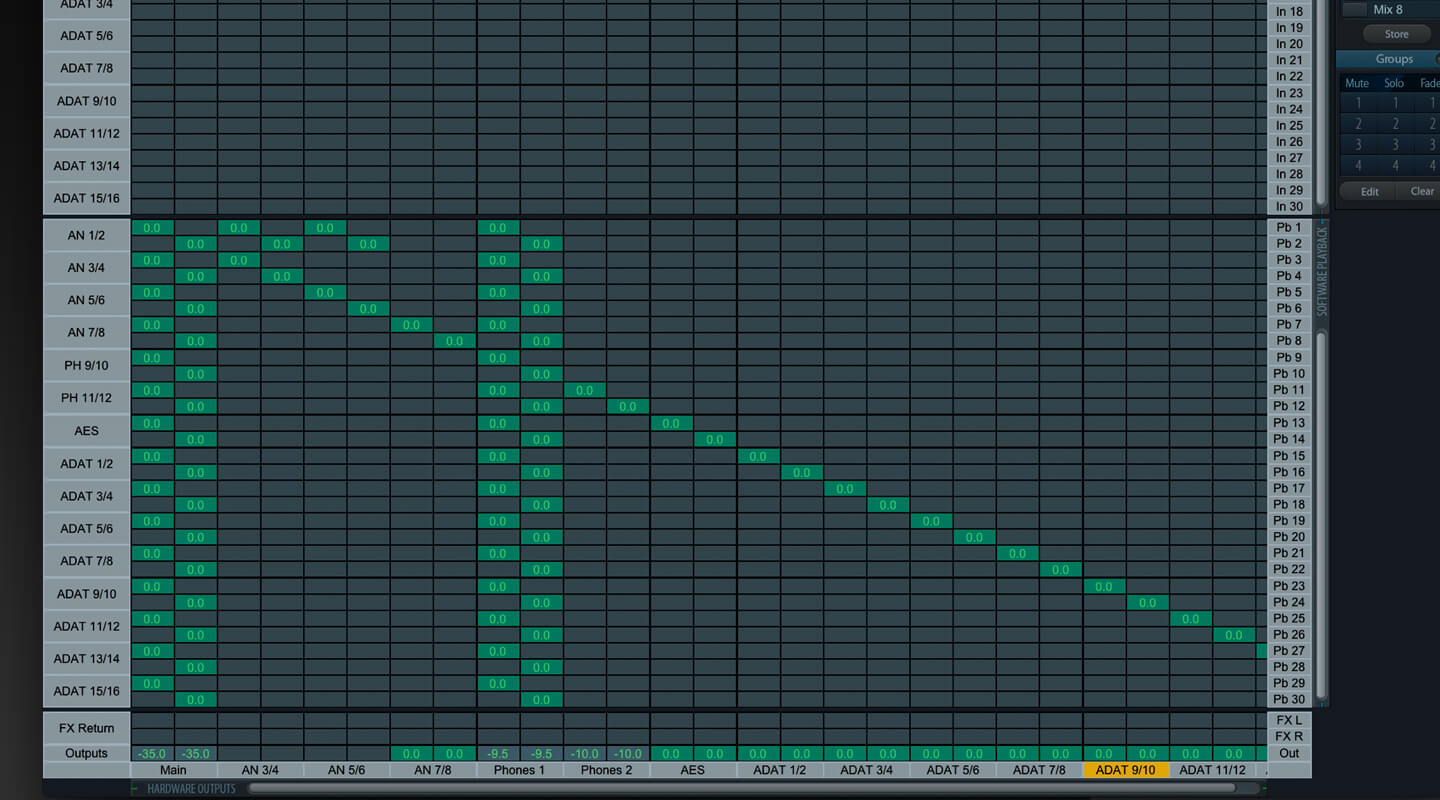 Note that the control of RME devices is handled utilizing MIDI messages, either through standard MIDI cables or "MIDI over MADI," which is the preferred method if the device being controlled supports it.  This negates the requirement of using MIDI cables for the sole purpose of controlling the device, and there is no performance penalty running MIDI signals over MADI cables.  Before receiving the HDSPe MADI FX for review, we were controlling our XTC preamp through MIDI cables from an RME UFX interface, but very much welcomed the tidiness of running both the audio and MIDI through MADI cables only.  Furthermore, MADI supports much longer distances as well, which brings us to our next topic:
Outboard Gear Interfacing
Based on the name, it should come as no surprise that the HDSPe MADI FX is thoroughly equipped with ample MADI I/O: (2) optical and (1) coaxial in total. These connectors facilitate the bulk of digital input and output channels, not including the remaining 2-channel AES/EBU I/O via a 9-pin RS-232 connector and included XLR input/output breakout adapter cable. Also available is an alternative daughter card, the OPTO-X, which replaces the single coaxial MADI I/O with an optical version, bringing the total MADI optical I/O count to 3, should the user desire this option instead. Note that the HDSPe MADI FX comes as two separate cards, and that the daughter card is not required if the additional MADI connection on this card is not needed, freeing up a PCI slot on the motherboard, even though this daughter card does not utilize the PCI slot itself to transfer data.
In addition to the above audio I/O, the HDSPe MADI FX is also equipped with one external MIDI I/O (and three internal virtual MIDI I/O ports, one for each MADI I/O).  These connections are accessible via the same RS-232 connector and breakout cable mentioned above.  This of course allows the integration of physically larger connection types that are otherwise much too large to fit on the I/O panel of a PCI card.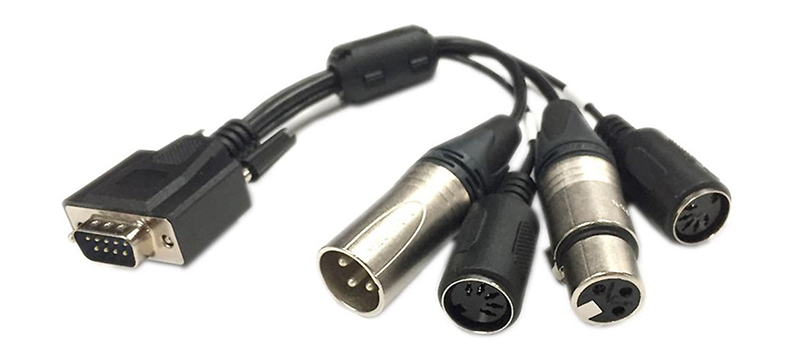 Next up are the coaxial word clock input and output connectors, however keep in mind that this is not the only method of synching to or from word clock sources; MADI and the AES/EBU formats may be utilized for synchronization to other devices as well.
Finally, the remaining and only analog connection is strictly a stereo ¼" TRS output, suitable for headphone monitoring, but may be configured as a line-level output as well.
Usability
We will refer to usability, in this case, as ultimate or potential usability, rather than initial usability, simply because the HDSPe MADI FX is not meant to be an all-in-one solution right out of the box.
As with other RME software and drivers, installation was a snap, and we were up and running very quickly.  We went straight to the Drivers and Downloads section of the RME website to obtain the latest of everything we needed.
In order to fully utilize the HDSPe MADI FX card, you will want to interface it with compatible outboard A/D and D/A conversion, for example.  In our studio, we currently have two other pieces of RME gear:  The original UFX audio interface and OctaMic XTC preamp.  Our UFX is an older version, and therefore we cannot access all of its I/O through the MADI FX due to our UFX lacking a MADI I/O connection.  Therefore, we only tested the MADI FX card with our XTC preamp.  For users that have other RME interfaces that are fully compatible, the preferred method is to use the MADI FX as the ASIO device in your DAW, and then establishing all I/O connections from other RME devices to the MADI FX card.
We were curious to see if we could run both the MADI FX card and the UFX in tandem, using two different TotalMix FX instances, and we quickly found out that this is not a problem at all.  This was achieved by clicking File -> New TotalMix Window in the currently running instance of TotalMix.  Then we were prompted as to which device we wanted the new TotalMix window to be associated with.  In our case, we had two options: "Fireface UFX(1)" and "HDSPe MADI FX(1)."  Our original TotalMix window was currently associated with our UFX device connected via USB.  So, naturally we chose the second option, and an additional TotalMix window appeared, which was visually different from the original one; many more channels were visible via horizontal scroll bars for that MADI FX TotalMix window, which was expected.
If you are familiar with other RME devices like the UFX, you may notice that the buffer options are slightly different.  With our UFX, the lowest buffer setting is 48 samples, and with the HDSPe MADI FX, the lowest setting is 32 samples, which mirrors RME's claim of achieving this low latency figure, due to the card's ability to access the PCI bus directly.  This was a feature that piqued our interest early on, as we were not able to get anywhere near this low of a latency figure without stuttering and crackling in our DAW during heavy loads while recording with the UFX. We are happy to report that the performance in this area is markedly better compared to our UFX over a USB connection.  In some cases, we were able to achieve 32-sample latency on our custom PC, free and clear of any side effects.  This is one area where a direct connection to the PCI bus can pay off, as testing with this particular card proved.
Even though we do not currently operate a multi-room studio with a centralized control room, we got a taste of the power afforded by multi-channel MADI I/O while recording a grand piano remotely in a different room on the lower level of the building, away from the PC and monitoring station in the main studio on the upper level.  This ended up being seamless and a walk in the park.  All that was required was downloading TotalMix Remote software to an iPad, configuring it, and then temporarily moving our XTC preamp downstairs near the piano utilizing our very long, light, and thin MADI cables connected at both ends (HDSPe MADI FX <--> OctaMic XTC).  Suddenly we had eight very high quality A/D converters and preamps in the room of our choice, easily controllable via an iPad. We were then able to easily envision what could be achieved utilizing the card's extensive MADI I/O to its full potential.  In addition to having three distinct MADI I/Os, these connections can be run in "SRO Mode" (Seamless Redundancy Operation), where a single MADI connection is utilized with a maximum of 64 channels, but in the case of failure, can fall back to another MADI connection seamlessly with no interruption in the audio.
Sound
With the exception of the headphone output jack, the potential sound quality achievable will mostly be dependent on the outboard A/D and D/A conversion you will interfacing with the HDSPe MADI FX card, as well as other outboard gear.  Using the RME OctaMic XTC converter/preamp, for example, left nothing to be desired during our testing with the MADI FX.
To our ears, the headphones jack on the card sounded very similar to the headphones jacks on the XTC preamp—clean and clear with ample power to thoroughly drive all of our studio headphones and IEMs.
Documentation and Product Support
The HDSPe MADI FX comes with a small, spiral-bound manual that covers most everything to get you up and running quickly.  However, it doesn't cover more advanced setups and scenarios you may run into depending on how you ultimately utilize the card. That said, RME has a helpful forum with experts ready to help, and their support team has proven to be very good over the years based on our own experience with the company.
Price
The RME HDSPe MADI FX PCI card (MSRP $2,399.00) sells for approximately $1,999.00. Although this may seem a bit pricey for an internal PCI card with only one analog output, the RME HDSPe MADI FX PCI card offers a very high amount of digital I/O connectivity, satisfying the needs of many demanding studio applications requiring high channel counts with no perceptible latency. Couple that with RME's extremely powerful TotalMix integrated software and extremely stable audio drivers, it is clear that in this case, you definitely get what you pay for.
Contact Information
RME Audio
www.rme-usa.com