On-Stage's New GSP1000 ABY Switcher Provides Musicians with Options
 The switcher offers players the choice between 2 input/1 input and 1 input/2 output configurations
NASHVILLE, TN— July 9, 2019 —On-Stage, a di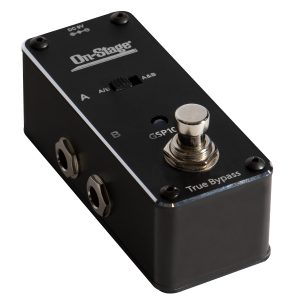 vision of The Music People, will debut its new GSP1000 ABY Switcher at Summer NAMM 2019 in Nashville. Complete with true bypass circuitry, the GSP1000 ABY Switcher gives musicians the ultimate choice between 2 input/1 output and/or 1 input/2 configurations.
The new GSP1000 allows players to run one signal to two separate amps for real-time stereo, pivot to and from two amps for dirty/clean dynamics, run two separate instruments through an effects chain simultaneously or bypass anything from that temperamental boutique effect to their entire pedalboard.
"With the GSP1000, the possibilities are myriad," explained Christopher Roberts, Product Line Manager for On-Stage. "The quality is assured, and musicians are able to make the choice of what works best for their gear and their sound."
The GSP1000 features a heavy-duty black anodized aluminum housing with a slip-resistant rubber base.
Product Specs:
Power Requirements: 9V tip negative (Adapter not included.)
Power Type: Tip negative.
Power consumption: <20mA
For more information, please visiton-stage.com.