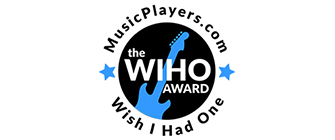 Blue has made a name for themselves with high-quality microphones used regularly by professional artists across all genres (bet you didn't know the name actually stands for Baltic Latvian Universal Electronics). Although Blue has been known for their high-end mics, the rise in popularity of entry-level audio applications like Apple's GarageBand amongst aspiring musicians and hobbyists has resulted in a need for good studio condenser microphones at a low cost.
Blue's Ember is a great choice for the aspiring artist. A condenser mic with a unique, flattened form factor, Ember offers a refreshing break from the traditional with solid performance at a young musician-friendly price. We used the Blue Ember in multiple different recording applications and were pleasantly surprised with the results. For recording professionals just getting their microphone collection started, or for experienced engineers looking to add another flavor to their locker, Ember is easily worth your consideration.
Category

Value

Rating

Features

20%

Usability

25%

Sound

25%

Documentation & Support

10%

Price

20%

OVERALL RATING = 3.6 Stars, which earns it a
WIHO Award!


3.6 stars or better: Outstanding, WIHO Award




3 stars or better: Worth considering




2 stars or better: Suited to specific needs




1 star or less: Not recommended 
Features
At first glance, the Ember has quite a visual appeal. Blue specifically designed the Ember to look attractive on screen, and its slender, grey blue body and black, flat capsule definitely make a modern statement. It's very lightweight at .84lbs and compact, which makes it easy to bring with you for session or performance work. The Ember includes a mic stand mount and manual inside its box.
The Blue Ember is a studio condenser mic that can handle a variety of recording applications including vocals, guitar, drums, woodwinds, strings, and more. Aside from vocal and instrumental recording, the Ember can be used for voice-overs, podcasting, game streaming, and more.
The Ember has a tight cardioid polar pattern which makes it a good choice for recording, especially in less-than-well-treated rooms. Its frequency response is 38Hz—20kHz, making this mic great for vocals and instruments that reside in a higher register. The Ember can handle an SPL of 132db which is more than adequate for recording loud instruments.
Usability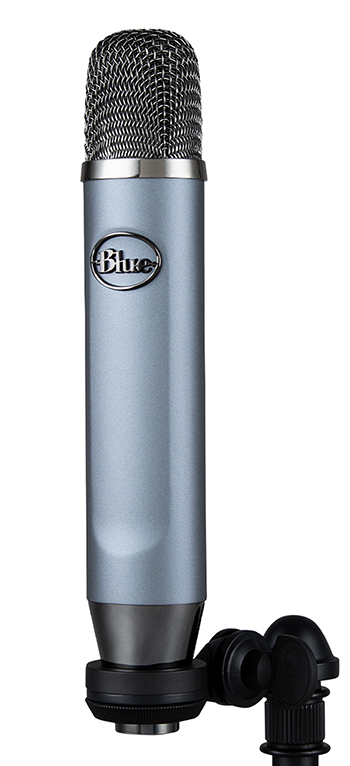 For the first application, we set the Ember up to record female vocals. The mic mount that Blue provided screwed into our generic mic stand without hassle and we made sure that the flat side of the mic with the Blue logo was aligned with the vocalist. The Ember was then plugged into our PreSonus Studio 192 interface using an XLR cable. We turned on the +48V phantom power switch of the interface (required) and started recording using Pro Tools 2019.5. Most musicians today have some kind of audio interface to get sound in and out of their studio computers. For podcasters, YouTubers, etc. buying an interface for your setup is a relatively small investment and worth the quality and versatility.
We even tested the Ember using a low-cost Behringer U-phoria UMC202HD interface on our non-production computer and had a perfectly acceptable experience. Pairing this mic with that setup made for a simple, low-cost option for musicians on a tight budget.
We also used the Ember to record guitars (in the real studio setup). For both acoustic and electric guitars, we had a very favorable experience with the Ember. It was easy to position the Ember roughly six inches from our acoustic guitar's sound hole as with any other studio microphone. Although we did not have the optimal mic stand for recording the electric guitar, we were still able to position the Ember's flat surface close enough to our speaker cabinet to obtain professional results.
Set up for all three applications was fairly easy and consumed only a very small amount of time. The flat design of the microphone lends itself nicely to guitar speaker cabinet recording applications. You could even hang it over the top of a cabinet, resting flush against the grill.
The Ember is an aesthetically pleasing mic (just like all of Blue's microphones). While we can't deny its visual attraction, we were curious to find out how the mic would sound in our studio. Blue is known for high-end mics used in professional studios, and the set of Blue drum mics in our studio collection was quite costly. Given how affordable the Ember is, we certainly had some skepticism as to whether or not it would be worthy of the brand name.
We wanted to get a feel for how well the mic responded to room noise so we had our vocalist record from a few different distances and positions around the mic. At first the gain was set a little too high at 23dB so we scaled it back to 15dB which seemed to translate better. The vocalist started the recording in front of the mic about three inches from the capsule. From that position and distance, the vocals were very crisp and clear. Without a pop filter, we were able to hear plosives (which isn't uncommon). Since we did not use a filter (one is not included), we were also able to hear how much detail the Ember is capable of picking up. Ideally, we found that three inches from the front of the mic sounded best and delivered pleasing results.
While still directly in front of the mic, the vocalist moved about six inches away. The volume, as expected, instantly dropped to about half of what it was at three inches from the mic. We also recorded from the side and back to see how well the Ember rejected sound coming from each of those positions. Both positions were also about three inches away from the mic. Our results in testing the Ember's off-axis rejections satisfactorily met our needs.
Overall, we felt that our singer's voice was accurately represented by the Ember. Throughout the range of her voice the sound was quite clear. The higher frequencies of her voice sounded clean while the lower frequencies came across crisp and warm. There was a decent amount of color to the sound, and we think that most vocalists will like the sound of their voice through the Ember.
When we tracked our Taylor 614CE acoustic guitar using the Ember, we were also happy with the results. The highs were nice and silky while retaining good body to the sound. The tracks sat well in the mix.
Although not a typical choice for distorted guitars, we tried the Ember with a Knaggs SSC through a Mezzabarba Skill 30 combo amp. We thought it would be worth trying this application, although this application would not be our first recommendation. We set the mic about a foot away from the 1x12 speaker and had a healthy amount of volume. The result was not as focused as a dynamic mic like an SM-57, however the resulting recording worked well for our particular track and had an expected bit of air to it that we enjoyed.
Our overall feeling: Having Blue's Ember in your studio arsenal is a no-brainer! It won't put your pricier mics out of work, but if you're just getting the collection started, you would be hard pressed to find a versatile studio mic of this caliber at this price. The Ember sounds very nice—and has good looks to back it up!
Documentation and Product Support
The manual explains step-by-step how to set up the mic and what equipment is needed. Blue also provided eight different recording applications with instructions on how to set up and position the Ember for each one. Technical specifications are also included, but without a frequency response chart.
We browsed Blue's website to see if the information on the Ember was as detailed as the manual. The website gives a full description of the mic complete with photos. The manual is also available for download right off their website. Online support is offered through their website by creating an account and then submitting an inquiry to customer service.
Blue provides a two-year warranty.
Price
The Blue Ember XLR condenser mic sells for $99.99. This price simply cannot be beat for a good studio condenser mic! Whether you are new to recording or are a professional engineer, the quality you get for the price makes the Ember well worth owning.
Contact Information
Blue
www.bluedesigns.com