Category

Value

Rating

Features

20%

Usability

25%

Sound

25%

Documentation & Support

10%

Price

20%

OVERALL RATING = 3.5 Stars


3.6 stars or better: Outstanding, WIHO Award




3 stars or better: Worth considering




2 stars or better: Suited to specific needs




1 star or less: Not recommended
If you pay attention to the choices that producers make in many top recording studios when selecting a nearfield speaker, chances are high that you will see a Focal sitting on or near the desk.
One of the most important decisions an engineer makes is selecting a studio monitor to help get your mixes right. The more accurate the monitor, the less time you will spend making corrections to your mix. This does come at an expense, though. A pair of $300 speakers just won't reveal your mix the same way as a premium speaker will. But if your budget allows for no-compromise monitoring, the Focal Trio 6 Be should be at the top of your audition list.
Focal's proprietary transducers and triple amplifier design adds up to a very successful recipe that has earned them a great reputation throughout the industry. The two monitors in one design (via the "Focus" feature), as well as the ability to reconfigure the monitor for vertical or horizontal placement, makes the Focal Trio 6 Be a unique and compelling choice for the professional studio environment.
Features
The Focal Trio6 Be studio monitors are reference near fields offering both two-way and three-way operation (more on that later). The Focal flagship model SM9 created the demand for a more affordable solution for smaller spaces and thus the Trio series was born. There are three other models to choose from in this series. The larger Trio11 Be, the medium Twin6 Be, and the smaller Solo6 Be. There is also a SUB6 subwoofer, which can be matched up with any of these models. The classy, dark, red, natural, Burr-ash veneer aesthetics is consistent between all models in this series.
Out of the box they were packed very well and included a protection grill to protect the drivers from being damaged. That's worth mentioning because we found the protection grill to be useful after ending a session to keep the drivers from airborne dust particles when not in use.
The Trio 6 Be has a unique design feature. The mid-driver and tweeter are mounted on a baffle that rotates 360 degrees! This allows the drivers to be orientated to the vertical or horizontal position. This is independent of the woofer and extremely useful as you are trying to find the listening sweet spot for your monitors. The baffle includes a power and audio clipping/protection indicator LED as well as a Focus Mode Enabled LED.
Nearfields usually provide one or two internal power amps providing power to all the drivers, but the Focal Trio 6 Be includes three internal, proprietary amplifiers producing a combined total of 450 watts.  The drivers and amplifiers are all hand built by Focal. No outsourced components here.
The 8" woofer material is a sandwich of glass foam and fiber and is driven by a 200-watt class G power-amp. The 5" mid-driver is of the same material as the woofer and is driven by a 150-watt class G power-amp. The 1" tweeter is driven by a 100-watt class A/B power-amp. Frequency response is rated at 35hz to 40khz +/- 3db, 115db peak @1 meter. Crossover points are 250hz for the 8" woofer, and 4.5khz for the tweeter.
Many studios utilize both a larger and a smaller set of speakers when mixing. Another clever feature of the Trio 6 Be is Focus mode. This is like having two monitors in one. Focus mode allows you to turn off the 8" woofer with a foot switch that runs via a quarter-inch cable to the back of the monitors. When Focus mode is enabled the frequency response is narrowed to 90hz – 20khz +/- 3db.
The tweeter element includes its own protective grille. While most tweeters are dome shaped, Focal uses a rare Earth element called Beryllium that is inverted instead of dome shaped. The sonic results of this unique configuration are wider dispersion, linearity, detail, and higher dynamics.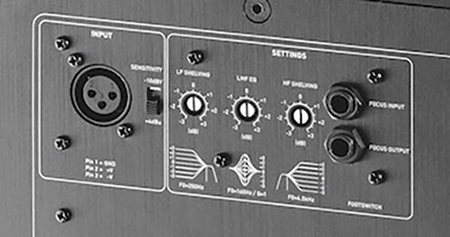 The inputs on the back include an electronically balanced XLR (10k Ohms) with an adjustable input sensitivity +4/-10dbv switch. Low frequency shelving (+/- 3dB from 35 to 250Hz), High frequency shelving (+/- 3dB from 4.5 to 40kHz), and an EQ low-mid frequencies notch filter (+/- 3dB at 160Hz, Q factor = 1). Fuse housing, Focus input and output quarter-inch footswitch jacks, Power switch, voltage selector, and detachable IEC power cable.
The Trio 6 Be also features a power saving mode that shuts off the nearfields after 15 minutes of inactivity.
Usability
The Focal Trio 6 Be studio monitors need a little time to be setup properly to obtain optimal performance and sound quality.
These monitors are large and heavy (44 pounds apiece), not to mention, pricey. We recommend seeking assistance to delicately remove the monitors from the shipping box so that you do not accidently damage them. And, keep the protective speaker covers in place until you're happy with speaker placement.
If you intend to place these on a stand, make sure it is wide, heavy duty, and includes some type of decoupling foam. Also, give considerable thought on vertical or horizontal orientation since you will need to adjust the mid/high driver baffle prior to moving the monitors to their final listening location.
Our monitors came out of the box with the baffle set up for vertical listening, which wasn't going to work in our studio. Changing to horizontal orientation involved removing four Allen bolts with the supplied Allen key. (Once the screws are removed, grab the baffle by the two port vents and pull it towards you then rotate the baffle 90 degrees to your preferred horizontal position. Push the baffle back into the cabinet and screw the bolts back into place.)
The Focal Trio 6 Be are front ported which enables them to be used in environments where space is tight. We ran the power cable to each monitor and turned the power on from the back panel rocker switch. Each monitor has a power LED next to the tweeter which also serves as a protection and clipping indicator. After listening for a few hours, we felt no need to adjust the two shelving EQs or 160hz notch filter to compensate for room abnormalities and left everything running flat on the rear panel.
These monitors are very loud, and we never reached clipping nor ran the monitor into protection mode. One feature that did get in our way, however, was the auto sleep function. After 15 minutes of inactivity the monitors go into a sleep mode. Once you start mixing again, there is a three-second audio delay as the monitors power back up, which when sitting at your desk can feel like an eternity. It would be great to include a sleep bypass option in a future speaker update.
Sound
Accuracy is really the most important equation when selecting a monitor. The more accurate your monitor, the less time you will spend making post-mix corrections. When comparing the over-all sound with our previous set of nearfields we found ourselves making various level and EQ corrections to our tracks and mixes. It is amazing how the Focal Trio 6 BE puts a magnifying glass on deficiencies that we hadn't heard before, which in turn helps to producer better mixes.
The next thing we noticed was the room filling sub-bass. The low-end extension makes it sound like there is a subwoofer in the room. Listening to low register instruments like bass and drums thru these monitors is a sonic feast to the ears, especially if you've been mixing with more "typical" prosumer-range speakers.
The glass foam and fiber composite driver materials reportedly provide better damping and rigidity. We definitely attribute that design element to the natural, transparent, and room filling, signature sound of these monitors. High-end transients and cymbal crashes were also very smooth and natural sounding. The rare earth Beryllium metal in the tweeter may also have something to do with this unique sound signature, or perhaps the inverted design in particular.
We did manage to audition a set of Focal Trio 11 Be speakers alongside the Trio 6 Be at a local music store. We bought many audio tracks with us to compare the sonics of both models. The overall sound quality was very consistent, only louder and bigger. The Trio 11 Be features a 10" woofer instead of 8" and more powerful amplifiers for even greater headroom. Those monitors were so large that they do not classify them as near-fields. We were more than happy with the sound of the Trio 6 Be and found the Trio 11 Be better suited to very large studio rooms.
In comparing the Focal Trio 6 Be with other monitors in its class, we found that the versatility of this model in Focus mode as well as the triple amplifier design offers a unique feature set that we could not find among the competition. We think this may be one strong reason you find these speakers in many top-end studios.
Documentation and Product Support
The documentation provided with the Focal Trio 6 Be studio monitors includes a 12-language user manual with all the information needed for proper set-up, connection, operation, and configuration. Rubber feet are also included in the box should you have a hard surface and no additional decoupling products.
Price
The Focal Trio6 Be studio monitors sell for $2,999 per monitor. Costly, yes. But there is no question that these highly detailed-sounding monitors have helped us improve our mixes. The unique feature set which includes three power amps, variable baffle orientation, and Focus mode add to these speakers' value. These are certainly among the best sounding (and swankiest looking) nearfield speakers we have ever auditioned, and the sound difference was so significant that we had no choice but to purchase a pair for our professional project studio. If you mix professionally and have the budget, this would be money well spent.
For studios and engineers with smaller budgets, don't forget that Focal also offers the excellent sounding Twin6 Be ($2,199 each) and Solo6 Be ($1,499 each) speakers which also incorporate their custom Beryllium tweeters.
Contact Information
Focal
www.focal.com/en/pro-audio