Hair bands may not be as prominent in the music world as they once were, but several of those groups produced classic recordings that helped them stand out in the rock and roll community. This was especially the case with Cinderella; their bluesy overtones helped set them apart from the typical hairband. Guitarist and co-founder Tom Keifer had a unique voice and a unique vibe, and to hear his baratone is to immediately identify the band. Exploring how iconic members of the "hair nation" have expanded upon their sound and catalogue over the following decades always intrigues us, and thus we couldn't pass up on reviewing Keifer's latest solo record, Rise, which he recorded with the Tom Keifer Band.
Tom Keifer Band, Rise
Genre:
Hard Rock, AOR
Musicianship:
Songwriting:
Production & Engineering:
Vibe:
Overall Rating:
3.13
Rise harkens back to the blues-rock sound that Tom Keifer is best known for with Cinderella, but takes on a new form that carries it out of the hair band spectrum and into the present rock scene. Many of the songs have a fuzzier, grungier rock tone with strong rhythm, while several melodic ballads with acoustic guidance help give the album balance. This pattern is very consistent throughout the record's eleven tracks, and while some of the songs feel more on the filler side, this is more than made up for with the superb production quality and fabulous musicianship throughout Rise. Almost every track is enjoyable for different reasons, while some might stand out more depending on what the listener prefers. Your humble reviewer enjoys both the fury of "Death of Me" and the maudlin melody of "Waiting on the Demons."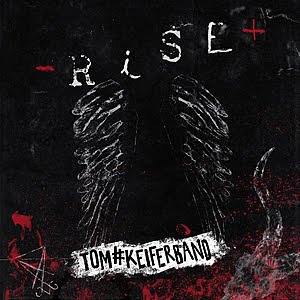 Impressively, Tom Keifer is still able to hit his high notes with as much vigor and passion as he could in the '80s and '90s. Even more impressive is his ability to successfully merge his unique vocal style with his solo band's sound. In the case of the heavier tracks, pounding drum rhythms and powerful guitars blend seamlessly, while the ballads nail the emotionally driven acoustic tone. The quality musicianship on Rise is thanks to the new group that Keifer has gathered, who openly display their chops throughout the new record. Keifer continues with his dual role on vocals and guitar alongside guitarist Tony Higbee. Exceptional bass and keyboard work are provided by Billy Mercer and Kory Myers respectively. Drummer Jared Pope deserves a lot of credit for the incredible rhythms he provides. Bringing it all together on back-up vocals and percussion are Kendra Chantelle and Tom's wife Savannah Keifer, the latter of which also plays piano on the album. Altogether, the seven-piece Tom Keifer Band proves to be quite a talented bunch of musicians!
Overall, Rise is a clear example of a solo effort done right, which is well-needed in the post-hair rock music world. It's also exciting to hear legends from that era continue to make new music. Tom Keifer manages to stay true to his roots while putting his own spin on what he is best known for. This album's unique tone makes it sound like an experiment Keifer has been wanting to put out for quite some time following the demise of Cinderella, and we think it was a resounding success. Despite the dissolve of his former group, Tom Keifer and his solo band are sure to please classic Cinderella fans.