John Petrucci, Terminal Velocity
Genre:
Instrumental Guitar, Prog Metal
Musicianship:
Songwriting:
Production & Engineering:
Vibe:
Overall Rating:
4.0
15 long years overdue since his last solo record, a man who needs no introduction, John Petrucci, is finally back with a new instrumental album that is guaranteed to impress.  Terminal Velocity gets four stars across the board as it delivers on all fronts. This is a killer instrumental guitar record in every way. Fortunately for us, while Petrucci's legendary prog metal band, Dream Theater, was unable to tour due to the COVID-19 pandemic, this left a big gap in his calendar. Lucky for all of us, Petrucci took this opportunity to get back to the studio and bring us this gem of an album.
From the first song to the last, Petrucci clearly demonstrates a command of the instrument few ever achieve. Reflecting upon this record overall, you immediately notice just how much John Petrucci influences the Dream Theater sound and style. Any of these songs could easily be transformed into a Dream Theater tune.
One of the most exciting bits of news to Dream Theater fans was that joining Petrucci on this recording is drummer extraordinaire, Mike Portnoy. This is their first serious reunion since Portnoy left Dream Theater, and the performance here is both stellar and familiar. It's refreshing to hear them reunited in this new context, as this is a reunion that many fans feel is long overdue. Dave LaRue rounds out the trio on bass, and throughout the recording he is not understated. The Dixie Dregs alum played on John's first solo record and also joined him on the 2005 G3 tour (and has also played on projects with Jordan Rudess).
The songwriting on the record is refreshing to say the least. Beautiful themes, interesting harmonies and tasty melodic passages pepper modern metal, odd-time glory. Was this expected? Yes. Was this excellently written and delivered? Also, yes. There are catchy, driving rock riffs and memorable melodies, and while Petrucci does indeed shred his ass off throughout the record, he never loses sight of the song and plays for the trio.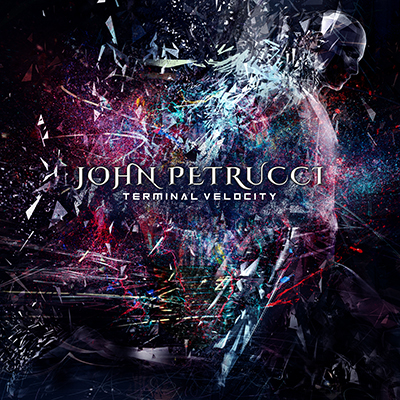 Proving music doesn't have to be complicated to be great, the somewhat simple progression on "Out Of The Blue" was made into a touching song with bluesy, soulful themes. The straightforward attack of "Snake In My Boot" was playful and fun, but there's some SERIOUS guitar playing going on in this song. Overall, even though it's a prog metal, guitar-driven instrumental record, the songs are well written and very well thought out. The showmanship by these three prog and fusion legends is strategically placed as to not overdue it.
Production is as good as any Dream Theater record, which is typically a cut above. The guitar tones on the recording are scarily good. Petrucci's trademark guitar tone is on display through Terminal Velocity. If you've ever wondered about the Mesa Boogie Mark-series tone or the sound of Petrucci's latest Majesty guitars, look no further than this record, oozing with killer Mesa JP2C and Music Man JP-series guitar tones.
The drum sound spans the frequency spectrum in a pleasing way, albeit a bit reserved in the lows in order to keep the kick from overwhelming the recording. In fact, the more reserved kick drum mix level is one distinct difference from these guys' previous efforts together. The kick and bass live together harmoniously, though, carved out nicely for one another. Every drum strike occupies its own space and that's no easy feat! Naturally, as this is a guitar record the guitars are forward in the mix (right where we want them), but never in the overbearing way that lesser shredders think they need to be. We definitely appreciate the tasteful use of guitar effects like verbs and delays. They're in there but seem to be on the reserved side, leaving players like you and I to face the stark reality that we can't play this cleanly, this quickly. Yes, it's a humbling record at times.
The vibe of this recording is like prog metal comfort food. Hearing so much of Petrucci's and Portnoy's collaborative work in the past, that same vibe overwhelms this recording. These guys simply know how to play with each other like a hand to a glove, and despite the lack of their other bandmates, the vibe is very much Dream Theater-ish, albeit with a touch of more accessible, driving metal rhythms and grooves. We love it! Terminal Velocity just may be the most relevant and enjoyable guitar instrumental album we've heard in decades, and for many of today's young shredders, we can see this record being as important to them as Steve Vai's Passion and Warfare was to us.