Offering Clear Audio, Flexibility and Wider Range for Live Performers.
Concert 288m and all of Samson's latest consumer and professional audio solutions will be on display at NAMM 2020 (Booth 14116, ACC North, Level 1)
ANAHEIM, CA (January 16, 2020) – Samson, an industry pioneer in professional audio products, announces the Concert 288m Dual-Channel Micro UHF Wireless System at NAMM 2020. The system is available in three multi-transmitter configurations (Handheld, Presentation and All-In-One) and includes a portable receiver small enough to fit into any gig bag. The Concert 288m is ideal for live performance, presentations, education, house of worship, or anywhere two users are needed. The Concert 288m will be available at major MI retailers in Q1 for $399.99.
Easy to Use
Concert 288m wireless systems combine professional-grade audio and extreme ease-of-use. The system's AR299m dual channel receiver provides 100 wireless channels across a broad 24 MHz
bandwidth and uses one-touch scanning to automatically select the clearest channel available in your performance space. The receiver's True Diversity design minimizes dropouts while Tonekey and auto-mute technology prevents undesired noise and interference when the transmitter is out of range. The True-Diversity dual-antenna design provides flawless wireless reception within a 300' range.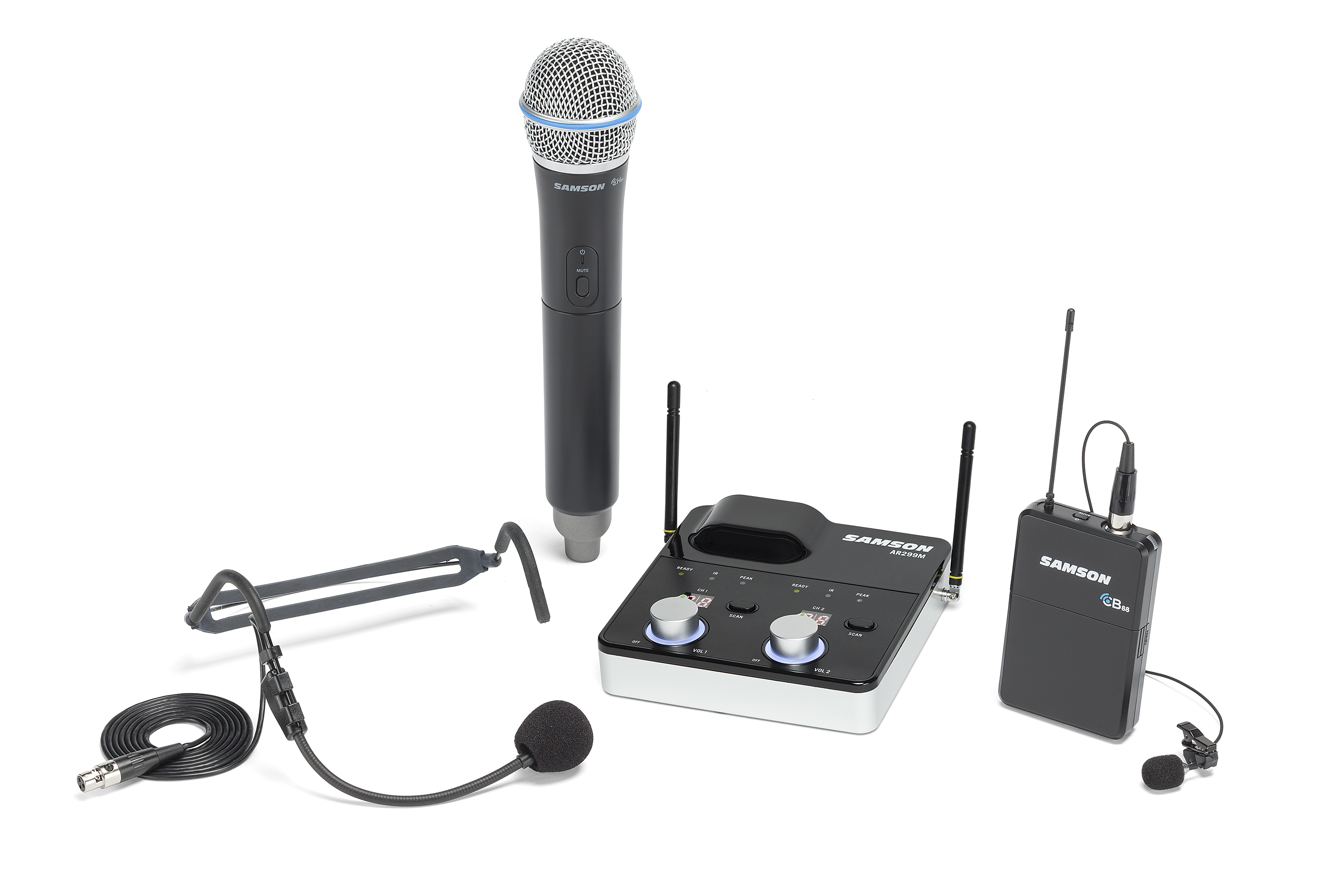 Portable and Versatile
Small and light enough to fit in any gig bag, the micro-sized AR299m receiver is highly portable and features dual-balanced XLR and unbalanced 1/4" and 1/8" outputs to ensure compatible connectivity with mixers and PA systems. Up to eight Concert 288m systems and can be used simultaneously (region dependent).
Transmitter Configurations
The Concert 288m system is available in three unique multi-transmitter configurations. The Handheld system features two CH288 handheld transmitters with Q8x Dynamic Mic capsules.
The Presentation system includes two CB288 beltpack transmitters with two LM7 lavalier mics and two HS5 headset mics. The All-In-One system provides one CH288 handheld transmitter, one CB288 beltpack transmitter with both LM7 lavalier and HS5 headset microphones. All transmitters feature One-touch Mute, variable Gain control and offer up to eight hours of continuous operation using two AA batteries.
Product Features:
Concert 288m Dual-Channel Micro UHF Wireless System
• Dual-channel UHF wireless system
• 100 operating channels across 24MHz bandwidth
• Up to eight simultaneous systems per frequency band (region dependent)
• DC adapter included
AR299M Dual-Channel Wireless Micro Receiver
• True RF Diversity micro receiver design minimizes dropouts
• Set button scans/selects optimal channel options
• IR sync wirelessly matches transmitter to receiver frequency
• Tone key prevents unwanted noise when transmitter is off or out of range
• Channel and Ready/IR/Peak LED displays
• Dual balanced XLR outputs, unbalanced 1/4" and unbalanced 1/8" outputs
• Rotary volume knob with integral power switch
• 1/4-wave antennas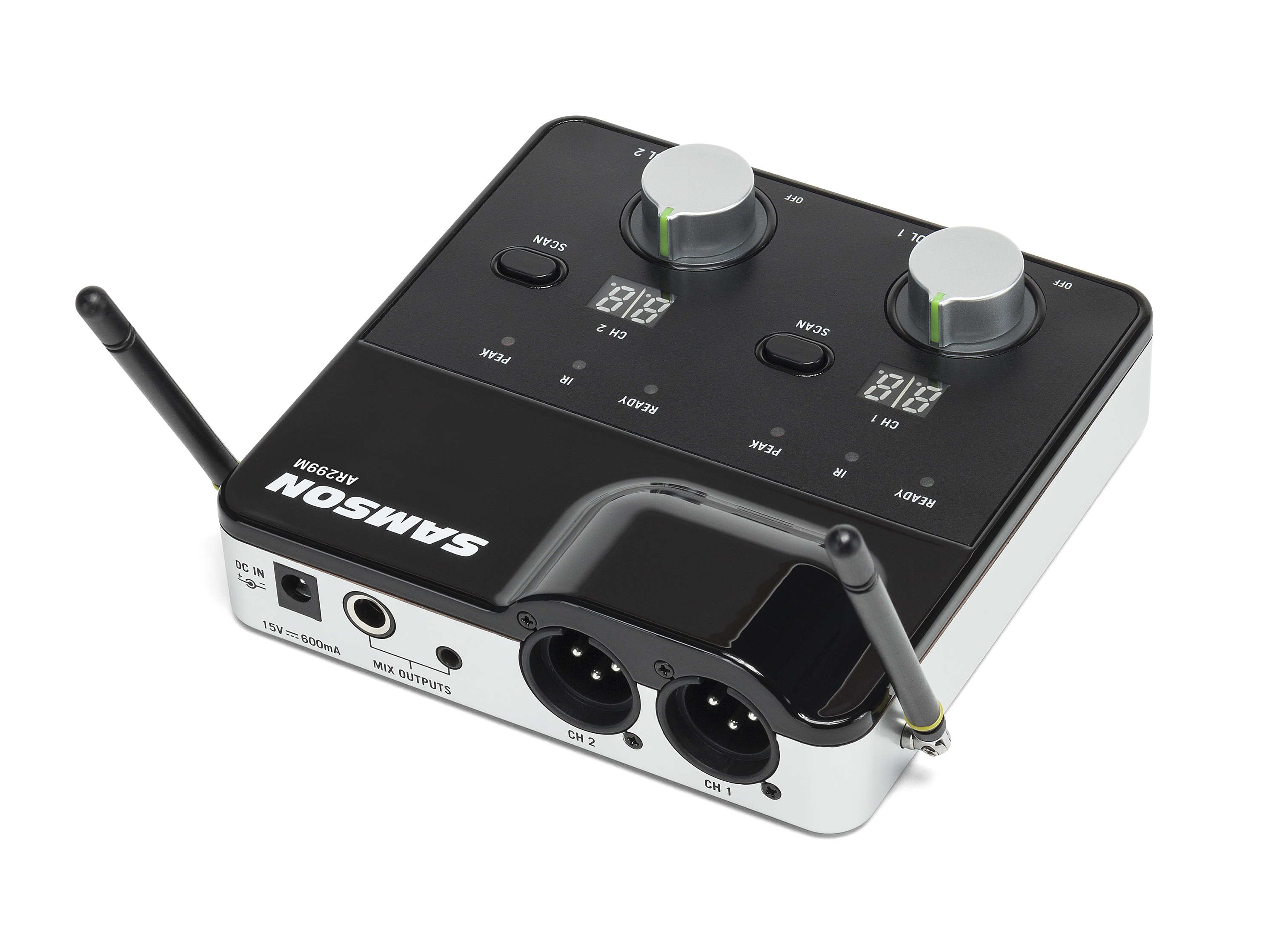 CH88 Handheld Transmitter (Handheld and All-In-One systems)
• Q8x Dynamic Microphone capsule
• Up to 8 hours of battery life using two AA batteries (not included)
• 300' operating range (line-of-sight)
• Variable Gain Control
• One-touch Mute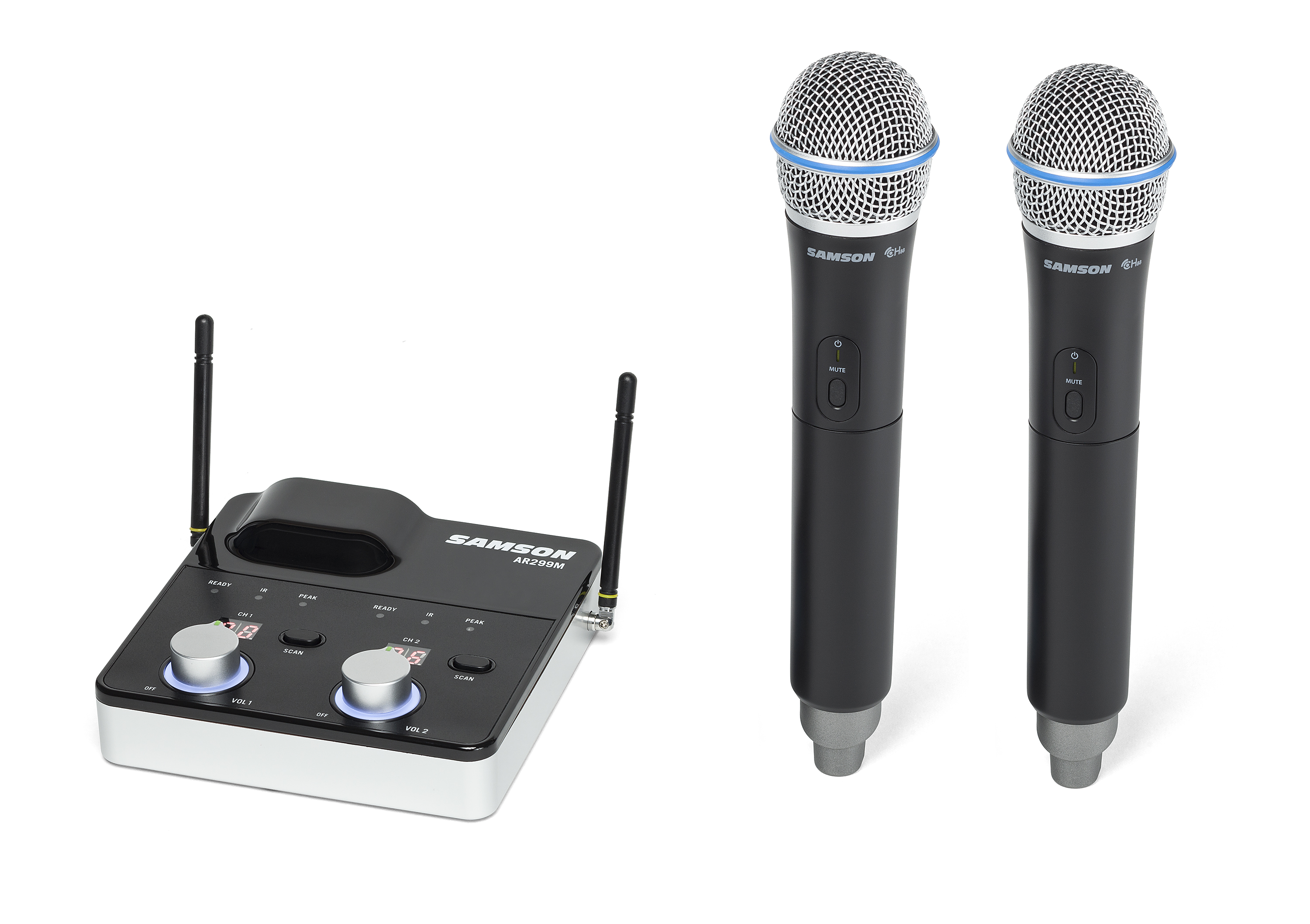 CB88 Beltpack Transmitter (Presentation and All-In-One systems)
• Includes Samson LM7 lavalier and HS5 Headset Microphones
• Each offers up to 8 hours of battery life using two AA batteries (not included)
• 300' operating range (line-of-sight)
• Variable Gain Control
• One-touch Mute
• Metal belt clip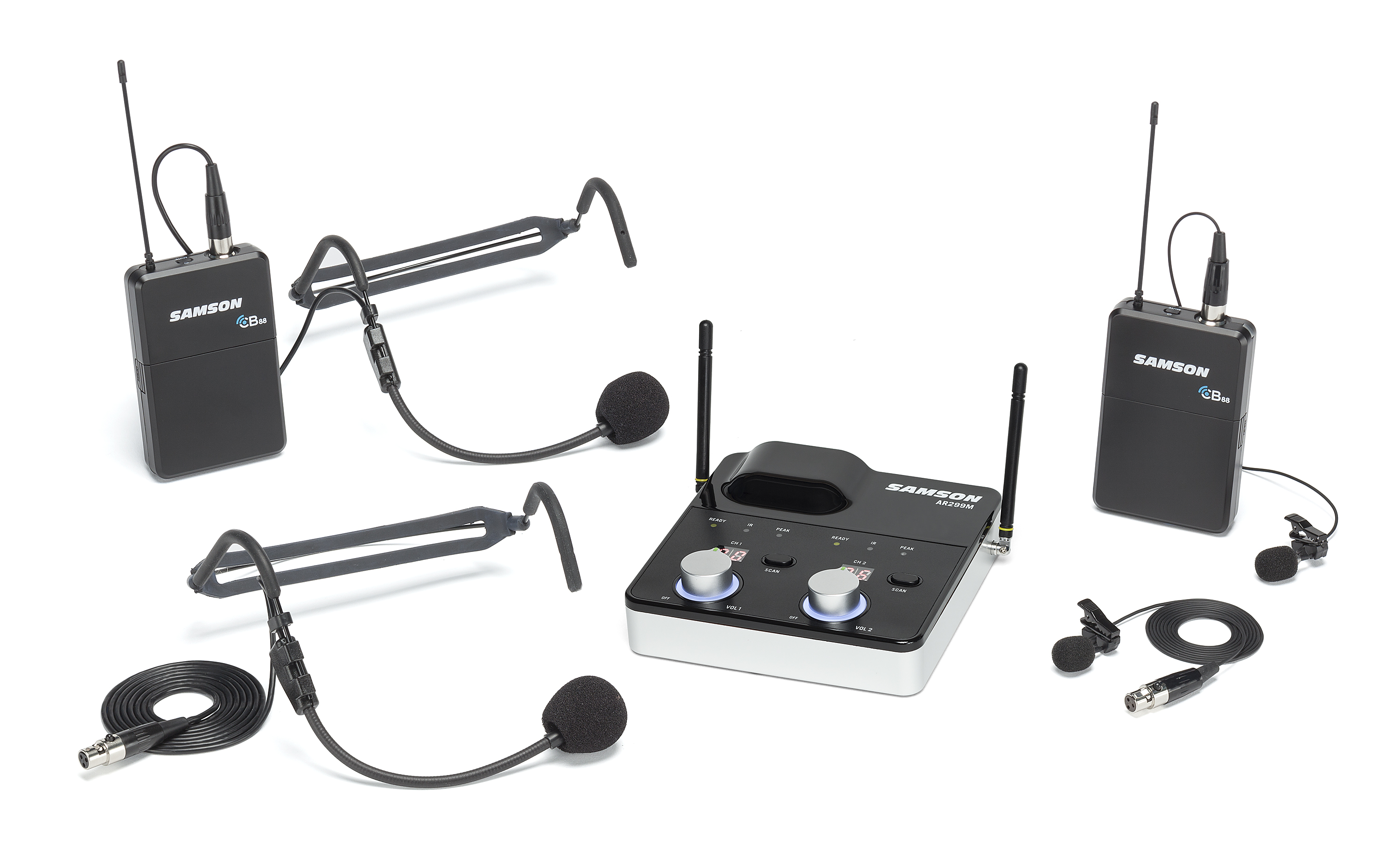 ---