Remember high school or college band, when you casually switched instruments with someone across the room, squeaking out a few notes and then quickly scrambling back and hooking on your saxophone before the teacher noticed? Now imagine doing this on stage in front of thousands of people, playing in 21|16 time, and having each instrument actually sound good!
Meet Scheila Gonzalez, an amazing jazz musician who plays tenor saxophone, flute, keyboards, and sings background vocals — often times all within a single song, for Dweezil Zappa's tribute band, Zappa Plays Zappa. She belongs to an all-star lineup including the late Frank Zappa's son Dwezil as band leader and on guitar, Pete Griffin on bass, Billy Hulting on marimba, mallets, and percussion, Jamie Kime (who worked with Jewel and Michelle Branch) on guitar, Joe Travers on drums and vocals, and Ben Thomas singing lead vocals.
Gonzalez was trained on classical piano from ages 4 to 18, but she found her true passion in playing the saxophone at age 12 (her transition to the saxophone was made significantly smoother by her piano experience). After high school, she continued her education at Fullerton College and later transferred to Cal State Northridge. She received her Bachelor's Degree, studying improvised and classical playing.
From 1995 to 2000, Gonzalez played in a cover band, an experience that she sees, in retrospect, as on-the-job training for her current gig. "It's really what got me prepared to embark on something like what I'm doing now. Even though I had technical facility on piano, it [became] an entire other skill set to play keyboards and sing at the same time and then turn around and grab a saxophone and then sing harmony and then sing lead… [Zappa Plays Zappa] is that, blown up exponentially."
When Gonzalez auditioned for Zappa Plays Zappa in 2005, she was unfamiliar with the vast musical catalogue of Frank Zappa and had only heard a few of his songs. She recalls hearing Joe's Garage for the first time on her way to a gig in Northern California. "I remember having heard the recording at the time, just being blown away, laughing so hard at a lot of the lyrical content and the subject matter, and then also being blown away by the musical content and everything that was going on, all the odd meter and all the crazy changes within the songs and the arrangements which are mind-boggling. I was just thinking to myself at the time, 'Can you really do that? Did someone really do that? This is amazing.'"
Upon being selected for the band, Gonzalez recalls that these intricacies became a rigorous challenge for the ensemble. It was February of 2006, and their first appearance was in May at the Heineken Music Hall in Amsterdam. Over the next three months, they underwent a demanding, concentrated rehearsal period that Dweezil sometimes referred to as "Zappa Boot Camp." Says Scheila, "[Studying Zappa's music] is almost like a degree, like going into Master's work or doctorate work, because we really had to go in and dissect. Because of the many different configurations that Frank's band had, within our confines we then had to say, 'Ok, how are we going to best exemplify this particular arrangement with the lineup of people that we have and the instrumentation that we have? How can we really make this sound happen and make it sound as authentic as we can?'"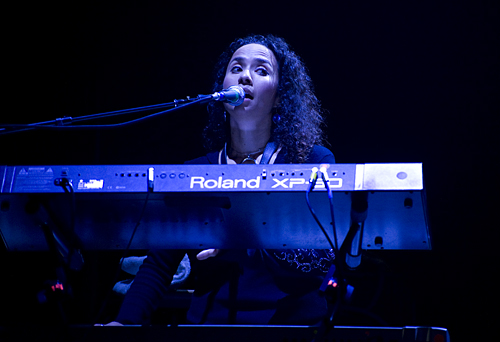 Now having toured with Zappa Plays Zappa for more than three years, it is clear that Gonzalez contributes to the band's diversity and energy, not to mention lending it her phenomenal musicianship. Fortunately, her relationship with the Zappa band has been a symbiotic one, she explains. "I feel like I've grown exponentially, not only from the demands of the workload that we have and the intensely challenging music, but also it's been a real eye-opening and mind-opening experience for me to discover this music and to truly become a fan from the inside out, to really have the opportunity to experience this and grow to be blown away by Frank's compositions and his humor and his wit by way of learning the songs instead of just being exposed to them and being a fan of his first. So it's almost like I've gotten to know him in many ways, doing it this way."
In addition to touring with Zappa Plays Zappa, Gonzalez has taught at the Santa Susana Performing Arts High School in Simi Valley, California, and she teaches private lessons when she's in town. She loves to teach, she explained, but her students understand that performing with her ensembles is her first priority. In addition to playing with Zappa Plays Zappa, Scheila sweeps the nation with her energetic sounds, gigging with the NYC-based, all-female, jazz big band, DIVA, and the female jazz band, Maiden Voyage, in Los Angeles.
With over eighty Zappa songs now under her belt, there doesn't seem to be much Gonzalez cannot conquer. As for the future, she plans to keep rocking with Zappa Plays Zappa as well as venturing out and composing her own music. "A lot of people have a particular album that has just been life-changing," she explains. "I have a lot of influences. [But] I'd say my life-changing experience has been discovering the music of Frank Zappa. And, the reason being, that previously as I've thought of doing some writing for myself and doing my own thing and putting together a group and start playing, I really thought, 'My goodness, what direction am I going to take?'… I thought I had to make a choice, and I thought I really had to choose what direction I was going to go in. What I learned from Frank's music is that he crossed every genre of music possible from classical music to rock, from blues to doo-wop, from funk and R&B to just insanely avant-garde. And it just didn't matter. He wrote what he felt, he did wanted to do, he was open and he put pencil to paper and made it happen how ever he felt and how ever he wanted. And that's been the biggest eye-opening and mind-opening thing for me, discovering that music. So now, whatever comes out is what comes out. It's going to be my voice, it's going to be me. And I'm looking forward to having the opportunity to see what comes out and to share a little bit of myself with whoever will have a listen."
So keep an eye out for this starlet's Zappa-inspired musical fusion. If her compositions promise even half of the energy seen in her live performances, they will surely be crowd-pleasers while simultaneously reflecting her diverse musical tastes.
To read our interview with bandleader Dweezil Zappa, click here.