Paris, 2021/05/25: Blue Cat Audio (http://www.bluecataudio.com ) has released Blue Cat's Late Replies 1.5, a new version of its creative delay and reverb plug-in with built-in effects, also capable of hosting third party plug-ins anywhere in the signal chain.
This new version introduces a new dual-mode user interface: you can browse and quick-edit presets with the new "easy mode", or display the full-featured editor to create your own creative delay and reverb effects. With the new multicore processing engine that can spread delay taps ("replies") processing across cpu cores, combined with multiple performance improvements, Late Replies can now create richer effects with reduced CPU usage.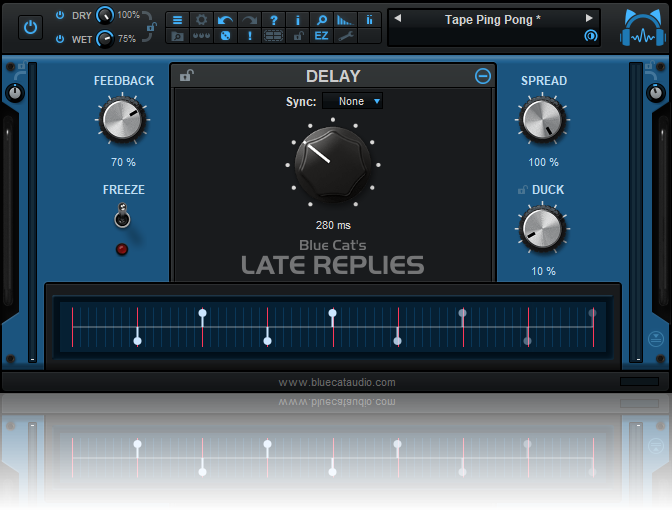 Version 1.5 also brings native Apple Silicon support for the new M1 powered Macs, a new CPU load meter, and many other new features, improvements and fixes detailed below.The free update can be downloaded from the same location as the original full version (link received by email upon purchase). Late Replies is exceptionally on sale (23% off) until June 25th, and existing Blue Cat Audio customers will receive an extra discount by email. Demo versions are available on www.bluecataudio.com in most plug-in formats for Mac and PC.
New features and improvements in Late Replies 1.5:
- New dual user interface: browse and quick edit presets with the new easy mode, or create your own delays and reverb with the full editor.
- Up to 8 times more processing power with the new multicore engine that can process each reply on a separate core.
- New echoes and ping pong delay presets with effects.
- New DSP workload meter that displays the DSP activity and CPU load.
- Added MIDI control support (MIDI CC messages) for Next and Previous Preset commands, with MIDI learn.
- Reduced time to load Late Replies or any built-in plug-in.
- Multiple DSP performance improvements.
- Level meters and spectrum analyzers are not updated anymore when the user interface is closed, reducing CPU usage.
- Reduced the number of threads used by the plug-in.
- Improved global and preset settings window loading time on Windows.
- Added ability to select the plug-in to load when a shell plug-in file is dragged and dropped onto a slot.
- Full unicode support.
- Preset files can now be dropped onto the preset LCD area to be loaded.
- Smoother loops Freeze when quickly switched from 0 to 100%.
Compatibility:
- Native Apple Silicon (M1 processor) support.
- Dropped 32-bit support on Mac.
- Now requires MacOS 10.9 and newer.
Fixes:
- Fixed host loop end value not properly passed to hosted plug-ins, for the VST2 version.
- Fixed several crashes upon load for multiple third party plug-ins (mostly VST3).
- Fixed MIDI control for hosted plug-ins not always working when fed with silence.
- Fixed VST3 (and sometimes VST) version freezing Ableton Live upon save on Windows.
- Fixed harmonizer and Pitch Shifter built-in plug-ins that did not always flush their buffer upon bypass (short sounds could be heard when getting out of bypass)
- Intel or Apple Silicon Mac running Mac OS 10.9 or newer.
- Windows PC running Windows Vista or newer.
Links:
Blue Cat's Late Replies: 99 EUR or $99 (instead of 129) until June 25th