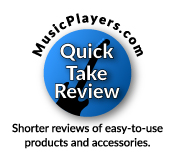 Let's face it—drummers are no strangers to back and spinal issues. Long hours behind the kit often result in chronic, even debilitating back pain that can last a lifetime and sometimes result in an early end to a thriving musical career.
The Motion-Pro Drum Throne seeks to address spinal issues that result from the physical stress of drumming. The spring-loaded, split-seat design allows greater freedom of movement of the pelvis in an effort to combat the issues created by traditional drum thrones. This split-seat design is a difference that bicyclists have benefited from for decades to eliminate pain points on the road and trail, and it's only just recently that a similar concept has been applied to our seated musical performance.
Before we explore the details, we'll start by saying that this seat feels great and makes a real difference worth experiencing. Science or not, it's a well-crafted, comfortable throne that will keep your bottom happy for extended music sessions and world tours.
The unique, patented design claims to reduce stress and compression of the spine during playing, which can only be a good thing. Richard Robertshaw, D.C., a San Francisco-based chiropractor and Spinal-Glide's founder, first developed and patented an office chair design utilizing a split down the middle, which he says "...allows the coccyx to hang rather than touch the seat, thereby eliminating compression of the lumbar spine." In response to inquiries from pain-riddled drummers, he developed the Motion-Pro Drum Throne, which he asserts should result in reduced back pain and strain.
As drum thrones go, this one's construction is certainly unique. While traditional thrones are comprised of upholstery stapled to a one-piece plywood base, to which a mounting plate is attached, the Motion-Pro is comprised of two individually constructed halves suspended on a quarter-inch thick, aluminum plate via eight heavy-duty coil springs (four per half). Finally, the mounting plate is attached to the bottom of the aluminum plate and accepts the post from a standard drum throne tripod. Our test seat arrived ready to go, with a high-end Drum Workshop-supplied, cast base. We used our own drum seat tripods to check the seat out. The DW base fits standard seat posts and has a secure clamp-style attachment, rather than a setscrew.
In order to truly experience the difference, a quick test in the studio wouldn't suffice. So, we gigged several times a week for several months using this throne exclusively. The quality cushioning felt as good six months later as it did when we first put the seat to use.
The heavy springs showed no signs of fatigue. Similarly, the black finish on both the springs and the base plate held up extremely well, with no flaking and minimal chipping. The plate itself held strong, with no cracks or signs of distortion. The entire assembly endured lots of "bouncing drummer butt," being tossed into the backs of cars, dropped on the ground, as well as a bit of (grand)standing from time to time. The vinyl upholstery resisted dents and scuffs extremely well, despite being treated, well, like a piece of drum gear. The Motion-Pro Drum Throne was obviously manufactured to withstand professional use and abuse.
We should also point out that while the Motion-Pro Drum Throne uses springs to absorb shock and allow movement, it flexes without bouncing. This is important for those who have a difficult time using a throne that moves while you're sitting on it, such as those with hydraulic lifting mechanisms. It absorbed shock and allowed for pelvic rotation without any noticeable bounce (at least not for drummers under 200 pounds).
The only drawback to the design of the Motion-Pro Drum Throne—for some drummers—is its height. When compared to standard thrones, we found that the Motion-Pro sits more than two inches higher than comparable seats (in part due to DW's tall mounting plate). Shorter drummers, or those who like to sit very low, may have difficulty adjusting their seat low enough behind the kit. Given the quality and usefulness of this product, we would encourage Spinal-Glide Drum Thrones to offer a custom-designed, short-height tripod base to accommodate drummers who require a shorter seat height.
Tipping the scales at nine pounds, seven ounces, the Motion-Pro Drum Throne weighs about 2.5 pounds more than typical thrones.
Did it help our backs? That's the question you've been waiting for us to address, and it's hard to say for sure. But there was a definite difference in seat feel. The Motion-Pro Drum Throne felt very comfortable and returning to a conventional throne after six hard-hitting months was a real disappointment. The traditional, one-piece seating area seemed hard and unforgiving, whereas the Motion-Pro "flows" with your pelvis as you rock and roll behind the kit. When switching back to our classic seat, we really felt like we were taking a step backward (and thus intend to purchase one of these seats). The science behind the seat is sound, as split-seat designs are only a new thing in the world of drumming. But it's more than just the split seat at work here, too, as the coil platform really makes the seat work with you, instead of being something you're simply resting your bottom (and pressure points) on.
The Motion-Pro Drum Throne is a professional quality seat that should last for many years. With a starting price tag of $219.00 (more for custom fabrics/patterns), it's a bit pricey compared with traditional seats, but we see it as a worthwhile investment for drummers who are in it for the long haul. If you're an older drummer already experiencing back issues behind the kit, this is definitely an investment that we'd recommend trying.
Contact Information
Spinal-Glide Drum Thrones
www.motionpro.org