Ibanez has been a staple in the bass community for many years and we have had the pleasure of playing a few of their instruments throughout our careers. The flagship models in the Prestige line, the SR4005E SDR (Stained Red) and the SR5005E OL (Oil) are beautiful pieces of art as much as they are also well-made, high-end instruments.
Category

Value

Rating

Features

20%

Usability

25%

Sound

25%

Documentation & Support

10%

Price

20%


SR4005E

SR5005E
OVERALL RATINGS:
SR4005E SDR = 3.7, which earns it a WIHO Award! 
SR5005E OL = 3.6, which earns it a WIHO Award! 
3.6 stars or better: Outstanding, WIHO Award
3 stars or better: Worth considering
2 stars or better: Suited to specific needs
1 star or less: Not recommended
There really isn't any difference in the basses from a playability or sonic perspective — the physical specs are nearly identical. But where they do differ is in the eye candy factor. There's beautiful workmanship on display with each of these basses depending on your particular taste. Are you a gold hardware lover? Do you prefer a natural wood finish or stained wood? Are fancy wood tops high on your priority list? These seem to be the only questions that you may ask yourself when deciding between the two basses because it certainly wont be based on playability or sound — they are equally outstanding instruments suited to almost any musical situation (though we think they're a bit too pretty for the punk rockers out there).
Features
Prestige series instruments are hand built by the senior Ibanez luthiers in Japan. Although some Prestige instruments were built in other Ibanez factories for a few years, in 2009 all production of these instruments returned to Japan.
The features on both handcrafted, five-string Prestige basses are nearly identical, so we'll start with the similarities. They each have a Power Curve III three-band EQ, an EQ switch, Balance and Volume knob neatly tucked to the bottom of the bass.
Both basses have SR5 five-piece, bolt-on necks made of bubinga wood with wenge wood fingerboards. They are 864mm/34" necks with a 305mm radius, 45mm wide at the nut and 67mm wide at the twenty-fourth fret. Each bass has the Mono-Rail IV bridge, providing completely independent saddles for each string.
Both basses feature custom Bartolini pickups — these are passive humbucking pickups of the soapbar variety.
Ibanez Prestige SR Neck JointThere are only two things that differentiate these basses — the wood and the hardware. The SR5005EOL has a mahogany body with wenge wood sandwiched on the top and the bottom making a beautiful front and back. It also has gold hardware and is adorned with beautiful, oval, mother of pearl inlays. The less expensive SR4005ESDR has a full mahogany body, silver hardware, and standard inlays.
Usability
Once we opened the two cases to reveal the basses, we were impressed right away with the beautiful wood on each. We played these basses through multiple bass rigs over a period of a few months to really get a good feel for them.
The SR5 Prestige necks on each were very easy to play. The action was set up right and we were able to fly up and down on both necks with their natural wood finishes. For five-string basses, we feel it's especially important to have just the right kind of grip and feel to a neck, and these Ibanez basses didn't disappoint us. These necks were sized perfectly for average-sized hands, too — we didn't feel that they were too wide at all, and they really made the basses a joy to play.
Sound
The sound from both of these basses was virtually identical. Electric guitar and bass sound comes primarily from a combination of the tone block, pickups/electronics, and neck — three of the identical components across both models. So although the 5005 has a wenge wood top and back, the mahogany body with direct-mounted pickups ensured a consistent tone across both models.
Ibanez SR5005EWe plugged both basses into amps from Tube Works, Carvin, and we even dusted off an old Trace Elliot head, running each of these through a 4x10 cabinet in our attempt to elicit different tones from each instrument. Our attempt was unsuccessful, which is great news if you like these basses but can't afford the more elaborately adorned 5005.
The custom Bartolini pickups seem to have a vibe all their own that overcomes any subtle differences in the wood of these basses. The 4005 is cut from a solid piece of mahogany and should (theoretically) sustain more than the 5005 with its three-piece body, but the result was exactly the same… and that result was exceptional. Presumably from a combination of both the custom pickups as well as the independent string saddles, it was effortless to make these basses sing for days when holding low notes.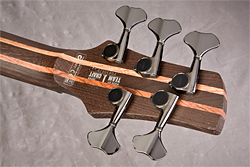 These basses offered some fantastic versatility to their sound. We were able to get good low end rumbling, tight punchy licks, and we had a slap-happy pop fest that we reigned down on these two Ibanez beauties.
However, we weren't blown away by the Power Curve III EQ. Although it's certainly a quiet EQ, we didn't think that the mid and low cut went deep enough when trying to dial in a fatter sound. For some of that, we had to go to our amps for some low-end tweaking, but once dialed in, we were still thrilled with the overall sound. If you prefer to leave the EQ on your amp completely flat, though, this might be a concern.
Documentation and Product Support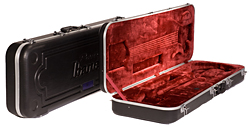 These basses are made for people who have already learned how to use and maintain basses, thus there wasn't much specific information provided with either. They came with a generic instruction manual (like many other Ibanez instruments) providing basic information about controls and some hardware adjustments… but nothing specific to these instruments' special features. In fact, the illustration for adjusting string height featured completely different hardware. There is, fortunately, plenty of information available about the instruments and their care on the Ibanez website.
Price
Case!In the end, assuming you don't care about the aesthetic differences, the only thing left to distinguish one of these basses from the other is price because they sound and play identically to each other.
The SR4005 ESDR (MSRP $2,133) sells for around $1,600. The SR5005 EOL (MSRP $2,666) sells for around $2,000. For an extra $400 you get gold hardware and upgraded woodwork. Both basses include a molded plastic hard case.
Contact Information
Ibanez
www.ibanez.com
Evaluation Short-List
Spector Euro 5 LX 5-String

Warwick Corvette $$ Double Buck 5-String

Peavey Cirrus 5 5-String