Special Intro Pricing available thru Nov 21st

Paris, November 10th, 2021 - UVI release Quadra - Metal and Wood, a creative 4-part instrument and sequence designer focused on resonant wood and metallic sounds. Draw from a huge number of multi-sampled metal and wood sound sources to create dynamic, rhythmic, and evolving sequences with a focused and intuitive workflow, powerful 64-step arpeggiator and phrase sequencer, expressive performance controls, a deep factory library, and more.
Quadra - Metal and Wood is a versatile instrument, capable of a wide range of applications from standard fare instrumentation to evolving, complex, and adaptive progressions and harmonizations that can be morphed and performed in numerous ways to suit productions of any style. Loaded with a huge selection of bells, gongs, keyboards, mallets, musical toys, synthesizers, and resonant wood and metal instruments, users are free to explore and create complex layered voices, adaptive progressions, and dazzling sequences with a focused and inspiring toolset.
Designed to be immediately creative, Quadra series instruments deliver 4 completely customizable instrument layers with mappable keyzones, XY and dynamics morphing, envelopes, multimode filters, audio effects including frequency shifter, waveshaper, chorus, phaser, EQ, drive, tremolo, and vibrato, an advanced 64-step arpeggiator and phrase sequencer with MIDI effects including euclidean emphasis, MIDI delay, pitch drift, random, and scale quantization, sound and arpeggiator presets, randomization and more.
Quadra comes loaded with an impressive collection of wildly diverse and inspired factory patches. Hundreds of unique creative visions are ready to be explored, crafted by a team of in-house veterans and industry stalwarts. Presets in Quadra are fully editable, functioning as fantastic starting points for your own creative journeys, or as ready-to-go mojo for your productions.
Quadra - Metal and Wood offers native 64-bit standalone operation by way of Falcon or the free UVI Workstation, providing comprehensive support for all modern DAWs and simultaneous authorization on up to 3 computers or iLok keys.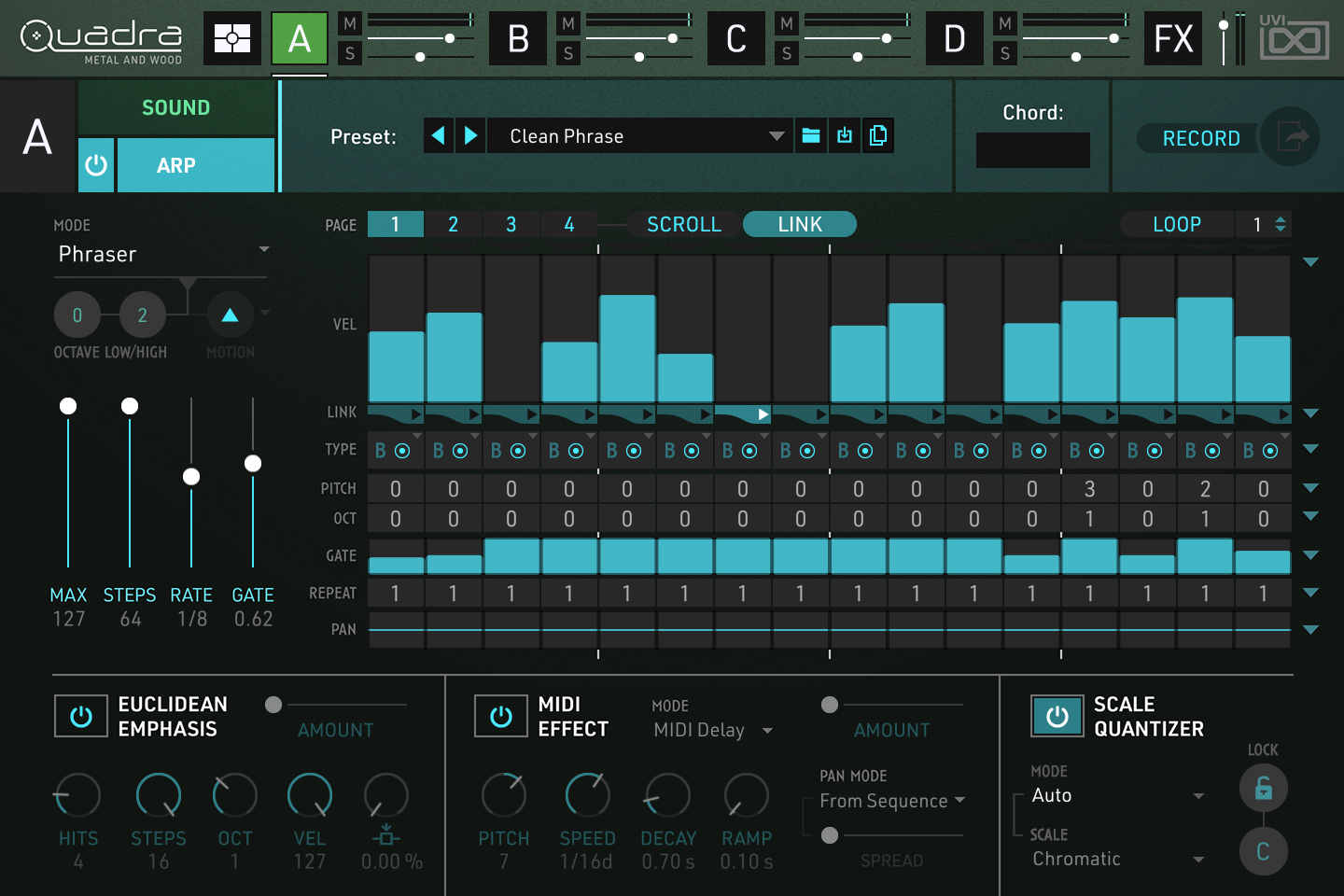 Pricing and Availability:
Quadra - Metal and Wood is available immediately at an introductory price of $99 / 99€ through November 21st, 2021 (regularly $149 / 149€) automatically when users add Falcon and 2 Falcon Expansions of their choice to their cart.
Additional information on Quadra - Metal and Wood is available at: www.uvi.net/quadra-metal-and-wood