There are two things that come to mind when selecting a tablet or phone holder and arm stands: durability and flexibility. Sure, you can buy cheap stuff, but if you're using mobile devices as an essential part of your live or studio music work, you don't have time to deal with cheap, flimsy designs that are prone to catastrophic failure at any moment (not to mention bad designs that block access to side buttons, charging ports, etc.). Fortunately, Hercules thought of all these issues and developed high-quality holders and stands in their new DG Adaptive Series that will meet the needs of any gigging artist, whether you're filming a gig or recording session, taking your next video guitar lesson, or trying to become the next Tik Tok or Instagram star.
Category

Value

Rating

Features

35%

Usability

35%

Sound

n/a

n/a

Documentation & Support

10%

Price

20%

OVERALL RATING = 3.7 Stars, which earns it a
WIHO Award!


3.6 stars or better: Outstanding, WIHO Award




3 stars or better: Worth considering




2 stars or better: Suited to specific needs




1 star or less: Not recommended
The Hercules 2-in-1 Tablet and Phone Holder supports phones and tablets ranging from 6.1"-13" while the Smartphone Holder supports phones ranging in size from 4.7"-6.9". The Hercules Universal Podcast Mic And Camera Arm Stand has a quarter-inch, 20 thread camera screw, a built-in ⅜" mic thread mount, and a ⅜-⅝" mic thread adapter. Each of these devices can attach to a desk, edge of a computer screen, or both round or square tubes like a microphone stand, keyboard stand, or music stand.
It was apparent right out the box that these were each very well made, durable pieces of equipment constructed from high-quality plastics and metal. If you're making a video or you're on a video conference call or a video guitar lesson, you may have different needs at different times for how you want to secure your phone or tablet. Most importantly, you want it to stay put. We were able to use the 2-in-1 easily with our iPhone 12 Max Pro with a case on it. All buttons were easily accessible, and it held firmly in place. There was full 360-degree maneuverability, and we could secure it to our computer screen, desktop, music stand, or attach it to the Hercules Arm stand.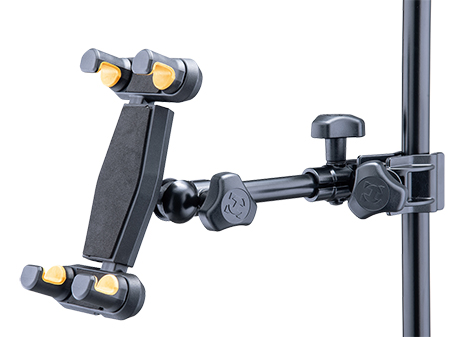 If you only need one holder and only plan to use a smartphone or a tablet then the 2-in-1 holder is perfect and very versatile. Accommodating our 2020 iPad Pro 12.9" was no problem. You can attach either holder in a number of different ways to get the perfect angles and lighting and sound. If you just want to hold a cell phone on a mic stand at a gig, the Smartphone Holder proved equally suited to the task, but has a smaller form factor. It still mounts to all of the same objects as the other items in the product line.
Although not really the focus of our music-related review coverage, if you're an artist also looking to do some Podcasting, or if you want to capture some up-close performance video from a Go Pro camera, the universal Podcast Mic and Camera Arm Stand is comparably solid, though we spent the least amount of time with it over all. As for the other stands, those are already finding a permanent home in our studio.
 The Hercules 2-in-1 Tablet and Phone Holder DG307B retails for $49.99.
The Hercules DG207B Smartphone Holder retails for $39.99
The Hercules DG107B universal podcast mic & camera arm stand retails for $59.99.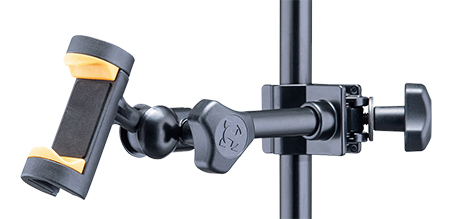 Contact Information
Hercules Stands
www.herculesstands.com