Dubstep fuel by Synthaix, Cooperation between Ampethron and talented Dubstep / Drum and Bass producer Synthaix who releases his music at labels Mythos records, AY YO TRIP!, Michago records and more. and making electronic music for more than 14 years.

More than 2 years in production. Basses that make your head spin. The main construction elements of dubstep are basses, drums and leads. Creating a comprehensive dubstep bass is very challenging and time consuming process - it takes several years of experience, and often secret tricks in post-production. Creating and tuning a single sound often takes more than 2 hours, but you want to make music for the listeners, not spend half your life creating 3 sounds. That's why Synthaix Dubstep Fuel plug-in can move your music production to next level. Plus you can re-effect all banks easily, use external multi-band distortions, saturators, multi-band compressors and modulation effects, filters to modify them and create bran new sounds within seconds.

Dubstep fuel by Synthaix is plug-in multi-instrument/rompler created for Dubstep, Riddim, Drum and Bass/Neurofunk, Bass house, Bassmusic music producers, but can be used in other music styles (Trap, Pop, Rave, Electro, Drumstep) or experimental genres.

Synthaix Dubstep Fuel plug-in include 126+ high quality, multi octave / multi-layer instruments/sounds ready for music production (1,31GB big bank of libraries).
Included are : Modulated dubstep basses, screaming leads, squelches,melodic leads, Twisted riddim basslines, FXs, Background atmospheres, noises, Dynamic basslines, Growls, Reeses, Neurofunk basses. (Dubstep, DnB, Glitchhop, Riddim, Neurofunk, Psystyle, Drumstep, Hardbass and more.)
Synthaix Dubstep Fuel makes your production faster and sounding better, you can choose from hundreds of high quality in speed of just few seconds, modify them with internal parameters or use external vst effects. Creating just one sound with standard synthesizers can take long hours or days + months of learning, with Synthaix Dubstep Fuel your production become more professional, faster and you can fully focus on creating melodies, arrangements, beats, mix etc. Synthaix Dubstep Fuel also saves lot of your CPU and RAM (it is much more effective than standard synthesizers).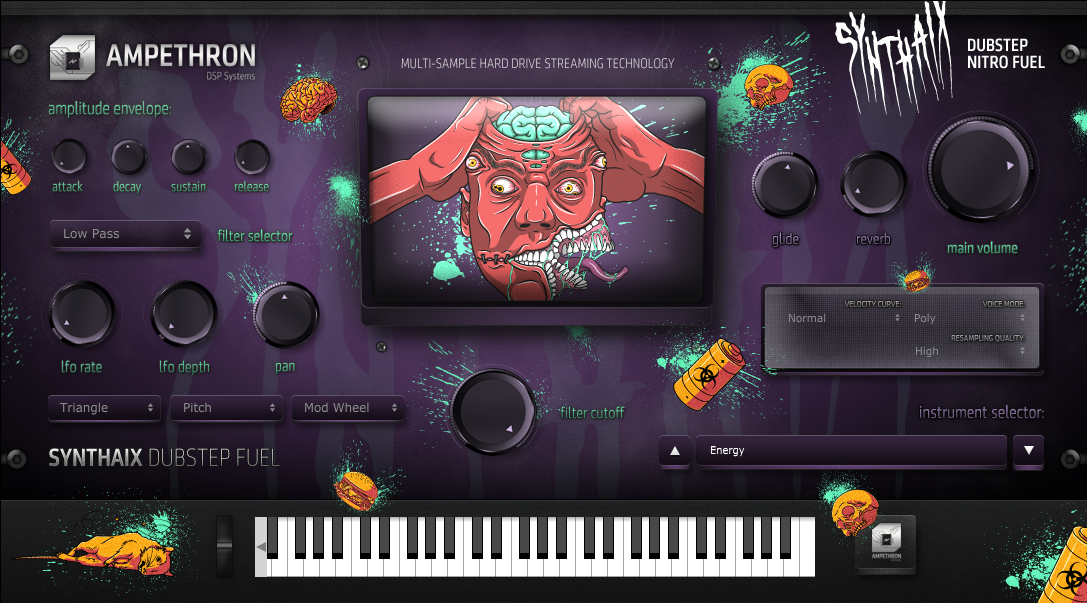 All instruments/sounds can be additionally modified with LFO (rate and depth) modulating volume/expression, Panning, Pitch, amplitude envelope – attack, decay, sustain, release, Pan, Space, you can choose glide (+ glide time), mono, legato or polyphonic modes, load additional bonus instruments etc. You can layer two or more instruments together to create new kind of sounds (use two Synthaix Dubstep Fuel Layered together with different instrument/preset but with same melody) and use various external VST effects to modify the sound to brand new level. Synthaix Dubstep Fuel plug-in uses special multi-sample/multi-octave Hard drive streaming technology which saves your RAM (data are loaded from hard drive) with precise hiqh quality sound interpolation. Plug-in instrument is available for Windows and Mac (VSTi plug-in in x32/x64bit for Windows, VSTi plug-in for MAC, AU Audio Unit plug-in for MAC)

TOP FEATURES:

- 126+ high quality multi-octave instruments with class A audio interpolation/resampling
1,31GB Huge library!

- LFO Modulation with depth and rate knobs (modulates: volume/expression, panning, pitch)
with triangle, sinus, square, saw, and exp shape

- Glide knob
- Space knob
- 3 modes: Polyphonic, Mono, Legato

- Amplitude envelope with attack, decay, sustain, release knobs

- Resampling quality selector

- Velocity curve selector

- Pitch bend knob

- Pan knob

- Possibility to load external bonus instrument (will be distributed to clients as special bonus)

- Multi sample hard drive disk-streaming / memory reading mode (for saving RAM capacity)

- High quality resampling / interpolation engine

- VSTi plug-in for Windows (available as x32 / x64bit VSTi instrument )

- AU Audio unit plugin and VST for Apple MAC OSX
LIST OF MULTI-INSTRUMENTS: (126+ instruments – 1,31 GB huge library included in plug-in!)

8bit Ish
8bit IshH
8bit IshHH
AhaHmm
Alien Vomitt
Angry Dad
Angry Frog
ARP Agressive
Arpish
BG Noisy
BG Voices
Big Chune
Borred
Brass Stab
BreakHearth
Bruh Again
Bruh
Build Up4 Free
Chipmunk
Chopper
Combustion
Crack Them
Criple
Destroyer
Diff Euw
Donk
Double Trouble
Drama
Drop Down
Energy
Epic Shit
Euw
Evil Inside
Evil Steps
Evil Waves
Ew Uhm
FastBrass
FastSlow
Gettah
Getuh
Gimmeee
Glass
Gnarly
Graw aw
Growlish 2
Growlish
Gutteur
Gwow R
Hard fart
Hard Saws
Hmm
Hypah
In Your Face
Krupica
Layer of Layers
Lolipop
Longish
Low Short Donk
Mainstream
Massive Saws
Metaliq
Metallic Drops
Mosqitos FX
Muddy
Must Have
Nasal
Nasty Saws
Nasty
Noisy
Not a Guitar
Ooooh Reece
Outer Space
Pad Glassy
PadoSaur
Painfull
Phew Die
Pin Pin
Pipi
Pop Donk
Pow
Powah
Reece Lead
Reece Pom
Rgwow
Rici Picy
Riddim Ish
Riot
Riser
Rising Donks
Sad Story Bro
Siren Bass
Skrillah
SlowFast
Small Steps
So Good
Souleater
Sounds Wrong
Squanch
Stabby
Stairs
Stitchies
Synthaix
SynthWawish
Thyahn
Time Saver
Tiu Tiu
Toilet Bass
Tooth
Troller
Try me!
TwauN
UglyAF
Uhmm Reece
Ulalah
Unconfortable
Under Bed
Wa Whoo
Wah Weh Wih
Watchout
Wau
WTF
Wuaaao
Wub
Yah Yah
Yah Yeah
You Want This
Music made by SYNTHAIX:
https://soundcloud.com/synthaix/tracks
PRODUCT URL: https://www.ampethron.com/synthaix-dubstep-nitro-fuel
FREE DEMO DOWNLOAD: https://www.ampethron.com/synthaix-dubstep-nitro-fuel
Price: 49.90 Eur (Introductory price 19.90 Eur only for first 100 CUSTOMERS!)