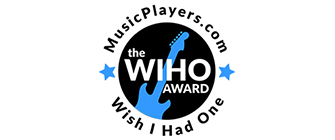 Ernie Ball has been making a wide range of accessories for guitars and basses for decades, but many of the products are easily overlooked by "serious" musicians who are quick to ignore products that are sold by companies perceived to be one of "the big guys" in favor of products from more boutique-ish companies. Sure, many of you string your instruments with Slinkys and a number of you have Ernie Ball volume/expression pedals in your rigs, but as it turns out, Ernie Ball makes a wide range of other accessories that are easily overlooked, but shouldn't be.
We recently had a chance to use a wide variety of Ernie Ball accessories and formulate some opinions of the range of products as a whole. From the spectacular, award-winning Music Man guitars down to instrument cables, replacement guitar parts/hardware, and beyond, it's clear that this company puts a lot of thought into the range of accessories they offer—and the quality of those accessories. In no particular order, here are some highlights worthy of your immediate consideration: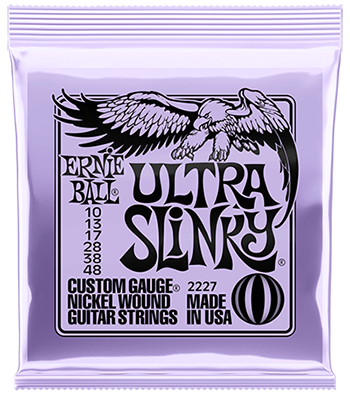 Special Slinkys
Writing about strings is a topic that can spawn endless commentary—and endless subsequent debate. But it's safe to assume that as a MusicPlayers.com reader, you've either used Ernie Ball Slinky strings (or Super Slinky, etc.) or you know someone who does. They are time tested, tried and true, and today come in a wide variety of gauges.
We recently got our hands on some Ultra Slinky Custom Gauge and Burly Slinky Custom Gauge strings that are designed to accommodate players with a love for dropped tunings. These strings are similar to equivalent packs of standard strings but with (3) heavier bass strings in the set for a more solid response when dropping the tuning. It's a subtle difference that may really improve your tone (and intonation) on drop-tuned guitars.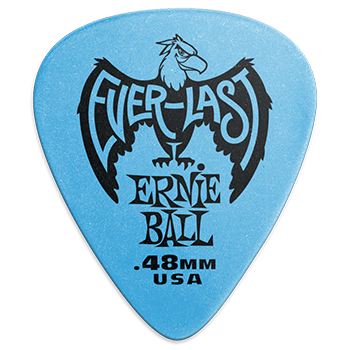 Guitar Picks
Did you know there are actually guitar picks made by someone other than Jim Dunlop? Yes, that's a joke. Sort of. Well, if you're a fan of Tortex-style picks, you'll be right at home with the Ernie Ball Everlast Guitar Picks. They are the same size as their obvious competitor and feel like they are made from a similar satin/chalky material. Unlike the cute looking turtle, these picks are adorned with a more sinister bird of prey décor, and they come in a wide range of gauges. Don't go by color, though—the EB color scheme is not the same as Dunlop's. We love Ernie Ball's brighter pastel colors, and they have the same feel we're accustomed to playing with.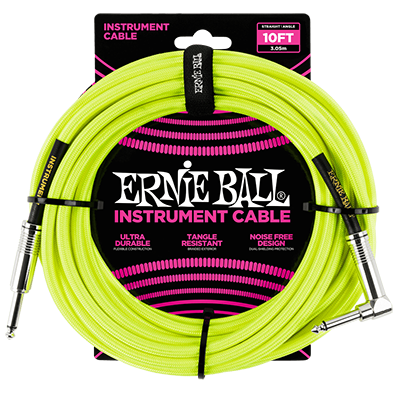 Instrument Cables
This is one of those very picky product categories. Our friends are happy to debate the merits of premium instrument cables, and we know too many players who will not play a "common brand" instrument cable, assuming that it's inferior to their boutique cable that cost 4-6x as much.
We've spent the past two months playing with braided Ernie Ball Instrument Cables (which we prefer over non-braided cables as they don't tangle very easily by comparison). These dual-shielded cables are 99.95% oxygen-free copper and have extremely durable, nickel instrument connectors with strain relief at each end—one straight and one right angle. They sound as good as any other cables we've been using in our guitar rigs, and yes, we're picky. The lifetime warranty should add further confidence that these cables are a safe bet. We're big fans of the neon color options, too. Viva le '80s!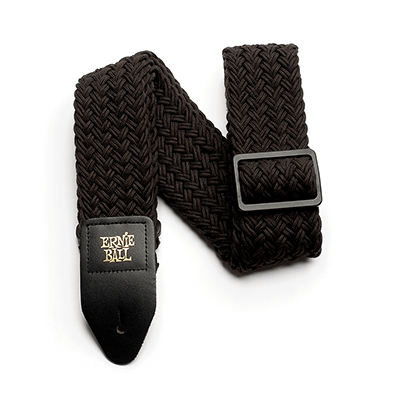 Guitar Straps
If your choice of guitar strap is dictated by comfort, we have to talk about Ernie Ball Polyspun straps. They don't scream rock n' roll from the braided look, but these polyester, woven straps have a natural give that makes them very comfortable—like wearing an old glove, and the leather ends are soft enough that attaching to our guitars is never a challenge.
We also tried the Neoprene Polylock Comfort Strap and while we love the springy feel of a neoprene strap, we just can't get behind the PolyLock ends. Yes, they'll grip the hell out of your bass or guitar, but we fear that if you constantly remove your straps in order to fit the instruments in their cases, you're going to wear down the strength of the strap pegs, which could lead to unforeseen accidents. Please, Ernie Ball, give us this luxuriously comfy strap with your standard strap ends!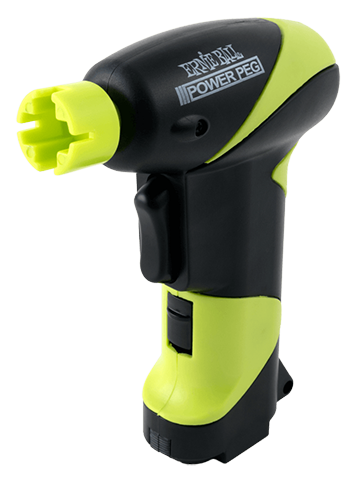 String Winders
Unless all of your guitars have locking tuners, you need the Ernie Ball Power Peg or Power Peg Pro string winders. This hand-held, battery-powered device makes a breeze out of string changes and string winding around your tuning pegs, and should be considered a must have. The non-abrasive head adapts to virtually all sized tuning pegs (the new Pro model accommodates larger tuning pegs as found on some basses and acoustic instruments). The string winder is pretty much unrivaled and is one of those items you need to have in your guitar maintenance kit. No, you can't have mine.
Instrument Care
Players constantly ask each other for advice on the topic of instrument care. When it's time to go beyond a damp, soft cotton or microfiber cloth, we have been turning to Ernie Ball Wonder Wipes for more than a decade now. There is string cleaner, a fretboard conditioner that we particularly love (it's a blend of oranage, jojoba, and linseed oild), as well as instrument polish.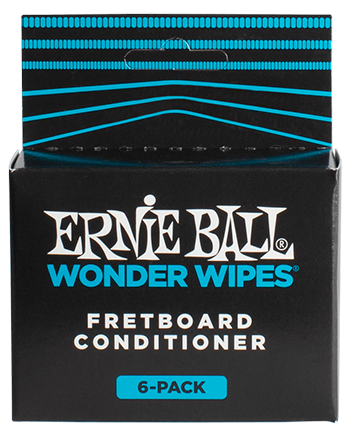 Contact Information
Ernie Ball
www.ernieball.com