Category

Value

BOSS RE-202

BOSS RE-2


Features

20%

Usability

25%

Sound

25%

Documentation & Support

10%

Price

20%

BOSS RE-202 Overall Rating = 3.2 Stars

BOSS RE-2 Overall Rating = 3.0 Stars
Roland/BOSS, well known for its quality and affordability in the guitar effects arena originally introduced the Roland RE-201 Space Echo way back in 1974. It was actually invented before Roland was even in business! The first of its kind to use a reel-less tape system, it was considered a breakthrough technology and was kept in production through 1990 due to its enduring popularity.Modern day BOSS now introduces two newcomers based on the original sounds: the BOSS RE-202 and the BOSS RE-2, which aim to be faithful recreations of the original Space Echo sound and behavior. This being no easy feat for modern effects pedals, we received both and put them to the test.
Features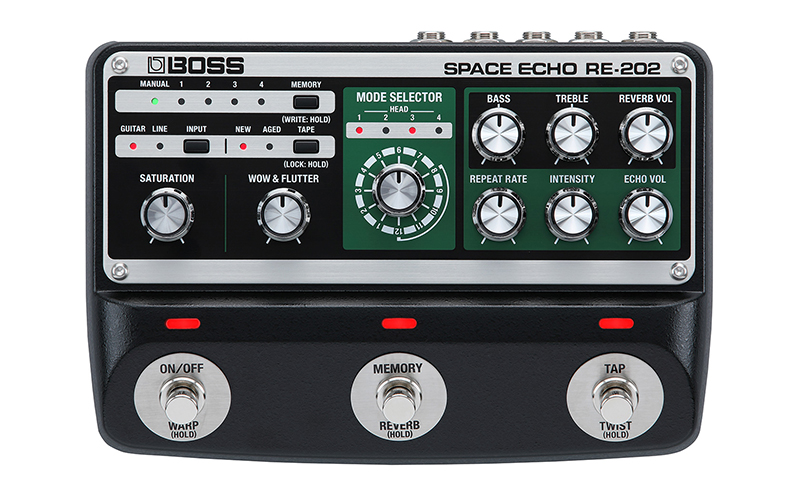 BOSS RE-202
The RE-202 is a rugged, large footprint, three stomp button pedal. The stomp buttons left to right are labeled On/Off, Memory and Tap (and have a red LED to indicate selection). They also have features when held down, again left to right they're labeled Warp, Reverb and Twist. The pedal features stereo quarter-inch inputs and outputs (selectable for line or instrument level), a quarter-inch external control jack as well as MIDI In and Out. Rounding off the back panel is USB for updates and a DC in (power supply is supplied with the unit).


The face of the unit is partitioned into three sections. The left section of the pedal contains the button which enable you to assign new patches to onboard memory. It also contains saturation and wow & flutter knobs. When the guitar level input is selected, the saturation is always active whether the effects are active or not. Like many other features, this is selectable during the power up phase of the pedal. You can further customize the function of the preamp coloration by assigning it to just color the delay or to color both the delay and reverb. Given that a big draw of the original Space Echo was its preamp coloration, this is a thoughtful addition. Completing this section, the pedal contains a guitar/line level button as well as a Tape Type button which selects between a new or aged tape effect.
The center section of the pedal is where the unit's modes are selected. This enables the user to choose which play head (or combination of play heads) emulations will be in use for the particular preset. The selector knob features 12 modes from which to choose. Playback head One follows the time of the tap tempo. Playback head Two is twice the time, playback head Three is three times the time and you guessed it, playback head Four is four times the time of the tap tempo.
Mode 1- playback head one
Mode 2- playback head two
Mode 3- playback head three
Mode 4- playback heads one and two
Mode 5- playback heads three and four
Mode 6- playback heads one and three
Mode 7- playback heads one, two and three
Mode 8- playback heads one and four
Mode 9- playback heads three and four
Mode 10- playback heads one, three and four
Mode 11- playback heads one, two and four
Mode 12- all four available playback heads
The right portion of the pedal features reverb and delay control knobs. For reverb, the pedal has bass, treble and volume knobs. For delay, there are repeat rate, intensity and echo volume knobs. It's worth noting that the reverbs will function as traditional stereo reverbs with the exception of the spring reverb type. Spring reverb will sum both the A and B inputs, and output reverb only from output B while passing both dry and effect from output A.
There are a few hidden menus that are integrally important to the proper function of this pedal. Those menus include setting the expression pedal functions, setting killdry on/off, setting the effects tails on/off, the aforementioned preamp coloration function, selecting from four different reverb types, and even the function of some controls.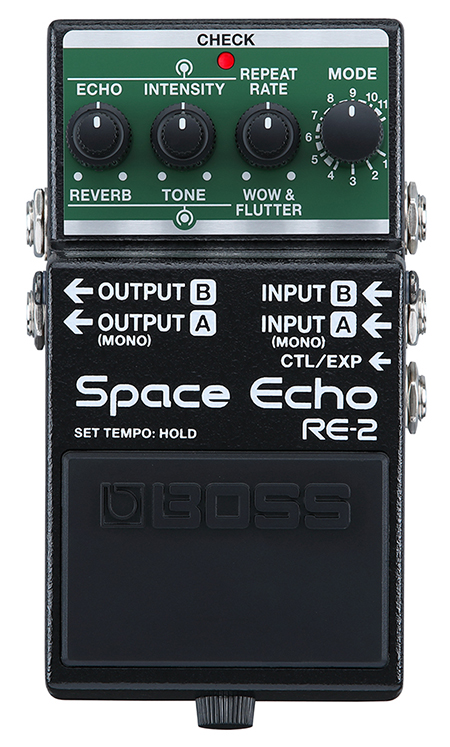 BOSS RE-2
The little brother of the RE-202, the RE-2 manages to pack most of the same features into a traditional BOSS-sized stompbox. Notably missing are the different reverb types and the reverb tone shaping controls of the RE-202. There is one general tone knob in its place. A final compromise was made in the preamp coloration on the RE2. It is a fixed amount that can be set to either On or Off. If you really love using the preamp to drive the pedal into distortion type tones, you'll want to look at the RE-202.

Usability
Many pedals on the market are very simple to use and are basically plug-and-play. Those are not the pedals in this review. Yes, if you plug into them as you would typically utilize another pedal, you'll hear delay and maybe some reverb. You will however be missing a host of features from the hidden menus and have little understanding of how to actually control and dial in these pedals. So, just in case you haven't heard this before, read the manual! Taking some time to set up these pedals will yield far superior results and a lot less frustration. After 15 minutes of reading and setting up, we had a much better understanding and user experience than we did simply attempting to plug and play.
We set up both the BOSS RE-2 and RE-202 in the effects loop of our Mesa Mark V. The connections were simple enough to make. In no time we dialed in four lush delay and reverb sounds that were unique to this style of tape echo. Changing the presets we created was as simple as pressing the memory button. The pedals can recall five presets from the face of the units, and you can recall 127 presets via MIDI control. The reverb tone shaping and echo control knobs are well thought out, although we felt a reverb time adjustment was crucially missing (but then the original didn't have one, so there's that). The Warp button drives the reverb into longer times and produces interesting sounds.
It should be noted you can only use unbalanced, TS quarter-inch cables in the RE-2's input. Also, the RE-2 only features three playheads (like the original Space Echo) and 11 modes which pair the various combinations of tape heads with reverb (there is otherwise no way to toggle the reverb on/off like on the RE-202).

Sound
Tape echo is arguably the most distinct and instantly recognizable sounds out of any time-based effect. Given that, it has somewhat specialized use but it can't be replaced by anything else when the situation calls for it. The sound is lush, unapologetically lo fi, and endlessly thick. In short, both the RE-2 and the RE-202 achieved what they set out to achieve—faithful sonic recreation of the original Space Echo.
These delays and reverbs are anything but transparent. The delay goes from mild to overbearing rather quickly on the echo volume knob. For rock lead playing, it has use in a warm, surreal delay. You will not get a transparent digital sounding delay from either of these pedals, nor should you expect to. The twist and warp features can be extremely fun and musical to use, pushing delay into oscillation at just the right points of a performance. We are certain Yngwie J. Malmsteen has his eye on one of these as using delay in this manner has been part of his vibe for decades.
Using the wow and flutter control adds beautiful chorus-like modulation to cleaner passages but again, this gets overbearing rather quickly so it's important to carefully dial in your sounds. The reverb can be pleasing in certain applications but it does not have broad application for people playing modern music. This reverb is perfect for the sounds of yesteryear, however, as there is a certain sheen and quality to it that cannot be dialed out. Interestingly, that applies to all four reverb types in the RE-202 (the RE-2 only offers one reverb). If you want smokey bar, old time blues, surf rock, or golden oldies, this reverb is perfect.
Documentation and Product Support
The RE-202 features a full printed manual, but the RE-2 does not. Both units supply a QR code that brings you directly to the product page where you can download or view the manual, so this is really a non-issue. The product pages are marketing done right. They give a history of the effect and thoroughly explain their feature sets.
All compact BOSS pedals (such as the RE-2) carry a five-year warranty. Other larger effects products (such as the RE-202, 500 series products, GT-1000, etc.) are warranted for one-year parts, 90 days labor. In our history of owning hundreds of BOSS products, we've never actually needed warranty service as they tend to be built extremely tough.
The BOSS RE-202 sells for $419.99. The BOSS RE-2 sells for $259.99. Given the limited utility but highly specialized use of these pedals, we feel it is a fair value if a player must have the Space Echo sound and doesn't want to track down an original unit for far more money and hassle. Further, with stereo I/O and line-level inputs, you can alternately use it as a studio tool.
We feel the RE-202 is the must-have of the two, as the lack of the RE-202's reverb tone shaping really limits the usefulness of the RE-2 and thus makes it a particularly expensive delay pedal. Still, the RE-2 does achieve the same general vibe of the bigger brother at almost half the price, so the budget-minded may feel it's worth working around (or may find the reverb to be perfect as is). Either way, if you must have some classic Space Echo, neither of these pedals will disappoint.
Contact Information
BOSS
www.boss.info