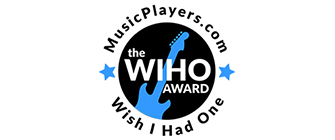 While most musicians are familiar with modern vocal processing—tools such as doublers, pitch shifters, auto harmony generators, and even throat modeling, there are times when nothing will suffice except other independently performed vocal parts.
If hiring professional singers is beyond your budget, Realitone's Realivox Ladies gives you a new and unique (and cost effective) alternative. Featuring five tonally unique, sample-based, virtual singers, and the ability to use from one to ten voices in any combination you desire, these ladies go beyond vocal mimicry and deliver actual sung notes and syllables!
While we wish there were more syllables available to select, and greater ranges of vocal samples, when used correctly, you can easily get some very pro-sounding backup vocals out of Realivox Ladies. It's fun and easy to use, and truthfully, it's hard to find something not to like about this. We just want more of it!
Category

Value

Rating

Features

20%

Usability

25%

Sound

25%

Documentation & Support

10%

Price

20%

OVERALL RATING = 3.7 Stars, which earns it a
WIHO Award!


3.6 stars or better: Outstanding, WIHO Award




3 stars or better: Worth considering




2 stars or better: Suited to specific needs




1 star or less: Not recommended 
Features
Ladies runs as a library within Kontakt (or the free Kontakt Player). It is PC/Mac compatible, and, as per Realivox, runs in all sequencers and DAWs with VST, AU, AAX, and RTAS formats. The voices are played via your MIDI keyboard.
Though we hadn't used the previous version, apparently the graphics in Ladies 1.0 featured anime representations of the five different singers, but they are now represented by photos of real people. Also new from version 1.0 is true sampled legato, polyphonic legato, variable speed legato, and fifty-eight multisampled articulations, giving you all the "oohs," "ahs," "bops," and the like, and the ability to choose a limited number of ending consonants.
There are four screens that Ladies is organized into, with toggles at the bottom to switch between them. Layout is uncluttered (a breath of fresh air!) and easy to navigate. While we certainly recommend you read the manual, you likely can get things going without it as most functions are pretty straightforward.
The default screen is called Main, and here is where you can pick your singer. To quote Realitone, these singers are:
Cheryl – Airy and pretty
Teresa – Soprano opera diva
Patty – Pop or Ethnic
Julie – Full range
Toni – Smooth R'n B
On this page there are also controls for Articulation (what syllable to sing), Timber (for a brighter or darker sounding voice), Keyswitches (turning on or off vowel, consonant, or polyphonic legato), and a neat feature called "neighbor borrowing" which allows you to use a different sample that is played at the same pitch.
Above the singer's graphic is a legato section, which is well thought out. With vowel legato mode on, when you play overlapping notes, the legato stays on that vowel. This will, for example, produce a "Doo-oo-oo-oo-oo" sound as opposed to a "Doo-doo-doo-doo" sound with multiple keystrokes. In phrase legato mode, the legato moves to the next syllable, if multiple articulation sounds are chosen. In polyphonic legato mode, there are legato transitions from several notes to the next set of simultaneous notes (i.e. chords). The limitation is that once a note is released, the next note(s) need to be played within 210 milliseconds (the default, adjustable) for this effect. Also within this section are controls for the legato intervals themselves, with "True" being the actual sampled legato, therefore being the most realistic.
To the left of the singer's photo are controls for Expression and Envelope. Velocity in Ladies is intentionally disabled to account for people playing unevenly on the keyboard, thus resulting in a more natural, smoother vocal sound. However, if you do want the ability to make some notes quieter or louder, you can do this by clicking the Expression knob. After right-clicking, you will get a pop-up "Learn MIDI CC# Automation" asking you to assign the controller to this function (expression pedal, etc.). Realitone warns that the Expression function controls more than just volume, as it includes filtering and EQ, so excessive use may may things sound artificial… or glorious, depending on your perspective.
The Envelope section includes Attack and Release controls, controlling when the sample starts and how long it decays.
There is an effects section, which includes reverb and delay.
Finally, the bottom of the screen has a vritual keyboard (which can be toggled on or off).


To help you, the keys are color coded. Yellow keys correspond to the "Favorite" phrases you selected ("Doo," "Ah," etc.), the red B1 key serves as a repeat key to repeat whatever your last note was, teal keys represent stretched samples of the main singer (in slot 1), and the blue notes represent the true range of the main singer (again, whoever is in slot 1).
What if you want more than one voice? That's the next screen, the Mixer page: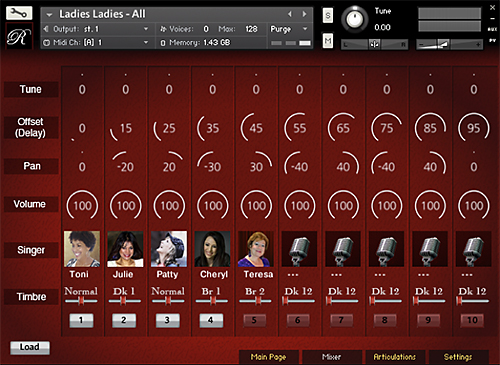 In one instance of Ladies, you can trigger up to ten voices, each with its own settings including tune, delay, pan, volume, timbre, and of course, which lady! You can mix in any combination, and mute voices, too.
Now the fun part… articulations!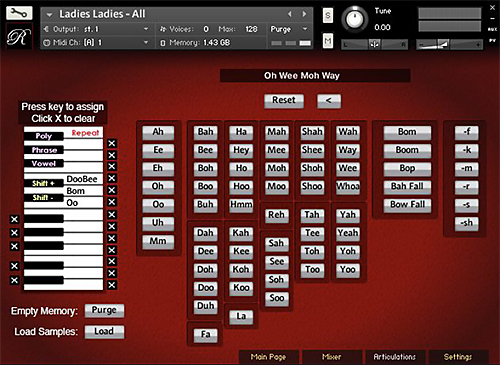 The final page is the Settings Page: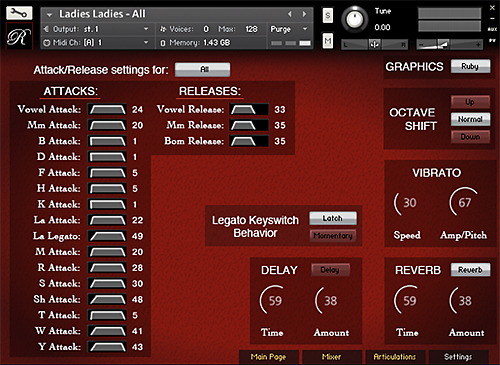 This is where you can fine tune the attacks and releases of the individual vowels and consonants, adjust effects, adjust vibrato, and even apply an octave shift. We think it's great that you have the ability to, say, adjust a "D" sound differently from a "T," as opposed to having one setting for all consonants.
Usability
We ran Ladies on our 2011 MacBook Pro i7 running OS 10.8.5 without any issues, both in standalone mode (using the free Kontakt player) and also as an RTAS plug-in in Pro Tools 10. No issues. Given how well Ladies functions (and with minimal hardware), we're excited about putting it to use live on stage as a soft synth—extra voices without extra bodies, and they always sing on pitch!
Ladies was truly easy to use. Pick a voice, choose a syllable, and play! Want more voices? No problem. It really wasn't hard to get some great sounding backing vocals going, and this virtual instrument was definitely easier to "play" than developing the technique for utilizing virtual strumming instruments. Even with minimal tweaking, we were up and running getting professional sounding results in record time.
One important thing to remember is that you need to press the "Load" button to enable a singer's samples to actually load. After making changes to the arrangement of voices, pressing this button again has the added advantage that it unloads from memory all of the voices not being used in the sound that you have created in order to minimize its RAM utilization. It would have been nice that if once you chose the singer, samples were automatically loaded, but this was not a major issue.
Sound
No doubt, the Ladies have their act together. While things right out of the box sound good, taking a little time (and you really don't need much) to tweak things like legato, tuning (for ensembles) and plain old-fashioned experimenting with articulations to see what works best, you will get even better results.
As is inevitably always the case with vocals and vocal processing, there is a limited range in which things sound believable. Too high or too low and things get unnatural sounding—which may be fine if this is the desired effect on a pop music production. Fortunately, the color-coded keys help keep you on track related to the natural voice ranges.
Your playing can also help the singer's performance. If you play like a robot, your singer will more likely sound more like a robot. If you play phrases more relaxed, your voices will sound better. Realivox has a great demo that walks you through the sounds and operation here. It's awesome!
Documentation and Product Support
The Ladies comes with a PDF file User's Guide. Although already easy to use, the subtleties that make all the difference in a convincing, realistic performance are explained well here. And, there are downloadable MIDI files available from the Realitone website.
Price
Realivox Realitone Ladies has a few versions available. The Kontact Version (MSRP $399) sells for $299.95; and a light version sells for $149.95, with a simplified feature set (but same cool sound) targeted at basic backing vocal harmony tasks. Given the quality and ease of use, we think this is a good deal. For any composer or producer, this plug-in seems like a no-brainer to have in your studio. We'll definitely be keeping it in ours.
SPECIAL DISCOUNT FOR MUSICPLAYERS.COM READERS!!! Want to save $10 on the light version? Enter discount code musicplayers when completing your purchase transaction for an instant savings!
Contact Information
Realitone
www.realitone.com