What's the difference between One Direction and OneRepublic? Everything, but most musicians seem to think they are interchangeable, fabricated pop, boy band endeavors. If you're one of those confused souls, the spectacular Live in South Africa concert DVD should help correct the error of your ways, because OneRepublic happens to be a kick-ass, pop rock band full of extremely talented musicians.
Category

Value

Rating

Musicianship

20%

Songwriting

25%

Production/Engineering

25%

Vibe

10%

OVERALL RATING = 3.89 Stars
With a multi-platinum career now entering its second decade, this group of five has penned more hit songs than you probably realize, and watching this fantastic arena show from Johannesburg will remind you just how familiar with the music you actually are. OneRepublic has a vibe that is sort of like U2 without so much delay on the guitars, and with catchy, melodic hooks and plenty of sing-along vocals. And, they've released so many successful singles over the years that you'll probably feel like you recognize every other song (at least).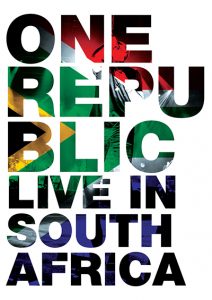 The musical performance is top flight, and at times, they break out classical instruments, perform some spectacular piano and acoustic guitar instrumentals, throw in some double drumming, switch off instruments from one player to another without missing a beat… and all the while, you're treated to song after song of melodic pop rock hits. The whole band sings (well), so you're treated to a full, live production, and the audio/video quality make this performance sound so good that you don't even notice you're not listening to the studio releases.
The accompanying documentary video contains great interview content, which really shows how this group of young, humble musicians from Colorado worked hard for years, eventually landing a world tour gig being Maroon Five's opening act, and culminating years later in their return to South Africa as a 20,000 seat, arena headliner.
If you've just assumed that OneRepublic's music was fabricated in a studio by producers and studio musicians, grab a copy of Live in South Africa. This is a perfect, shining example of what "quality pop rock" music is all about.

Photo Credit: Keenman76