We have been fans of Devin Townsend for years, and we especially loved the 2016 Devin Townsend Project record, Transcendence. Less than two years later, Townsend delivers his first official solo record, Empath, and we have to say, this just might be his crowned jewel to date! Empath may as well have been named, Epic, but that might have been perceived as a bit too pretentious. Regardless, Empath is epic in every imaginable way..
Devin Townsend, Empath
Genre:
Progressive Rock, Metal, Pop
Musicianship:
Songwriting:
Production & Engineering:
Vibe:
Overall Rating:
3.89
Fans of progressive rock and prog metal will love Empath particularly if they also embrace other genres. Imagine fusing Dream Theater with Abba and then asking a children's choir to sing with the band. Oh, and invite an orchestra to join in the metal mayhem, too!
Empath paints a sonic tapestry that crosses many genre boundaries, often times within the span of a single song. The overall vibe is as heavy as much of Townsend's band work, but he reaches far deeper into other genres from song to song, bringing in elements of EDM, classical, techno, and jazz. It's only fitting that Frank Zappa alum Mike Keneally contributes heavily to this record as the overall musical director (and you can definitely hear some Zappa influences). Other notable contributors include Zappa alum Morgan Agren, Periphery's Anup Sastry, Steve Vai, and more.
Watch "Spirits Will Collide" here...
The first two singles are great representations of the musical diversity you'll hear on Empath. We love the genre-hopping "Genesis," ably supported by one of the most visually stunning music videos we've seen in a long time (another killer chameleon of a song is "Borderlands"), and the epic rock anthem, "Spirits Will Collide," with an amazing message of hope and love for people having a tough time in their lives.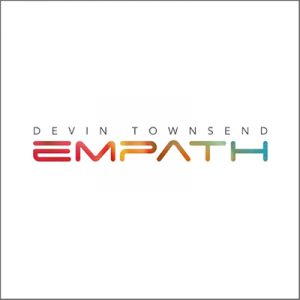 The final section of the record mellows things out a bit. The operatic and orchestral piece, "Why," and the choir-meets-Disney-film movement, "Requiem," are two songs that really demonstrate the fantastic depth of Townsend's songwriting and musical expertise. And the closer, a 23-minute long progressive rock and prog metal masterpiece, is simply stunning. "Singularity" begins as an acoustic guitar- and orchestra-driven ballad that morphs into an operatic song, then morphs again into familiar Devin Townsend heaviness… but then turns into electronic melancholy and beyond. You can truly get lost in this one song for days on end!
Scattered across this nearly flawless record, our only regret is that some of the metal passages on Empath rely too much on the machine-gun fire repetitiveness of sixteenth-note double-kick patterns, which may turn off the less metal-inclined listener. And that's too bad, because this is a rock and prog rock record for a larger audience. But regardless of the occasional pounding kick drums, Empath will take you on a voyage of musical discovery, and it's a sonic treat just trying to absorb all of the incredible musical details that Townsend delivers. We can't wait to hear Townsend's new band bring these songs to life on their world tour beginning in November 2019.