Gus G., Fearless
Genre:
Hard Rock/Metal
Musicianship:
3.5
Songwriting:
3.0
Production & Engineering:
3.5
Vibe:
3.5
Overall Rating:

3.38
A well-known master of the six string and former Ozzy Osbourne guitarist, Greek guitarist Gus G. impressed hard rock/heavy metal fans by way of his first two solo efforts, 2014's I Am the Fire and 2015's Brand New Revolution. Gus G. returns with his latest solo album, Fearless. Today, Gus G. has set his sights higher than ever, as Fearless is conceived from a concoction of daring and heavy guitar riffs. Rock fans will instantly find delight in this sonically pleasing album.
For twenty years, Gus G. was well known for being a founding member of power metal band Firewind, for whom the guitar wizard still shreds to this day. But the influence of his time in Ozzy's band is more apparent on Fearless. Taking a page out of Ozzy's songwriting arsenal ("Mr. Crowley," "Mr. Tinkertrain"), Gus G. presents the haunting and driving melodies of "Mr. Manson" where the vocals pair well with the slow heaviness of the song's dark arrangement. Out of the ten songs on the album, "Money for Nothing" is the only non-original song from Gus G. He reinterprets the 1980s MTV, Dire Straits classic as an all out heavy metal machine for the modern listener, even changing the original lyrics from "We gotta' move these color TVs" to "We gotta' move these LCDs." Clever though it may be, it's his original songs that are the stronger ones on this release.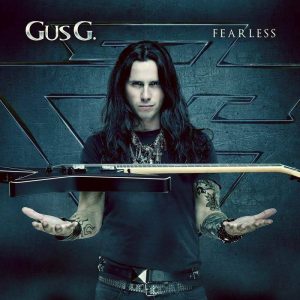 A groovy "Chances" assures the listener of adventure and opportunities in this crazy world we call life while being paired with the arena rock-style "Big City," painting a picture of concertgoers with their hands in the air and living in the moment. Something that shouldn't be overlooked are the two instrumentals the album offers, "Fearless" and "Thrill Of The Chase," a pair of tracks exhibiting Gus G.'s supreme talent for storming up and down the neck of his favorite ESP electric guitars and reminding the listener and the music industry how hard he has worked to achieve the status he has today.
All this said, without a doubt, Gus G. fans will be extremely pleased with the broad musical strength of Fearless. Fearless displays Gus G.'s ability to take his art to the next level to drive home a collection of quintessential rock cuts. A must for any rock fan, go check out Fearless by Gus G. and be sure to crank it up to eleven.
Notable Tracks:
Mr. Manson
Chances
Thrill of the Chase