Category

Value

Rating

Features

20%

Usability

25%

Sound

25%

Documentation & Support

10%

Price

20%

OVERALL RATING = 3.6 Stars,
which earns it a WIHO Award!


3.6 stars or better: Outstanding, WIHO Award




3 stars or better: Worth considering




2 stars or better: Suited to specific needs




1 star or less: Not recommended
It seems like every year, Fender has some new variation of a Stratocaster available, and the continual change of features (and finishes) ensures that there's a model out there destined to appeal to a wide range of players.
Over the past few years, among a variety of unique models that we have reviewed, we fell in love with the Strat Elite, and were then further floored by its successor, the Strat Ultra. But not every player has $2,000 to spend on a boutique-level instrument. Sure, Fender has a wide range of Strats to choose from at much lower price points, but finding just the right blend of features and function is always a game of trade-offs and compromises. Or, is it?
The new Fender Player Plus guitars should stop many pro-level players in their tracks. Our reviewed HSS model has a fabulous set of features at a remarkable price point, and its multi-colored finish is drop-dead gorgeous, again pitting Fender squarely against other premium builders who have moved beyond the familiar, single-color finish. And to be fair, even in the single-color finish department, these past six years or so have seen a remarkable upgrade in the finishing options that Fender has been delivering on production-line models.
The differences here are once again in the details that you won't see from product photos, and they add up to a fantastic Stratocaster that is capable of filling a tremendously wide range of applications—including high-gain metal. Read on to discover why we're so enamored with Fender's latest offering.
Features
The Mexican-manufactured Fender Player Plus Strat features the time-honored combination of an alder body with a maple neck, in this case capped with a pau ferro fretboard. Pau Ferro is lighter in appearance than our preferred rosewood but shares sonic characteristics, though the tighter grain density tends to result in a brighter, snappier tone.
The neck features a Modern "C" curve, with the Fender-ubiquitous 12" radius and 25.5" scale length. It has a satin urethane finish on back, and 22 medium jumbo frets on the board. The fretboard also features rolled edges for a more vintage, broken-in feel. The headstock is adorned with Fender's locking tuners, and the single-action truss rod is accessible just beyond the synthetic bone nut.
Moving to the rest of the hardware, the Fender Player Plus features a modern, two-point tremolo bridge, flush mounted to the body or slightly floated depending on your preference, with block steel saddles. And while you may think you recognize the noiseless pickups from other new Fenders, you would be partially mistaken.
The Player Plus HSS features a new Player Plus humbucker in the bridge and two new Player Plus noiseless single-coil pickups. Things get even more exciting under the covers because the lower tone control is a push/pull switch that splits the bridge humbucker in order to achieve all of the familiar single-coil Strat tones (minus the 60-cycle hum, of course).
Although not the subject of this review, the Player Plus SSS version (no humbucker) also has a push/pull Tone knob, but on that model, pulling out the switch adds the neck pickup to the bridge and middle positions for additional tones not typically found in Stratocasters.
But enough with the specs. This guitar is gorgeous! Fender introduced a few new finishes that provide beautiful color gradients that have become quite en vogue these days, and while our tested guitar is dressed in Belair Blue, we will admit that is simpler than calling it the "blue meets aquamarine meets gray" finish. The Tequila Sunrise finish is another stunner with its red to orange to yellow luster, though you'll have to opt for a SSS configuration and maple fingerboard for that beauty. Suffice to say there are also standard bursts and solid color finishes available as well.
Usability
If it walks like a Strat and talks like a Strat, it certainly had better play like a Strat. And that it does, wonderfully! Our test guitar came set up with very low action, and coupled with the rolled edges of the fretboard, playing this guitar felt right at home compared with our other similarly set up, premium Strats.
The locking tuners and two-point bridge are great appointments that work very well, and while you can easily set the bridge for flush-mounted, pitch-down operation, it floats slightly by default, which is useful if you want to obtain tremolo effects via the screw-in tremolo arm. Flush-mounting the bridge has an upside in that you get outstanding tuning stability and can easily change string gauges or utilize alternate tunings without requiring new set-up adjustments.
We must admit—after living with the Strat Elite and Strat Ultra, it's hard to go back to the classic Fender neck block. There's nothing wrong with it, and this is the more contemporary block design (slightly thinner) as opposed to the massive block found on vintage models and re-issues, but once you play Fender's Elite and Ultra models, it's a minor grievance reverting back to the classic design.
The Pau Ferro fretboard felt a bit less polished compared with Fender rosewood and maple fretboards, presumably due to the more porous nature of the wood. But the rolled edges of the frets made for a very comfortable vibe.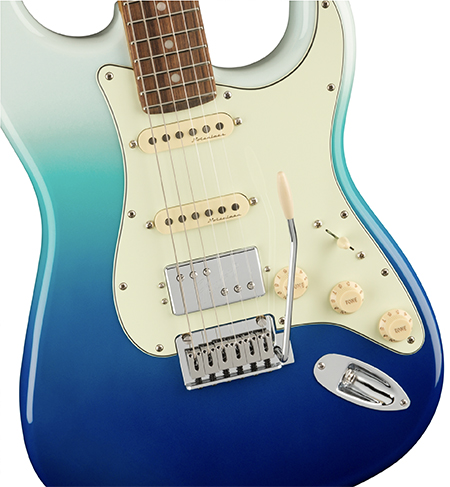 The only real complaint we've got has to do with the push/pull design for the coil split. The classic Fender knobs just aren't that grippy, so pulling the knob up is actually quite a chore, made easier by grasping it from underneath the edges by your fingernails to life. You can't really pull it effectively mid-song unless you have a few bars without guitar. A toggle switch would have been much nicer, but obviously would have added to the cost. Another option is to replace the knobs with ones that have knurled, grippy edges.
Sound
We played the Fender Player Plus Strat HSS through a Fender Supersonic (which features the preamp voicings of both the Vibrolux and Bassman), an ENGL Powerball II (to assess high-gain, modern metal tones), and a Tech 21 PSA-1 rack preamp (direct recording preamp with classic Sans Amp tones in the style of vintage Marshall tone).
The Fender and Tech 21 amps made it particularly easy to compare the tone of this guitar to our team's encyclopedic familiarity with classic Fender tones. If you're a tone-knobs-on-10 kind of player, then the Player Plus delivers a welcome array of classic Fender tones without single-coil hum. However, it lacks some high-end openness compared with our pricier Elite and Ultra guitars. On its own, you might not notice, but if you were sitting in a studio swapping the guitars around, you would hear the difference. It's not quite as bright on the top end, with slightly less presence. And, there's just a little bit less girth to the bridge tone when splitting the humbucker for single-coil tone compared with a true Fender Noiseless single-coil pickup.
The humbucker used as a full humbucker is a real treat, though. In our Fender and Tech 21 play, it pushes the amp just enough for that extra depth you want from humbuckers, and it helps achieve breakup and slight overdrive from the amp rather than needing to resort to pedals. Rolling off the volume cleans up the sound nicely, too.
Plugging into our ENGL rig was a great treat, because the humbucker is hot enough to deliver powerful but tight, high-gain tones that we typically turn to other builders' "super Strats" to achieve. In this context, the guitar was perfectly suited to playing high-gain hard rock and metal. This is definitely an extremely versatile Stratocaster!
The tone controls were a disappointment, however, as they go from "on" to "off" with virtually no change in between as you roll them off. We could obtain nasal, muted tones, but the controls weren't beneficial for players just looking to subtly tame a bright amp. Given the great pricing on this guitar, though, we wouldn't hesitate to drop in some premium tone pots. The pickups are nice overall (and without 60-cycle hum), and we don't feel any need to change them unless you need a bit more brilliance from them. (Of course, new tone pots might resolve that very minor gripe.)
Documentation and Product Support
The Player Plus Strat includes a small, generalized Fender manual that covers the basics of guitar maintenance—intonation, truss rod adjustment, string height, etc. Fender has a very comprehensive website with plenty of additional content, videos, support, and more.
All Fender guitars feature a 2-year limited warranty.
Price
The Fender Player Plus Strat HSS sells for $1,129, while the single-coil Player Plus Strat sells for just $1,099. Getting this feature set, with these gorgeous finishes and Fender playability, and at these prices, makes for a very good value. Fender really left all the essentials in, plus added some great bonus capabilities in the switching, not to mention continuing the welcome trend of delivering premium guitars with noiseless pickups. Adding the ability to push high-gain amps properly in the Player Plus Strat HSS is like adding icing on top of the icing on the cake. Yes, it's that tastey.
Contact Information
Fender
www.fender.com