All concert photos by: Scott Kahn
Long before Americans discovered Evanescence, there was a female-fronted metal band from Finland producing brilliant albums combining aggressive metal guitars with a recto crunch and double-kick drums, songs awash in big synthesizers, larger orchestras, choirs, and topped off with vocals that moved seamlessly from operatic female leads to aggressive, grinding, male vocals. Whether or not the American band can develop a long-lasting career, they'll always be playing catch-up to Nightwish, currently celebrating over a decade of making award-winning recordings with international appeal.
With a sound that is at once intense, complex, and dynamic, Nightwish music fuels the passion that burns within most of its members, and after only a few listens to their latest release, Dark Passion Play, that passion should take hold of new listeners as well.
Nightwish have only recently begun gaining recognition in the United States despite having a string of gold and platinum albums in numerous countries worldwide, but as with many other artists, the great international ones rarely get the exposure they need on American radio to make an impact on our charts and become household names.
One part metal and one part rock, one part pop and one part musical theater, it's hard to define the Nightwish sound (or maybe we just did). Symphonic Metal works as a label for some, but Euro-pop influences can be heard in many songs. '80s rock comes to mind at times, too, but then so does '90s Nu-metal. There are just so many ways to describe this band, yet none is totally encompassing. We might climb out on a limb and call them progressive rock due to the tremendous orchestration of their music, but that would only further label them as something appealing only to one type of music listener, and really, their music touches a broad audience.
"All of us are pretty ambitious people within this band," bassist/vocalist Marco Hietala explained when talking about the band's diverse sound. "The whole variety of stuff that we do goes from soft and sensitive stuff to really hard extremes, and there aren't that many groups doing that. The orchestral stuff is just one aspect of this."
If you're the kind of musician who appreciates everything from metal to pop to orchestral, there's something here for you. In our review of their latest and sixth studio release (the second release in the US), Dark Passion Play, we referred to the band as a heavy metal version of Abba. This still seems to be the best general summary of their sound, though it hardly qualifies as a specific category of rock.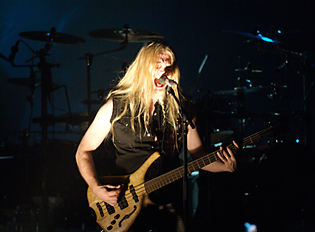 We met up with songwriter/keyboardist Tuomas Holopainen and Marco during the first leg of Nightwish's US tour (it comes back to the United States this spring after an extended European tour schedule). The first major US tour for Nightwish, most new fans won't recognize the significant lineup change that occurred prior to recording Dark Passion Play — replacing their lead vocalist, Tarja Turunen, after five albums and ten years of existence.
Theirs is a fascinating story to our readers, not because they know Nightwish yet, but because most of us play in bands and we've all got horror stories to recount about at least one lead singer who felt that they were more valuable to the band than everyone else. Tarja cannibalized her tenure with the band by falling victim to her ego, or at least the ego that was fueled by her husband-turned-personal manager.
Obviously, hearing that the lead singer took on personal management (in the form of her husband, no less) probably made the hairs on the back of your neck stand up. Even if he wasn't a love interest, when band members start seeking independent management, they're no longer looking to participate as an equal among their band mates, and this was certainly the case.
Nighwish are a tight-knit quartet at their core — keyboardist Tuomas Holopainen, bassist/vocalist Marco Hietala, guitarist Erno Vuorinen, and drummer Jukka Nevalainen, who just happen to be fronted by a female vocalist. If we are to believe all the statements in Tarja's termination letter (it was published as an open letter on the Internet for everyone to read), this change in the band lineup was necessary for Nightwish to move forward, not just physically, but emotionally, too, as there became a huge gap between the band and its singer.
Tarja's behavior would never be tolerated if she were the singer in any band, let alone one as successful as Nightwish. And while some onlookers and fans would disapprove of the band's decision to openly publish her termination letter on the Internet, one read and you're certain to be sympathetic to what the band experienced in dealing with her. Many of us can personally relate to the anger the band must have been feeling towards their former vocalist. You can read the fascinating letter here.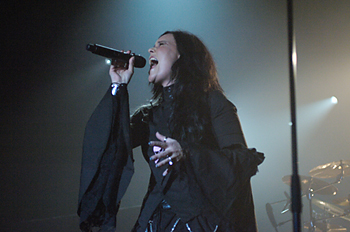 After a year of auditions during which any interested female vocalists were invited to submit demos (over 2,000 singers applied for the vacancy), a spectacular singer was found in Sweden — Annette Olzon. One listen to Dark Passion Play and it's obvious that while Tarja was a gifted operatic vocalist with a pretty voice, Annette really lifts the band to a new level by infusing the vocals with a strong rock edginess that was missing from Tarja's softer vocals.
Marco commented, "Since the former one was from the classical side, a lot of people expected us to find someone like that, but we weren't really sure. We were just trying to find somebody with an impressive voice, personality, someone we could get along with… Annette was among the very first ones to send her demo to us. We listened to it and thought 'Yeah, yeah, this is a very potential one, so let's keep it here,' but we promised in the ad that we'd be looking throughout the next year, so we ended up doing that, but there wasn't anyone better. There were people who were really good singers — who could have done the job, but she just appealed to the most of us, to all of us really. So we ended up picking her. She had a hard year waiting."
Dark Passion Play was written in late 2005 through early 2006, in between vocalists. According to Tuomas, "The weird thing is, it was by far the easiest album to give birth to, even though it took ages in the studio to put together [10 months]. This was merely because the songwriting was mainly done when times were rather hard. In that state of mind, music was the only comfort and microcosm to escape to. Dark Passion Play is our darkest and heaviest album so far. The diversity of the styles and elements on the album is almost absurd, but the same soul image they all have keeps the package together." Marco is quick to point out with a laugh, "Tuomas, he hates to picture himself as an artist, but he does sit at his back room with a synthesizer and a piano and a bottle of red wine. There are a lot of long nights that way." Tuomas added that much of his songwriting still takes place on an old KORG N364.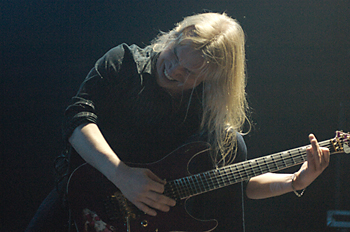 We've all heard rock albums that feature guest appearances by an orchestra, typically for the "power ballad," but Nightwish are far beyond that trivial affair. For Dark Passion Play, the third album on which they've embraced live orchestra players, the band brought a 100-piece orchestra and thirty-plus choir singers to London's famous Abbey Road Studios to record the entire album! Besides making this the most expensive recorded album in Finnish history, fully orchestrating the album really breathed a unique and powerful life into the songs. As an added bonus, a limited edition version of the CD includes a second CD featuring instrumental mixes of all of the album tracks.
"The Abbey Road sessions were an overwhelming experience," explained Tuomas, "not only because of the legendary aspect of the studios itself, but because of the genuine passion the session musicians gave for a Finnish metal band unknown to them. It was merely incredible! They never heard the songs before entering the studio — it was all 'prima vista.'
These people have experienced it all; still I even saw some head banging while recording. And after the takes they would come to the control room and listen to the takes, telling us how great and different stuff it was for them to play. I can't wait for the next album and the next sessions!"
During the sessions, everybody, from conductor to the orchestra, monitored both a click track and basic tracks that had already been recorded back in Finland. With only eight days in the landmark studio, a lot of preproduction effort went into the arranging.
"The ideology behind the orchestra and the choir is that they are playing what I would be playing with my keys if I had fifty hands and a damn good sampler," laughed Tuomas. "We recorded a good quality demo of all the songs, where I played all the orchestral parts (that I had in mind by that time) with my synths. Then, I flew over to London with the demo to listen to it with Mr. Pip Williams, who would be responsible for the arrangements. I have no knowledge of arranging for an orchestra, and my note writing is also so so... That`s where Mr. Williams came in. We would call each other every day during the following months, to go over the ideas and alternatives for the arrangements. He did such a wonderful job, coming up also with great ideas of his own."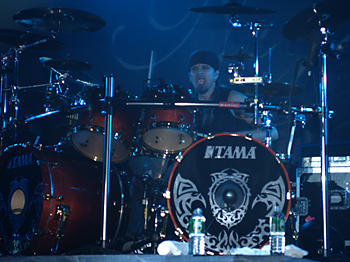 You might think that with all the orchestration, little room would be left for Tuomas to play a lot of keyboard parts. Tuomas explained, "There are actually more keys on this album than before. Almost everything the orchestra is playing is doubled with the keyboard. With the keys quite low on the mix it gives some depth to the overall sound. Something in the vein of Mr. Hans Zimmer, I guess."
Inspired primarily by film composers, Tuomas draws his inspiration from the likes of Zimmer, Danny Elfman, James Newton Howard, Vangelis, and Hames Horner. Instrument-wise, he is a long-time KORG devotee, and he used the KORG OASYS on Dark Passion Play, along with one of his older KORG Karma keyboards, though he brings a different setup on the road. "For the live shows I leave the OASYS monster at home," he shared, "to save the roadies's backs and nerves. I have two KORG Triton TR's and the Karma. All the OASYS sounds are sampled into a software sampler, so I can then play them with any MIDI keyboard."
Marco is equally comfortable with his equipment, and is a longtime Warwick player. Just as Tuomas recently upgraded his rig with an OASYS, Marco was also excited to tell us about some of his newest toys. "Almost all of my stuff is from Warwick," he told us before the New York show. "I got those new cabinets with eight ten-inch speakers, and the amp [Warwick ProTube IX] – it's new; I just got it. But I've been using those Infinity basses for some time now.
I really got hooked into them when some guys at a local music store in Helsinki said 'Take it for a week and try it out.' I was playing in a different band at the time and took it for a week, and got onto a plane to Sweden on Tuesday, to play on one of my former band's albums, and then I called the guys on the phone and said 'Hey, you 'aint getting the bass back,' I liked it so much, and then I ended up having two of them!"
His thunderous tone comes from four-string basses tuned one step down (D G C F) with a hipshot to drop the D down to C. Distortion comes via a Sans Amp rack unit.
Although unavailable to chat with us about his monster tone, guitarist Erno Vuorinen plays ESP guitars through Mesa/Boogie Dual Rectifier heads atop Marshall cabinets, and drummer Jukka Nevalainen plays Tama drums and Paiste cymbals.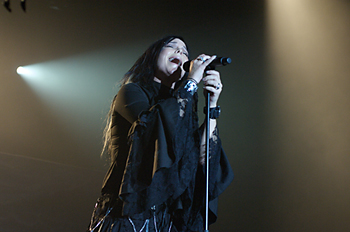 Not many labels would be supportive of a band that is so hard to categorize, but Nightwish took matters into their own hands many years ago, building a business around the group to ensure that they retained full control over their music. Explained Marco, "We basically do all of these things for ourselves first in order for it to stay pure and as ambitious as we want it to be, and then start to think about costs and how many people we're going to reach. So far we've been pretty successful with it.
There's also the aspect of risk taking there. We've got a company that we've built around the band — we put it up a few years back, where the four of us guys are like major stockholders in the company, and we paid for all the recordings and orchestras, and all the masters from that company. So we ourselves take all that risk and then go on to making deals with companies — how much advances, how much royalties, and that kind of stuff. So all the strings, at least at first, are in our own hands."
Clearly, retaining full control of their destiny has proved a successful recipe for delivering outstanding music on their own terms. Finally breaking in the United States after all these years in Europe, Nightwish are in the enviable position of delivering exactly what they want to deliver musically to a largely untapped audience in America. As evidenced by the sold-out show we attended in New York City (not to mention their first feature at MusicPlayers.com), clearly, the word is out that this is a band you need to know. We can't wait to hear what develops next as Annette becomes better integrated into the group, but for now, we'll keep listing to Dark Passion Play, and look forward to their repeat visit to the United States this spring.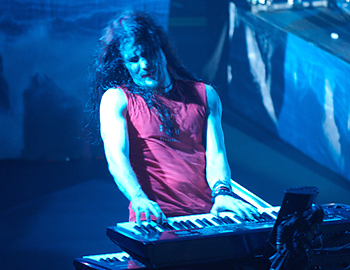 Watch some great music videos for "Bye Bye Beautiful" and "Amaranth" from Dark Passion Play, as well as a few other older videos, on the band's website at http://www.nightwish.com.
Lead Singer Aptitude Test
Think you found the right singer for your rock band? If you're a band on the rise, it's important to determine from the start whether or not your singer really wants to be a solo artist or a member of a band.
If you are a lead vocalist fronting a rock band, consider some of these issues and how a band might handle the situation. If you're a female fronting an all-male band, don't forget that those guys don't see things the same way that you might. It's the whole Mars/Venus thing...
1. When your band's singer gets a personal manager (her husband), you:
a. Smile and say, "It's normal for band members to have their own representation instead of dealing with things together as a band with our team's management. Plus, we love it when outside family members influence what we're doing."
b. Kick her to the curb.
2. When your singer's personal manager suggests (because she doesn't talk directly to the band anymore) canceling a sold-out concert because she needs to rehearse for some upcoming solo concerts, you:
a. Say, "No problem. Her solo work is more important than what the band is doing or what our fans expect of us."
b. Kick her to the curb.
3. When your lead singer informs you of the sacrifices she's made in her musical career in order to be the band's frontperson, you:
a. Apologize for how the band's gold and platinum albums must have been less rewarding than what she could have accomplished without all of you.
b. Kick her to the curb.
4. When your band's singer informs you that your next album will be her last with the band, you:
a. Say, "That's good, because we really don't want to do this anymore, either."
b. Kick her to the curb.
The correct answer to each question was choice "b." How well did you score on this quiz? This is only some of what actually transpired in Nightwish leading to the decision to replace Tarja with a new lead singer. You can read all about what transpired in the band's open letter to Tarja, available here.
If you want to be the singer in a rock band, or remain in that fabulous position, you should actively participate in band functions (like coming to rehearsals and song-writing sessions) and not seek special privileges or additional compensation just because you are the vocalist. Anyone can be replaced in a band once they stop acting like part of the team.