It has become customary the last few years that we leave NAMM excited in part because of some new gear that Warm Audio has introduced. They continue to win accolades for the quality of their ever-expanding selection of vintage re-creations of classic analog studio gear, and this trend is sure to continue with products like the subject of this review, the WA-47 tube microphone, which puts the sound of a classic Neumann U47 within reach of any serious project studio.
Category

Value

Rating

Features

20%

Usability

25%

Sound

25%

Documentation & Support

10%

Price

20%

OVERALL RATING = 3.8 Stars, which earns it a
WIHO Award!


3.6 stars or better: Outstanding, WIHO Award




3 stars or better: Worth considering




2 stars or better: Suited to specific needs




1 star or less: Not recommended
Warm Audio's ability to do what they do consistently is the result of fanatical attention to detail in the sourcing of components for their products, and here, Warm has once again delivered a re-creation that sounds like the real deal. Continuing to deliver the most sought-after pieces of studio gear in history for a fraction of the cost is a remarkable achievement. The new WA-47 is an amazing microphone that captures the essence of the original U47 and then some. Even if you didn't specifically desire a classic U47, this is a fantastic studio microphone for the price.

Read on as we explore the joy-inducing details of the Warm Audio WA-47.
Features
The Warm Audio WA-47 is a vacuum tube, large diaphragm, condenser microphone. Like the original U47, the WA-47 has a seven-pin connecter and offers multiple polar patterns. Specifically, the WA-47 can have a cardioid, omni, or figure 8 polar pattern, as well as in-between patterns. Additionally, the look and feel of the WA-47 is very reminiscent of the U47. For example, the WA-47 boasts a gorgeous silver body and grill, presenting a rich and classic appearance. It weighs in at a hefty nine pounds.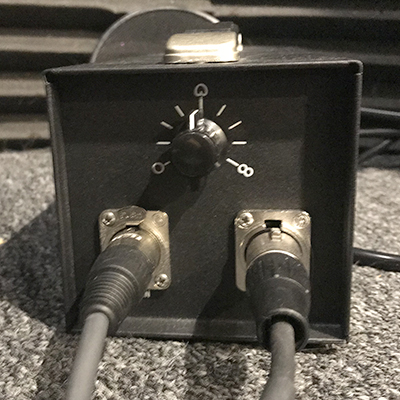 Additionally, the WA-47 comes with a wood case for storage as well as a shock mount. Beyond the aesthetics, Warm re-created the K47-style capsule that was used on the classic 47 starting around 1958 (and replacing the M7 capsule).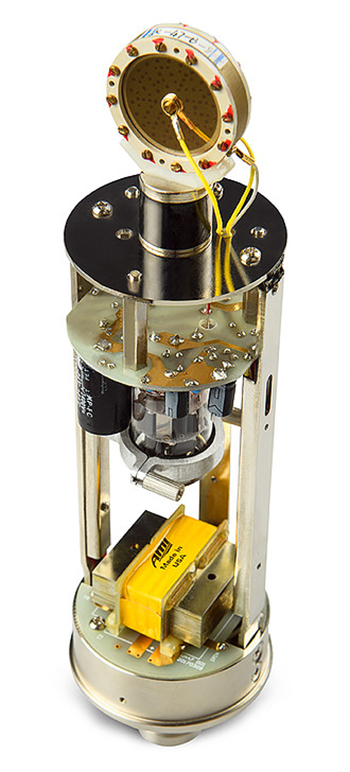 The mic is something of an international product. Its capsule is made by an Australian manufacturer, and it also features an American-made TAB-Funkenwerk AMI output transformer to ensure the smooth highs and deep lows associated with 47-style microphones.
Another reason the WA-47 excels as a microphone is due in part to having a classic style tube. Warm Audio auditioned several different tubes and decided to use the Slovak Republic JJ 5751. The JJ 5751 is a low noise, low gain tube that really pushes the classic sonic quality of the capsule and transformer. The use of the JJ 5751 no doubt led to an impressively low self-noise spec of 11dBA, impressive for a mic of this styles—or any other microphone for that matter.
The WA-47 package also includes a seven-pin cable. Warm partnered with Gotham Audio from Switzerland and includes their premium GAC-7 seven-pin cable (see specs here). According to Warm, the use of this cable reduces phase shift and enhances high-end presence. This seems to be the case as you will hear in the Sound section of this review.
Rounding out the signal path is the capacitor selection. Again, Warm has gone with a no-compromise approach. For example, the output capacitor is a Solen high-end film capacitor with very tight tolerances and low dissipation factors. The coupling capacitor is polysterene and should provide some very high isolation resistance. Lastly, German-made Wima capacitors are used throughout the signal chain (using polypropylene) due to their lower resistance. The Wima MKS4 is used with impressive capacitances from from 1000 pF to 680 µF. Rated Voltages from 50 VDC to 2000 VDC. In summary, the WA-47 is a masterfully designed microphone that emulates the classic U47 to an excellent degree, making it a beautiful go-to microphone for numerous scenarios, usable in almost any audio application.
Usability
The Warm Audio WA-47 is hearty yet simple to operate. Some that are unfamiliar with tube microphones may be perplexed by the separate power supply; however, once in action there is only one extra connection to be made. As usual with Warm gear we were not disappointed to find that this unit exceeded our expectations.
Specifically, the polar pattern selector was located on the power supply and was easy to adjust. Furthermore, the proximity effect is negligible, and we found that the WA-47 was usable at many different distances.
The only downside is the shock mount. Suffice to say the mount was either a lemon that was an anomaly in our case or it's just the place Warm had to save some money. It was nearly unusable and the weighty WA-47 slid around because the bands were just too weak. Moreover, forget about hanging the mic upside down because it will just slide out. Hopefully Warm will consider upgrading the shock mount or offering an upcharge for a better one.
In summary, the WA-47 is a joy to use in every way other than with the included shock mount.
Sound
What does The Warm Audio WA-47 sound like? Well, it really sounds like a U47: deep, wide, and with a silky-smooth top. As discussed earlier, the depth is attributed to the transformer, tube, capsule and cable choices. In addition, all that luscious tone can be adjusted with the polar pattern selector.
Much like the classic U47 (which we have used on countless sessions), the WA-47 bathes audio with a rich character that has been sought after since the 1950s. We could go on discussing the sound but inevitably the best test is hearing for yourself.
We decided to post electric guitar and bass audio samples as well as several different vocalists and styles.
First up on vocals, our featured artist is Rachelle Green. We used the WA-47 through a Warm Audio WA2A compressor. It's obvious on this gospel tune that the WA-47 can handle some serious decibels because Rachelle has a very powerful voice!! The WA-47 saturated beautifully.
We loved the warmth, thickness and air of the tone overall, and what's also interesting is that there is still a lot of sheen without harshness. Like the U47, the WA-47 sounds killer on female vocals (as you can hear).
Next up is Sam Opoku through the WA-47 singing leads as well as some gorgeous harmonies. This sound example shows off the stacking ability of this incredible microphone.
We were pleased with the depth and richness of the WA-47 on bass. In this case we feature Donny Silva of Syde Project:
Lastly, here is the WA-47 on clean electric guitar. This features Jeremy Grimes also of Syde project.
The WA-47 sounded gorgeous regardless of voice or instrument. There's a reason why the classic U47 is a high-end studio workhorse, and the Warm Audio WA-47 delivers the same warmth, depth, and clarity of the classic that inspired its creation.
Documentation and Product Support
Warm Audio has all the expected resources such as specifications and an online manual. Additionally, there are some video reviews and supplemental documentation.
Support from Warm Audio was friendly and… um… warm, and quick to respond. It's obvious they are excited to take care of their customers.
Price
The Warm Audio WA-47 sells for $899. To get the sound of the most sought-after microphone in recording history with this level of quality and heritage, at this price, is beyond belief—and the steal of the century. Get one before the prices increase!
Contact Information
Warm Audio
www.warmaudio.com
Evaluation Short List:
• Neumann U47
• Telefunken U47 M and U47 AE
• Wunder CM7
• Wagner U47w
• Peluso 2247 SE