Melville, NY—Since its debut in 2011, the Pitchclip tuner has been the first choice for guitarists looking for an accurate and reliable tuner. To further expand on their clip-on tuner series, Korg has announced the Pitchclip 2; a refined clip-on tuner that features high tuning precision with excellent visibility and an enhanced clip for better holding power. The new Pitchclip 2 is also includes a reverse display function, allowing for an easier tuning experience for left-handed guitarists or players that want to keep their tuner behind the headstock.
While carrying on the compact body of the original, the new Pitchclip 2's display is even thinner than before. The new series also includes a larger, easier to read screen and improved detection sensitivity for the low-frequency region, making it ideal for tuning basses and extended range guitars.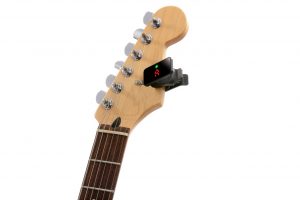 "The original Pitchclip has been Korg's best-selling and most popular clip-on tuner for years. The Pitchclip 2 takes this already proven design to the next level with a sleeker look and enhanced functionality. Guitarists and bassists are going to love this new and improved clip-on.
The Pitchclip 2 offers up to 24-hours of battery life and comes equipped with an auto-power-off function. The new tuners will be available June 2018, starting at (price). For more information, visit www.korg.com.