KNOXVILLE, TN, June 25, 2018 — Waves Audio, a leading provider of audio processing solutions, is now shipping the TRACT System Calibration plugin and the TRACT System Calibration + Smaart Di v2 bundle.
With the Waves TRACT plugin, sound engineers can now turn any sound system into a well-balanced foundation for their mixes, quickly and easily. The TRACT plugin integrates with Smaart®, the industry-standard audio analysis software, to auto-correct EQ issues and time-align any sound system: live or in the studio.
An untuned system's frequency response will behave erratically, resulting in music sounding different than we are accustomed to, and mixing adjustments will not respond as expected. Worse, if a system is not time-aligned, there may be phase cancellation affecting valuable low-frequency impact.
This is where Waves TRACT plugin comes in: TRACT calculates a corrective FIR EQ curve and time alignment corrections using data from Rational Acoustics' Smaart v8 or Di v2. Users can quickly take and merge up to eight measurement snapshots of their system and select a reference as the basis for EQ corrections. Included are four common reference curves, or users can create their own reference presets.
Once the FIR EQ is calculated, it can be manipulated by changing the reference curve, limiting its frequency and amplitude ranges, or by supplementing it with up to eight bands of IIR EQ filters. IIR filter shapes include Bell, Low/High Shelves, Flat-Tops, Butterworth and Linkwitz-Riley curves, a Tilt EQ with a variable frequency pivot point, and an All-Pass filter.
TRACT also includes a minimal-phase FIR component, which works at very low latency and with low phase distortion, as well as a linear-phase FIR component. It can be used in a live setting with any mixing console (via Waves MultiRack), with the eMotion LV1 Live Mixer, or, coming soon – with SoundGrid Rack for VENUE S6L; or it can be used within any major DAW.
Waves is also offering a TRACT System Calibration + Smaart Di v2 bundle, which includes the TRACT plugin and Smaart Di v2 audio analysis software – the essential tools you need to accurately EQ and time-align your sound system. Rational Acoustics' industry-standard Smaart Di v2 audio analysis software features a dual-channel iteration of Smaart's trusted Spectrum and Transfer Function engines, relied upon by audio professionals around the world.
Karen Anderson, Rational Acoustics' Chief Operating Officer, comments, "TRACT is the first plugin to utilize the Smaart API for integration of Smaart measurement data, and being a Waves product it was, of course, done incredibly well. Together, Smaart and TRACT create an elegant, intuitive solution to allow live sound engineers to analyze and optimize their systems' response within the plugin environment."
"Waves is excited to join forces with Rational Acoustics," says Mick Olesh, Waves EVP of Sales & Marketing, "providing sound engineers access to cutting-edge pro audio tools that greatly enhance their workflow. Resolving system issues is a vital concern for sound engineers. Smaart and TRACT allow them to focus on reaching higher mixing standards by solving system-tuning issues, quickly and easily."
Considering that access to a venue's system processors is often limited, with inadequate time for system tuning before sound check, the TRACT plugin and the TRACT System Calibration + Smaart Di v2 bundle are invaluable tools for live-sound engineers.
TRACT System Calibration + Smaart Di v2 bundle features:
All-in-one software solution to quickly tune a sound system
Includes TRACT EQ auto-correction/time-alignment tool and Smaart Di v2 audio analysis software
Designed for live and studio use
TRACT runs in MultiRack, eMotion LV1, SoundGrid Rack for VENUE, or any major DAW
Create a corrective FIR EQ curve to balance your system's EQ
Capture and merge up to eight snapshots of measured response signals
TRACT includes minimal-phase FIR and linear-phase FIR components
Eight bands of industry-standard IIR EQ filters
Easily calculate and add delay to time-align a sound system
Sub zoom gives you a closer look at the crossover point while phase-aligning subs
TRACT can be used on its own as a high-quality eight-band equalizer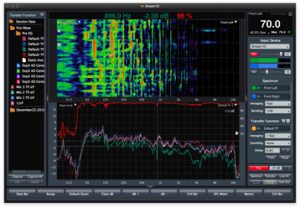 To learn more about Waves TRACT System Calibration plugin: https://www.waves.com/plugins/tract-system-calibration
To learn more about TRACT System Calibration + Smaart Di v2 bundle: https://www.waves.com/bundles/tract-system-calibration-smaart-di-v2
Introducing TRACT: Sound System Calibration Made Easy: https://youtu.be/-dgbCcLSsoY
Sound System Tuning Step-by-Step using TRACT and Smaart: https://youtu.be/0WrqntP8J4Q