Italian prog-metal rockers Mind Key deliver a fresh and powerful energy on their new album, Aliens in Wonderland. This latest release is superb in its blend of heavy metal, soaring melodies, and synths and orchestrations, making it another gem that we simply could not overlook. After all, prog-rock and metal are well within our forte, no matter where it comes from; and this excellent band from Italy is no exception.
On Aliens in Wonderland, Mind Key once again delve into the more metal-oriented side of prog-rock, and we're glad they do! After a decade-long absence, the group finally follows up on their previous album, Pulse for a Graveheart, from 2009, which had a similar prog metal, layered atmosphere. In comparison, however, the new record sounds more accessible to all hard rock fans, with a bit more attention to AOR-type hooks. Through this, Mind Key have managed to make their music more accessible and enjoyable for anyone who listens, and have continued to refine their excellent synth-metal craft.
Mind Key, Aliens in Wonderland
Genre:
Prog Metal, Hard Rock
Musicianship:
Songwriting:
Production & Engineering:
Vibe:
Overall Rating:
3.38
In regard to the album's superb musicianship, heavy guitar riffs, powerful synth and orchestral overtones, and rip-roaring vocals both up front and backing up can all be found throughout Aliens in Wonderland. While the album is loaded with heavy prog-metal, some of its tracks are slower and lighter than others, but still (impressively) manage to keep the same raw energy of the heavier tracks. This is quite possibly due to the powerful vocals of lead singer Aurelio Fierro, which work perfectly with the guitar virtuosity and synth mastery of Emanuele Colella and Dario De Cicco respectively. Surely, the greatest aspect of the record's orchestration comes from the unique melodies of each song, and how they manage to hook you. Add the bass work of Lucio Grilli and drumming by Mirkko De Maio, and it all comes together on Aliens in Wonderland. Another band that comes to mind when listening to Italy's Mind Key is Norway's Pagan's Mind. If you love one, you're sure to love the other, yet neither is truly emulative of the other.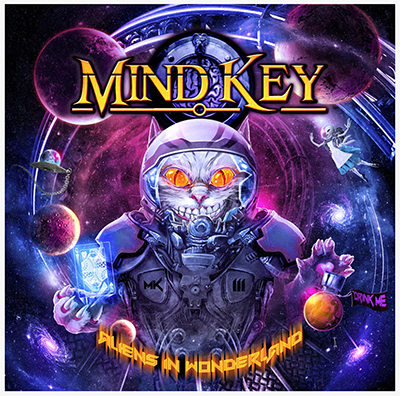 The tracks are well written, professionally constructed, and catchy as all hell! Some of the record's highlights include the orchestra-guided "Hate at First Sight," the heavy yet slow-paced "Hands Off Cain," the synth and guitar heavy "Psycho World," and the head-banging closing track, "No-Existence." It's hard to understate how unique in sound yet identical in power each song on the album is, especially since this amount of variety is made abundantly clearer with each listen. Picking up on this gives Mind Key's latest album some serious repeat listening value; take it from your humble reviewer!
Overall, Aliens in Wonderland is a fine piece of work that contributes remarkably well to the prog-metal subgenre. Like many artists we review, Mind Key is another example of a group we really wish were more popular here in the US. This latest album from these Italian prog-rockers is sure to have you head banging, whether it satisfies your personal taste for heavy metal riffs or synth-based and orchestral rock. Thankfully, you don't need to travel to Wonderland to get yourself a copy!