We were very impressed by the Zaor Yesk desk we reviewed last year, and we installed it permanently into one of our editor's studios. So when it was time to update the studio in the main MusicPlayers.com office, Zaor made the short list of brands to consider once again. And after building a spreadsheet full of different companies' desks and their dimensions, matching racks, monitor bridges, and keyboard shelves, we found our ideal desk configuration in Zaor's MIZA product series.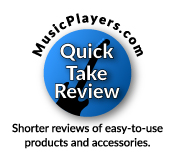 The MIZA line is pretty extensive and comes in a variety of colors. For our needs, the MIZA M desk proved to be just the right starting point. Before we go into further details note that the MIZA M is a desk with pull-out keyboard shelf, but the rack shelves holding the monitor speakers in the photo are options that aren't required. You can add them to any desk—from Zaor or otherwise.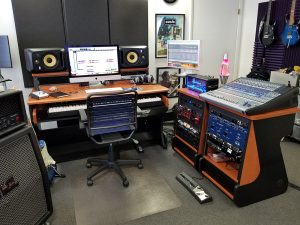 Given our large studio space, the MIZA M's 61" x 33.5" size (1,550mm x 850mm) was ideal. We needed a desktop that could accommodate a computer's 27" display and large monitor speakers with 8" speakers. The optional MIZA Griprack 2 MkII racks integrated as if part of the desk itself, and cutouts for cable management in the top of the MIZA M desk surface facilitate easy passthrough of cables from installed rack gear. Monitor decoupling pads come pre-glued into the top surface of the racks, and they eliminated the need for external solutions that would otherwise cause the height of the speakers to be less than optimal.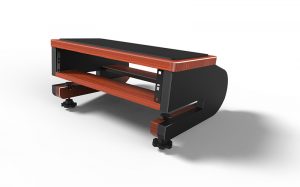 It should be noted that if you don't have the budget for a full range of Zaor furniture, you could just get yourself a pair of Griprack racks and attach them to a less costly desk—they have a U-shaped design that goes over and under the rear edge of your desk and then attaches with large thumbscrews for a secure hold. They also come in 4U configurations, but in our case, with the Miza M desk having a 32" (818mm) desktop height, we found the 2U racks better for speaker height.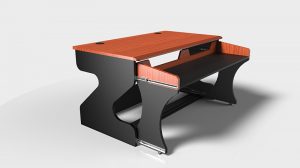 This is primarily solid wood furniture—not cheap particle board furniture (though some pieces of the assembly are melamine faced chipboard), and as such, the desk alone weighs over 100 pounds. The pull-out shelf rolls on both a guided track and wheels, and easily accommodates heavy, fully-weighted controller keyboards like our StudioLogic SL88 Grand (in fact it's rated at up to 66lbs/30Kg).
Behind the desk you'll find integrated cable management that is truly easy to utilize—a long, sculpted piece of wood flips down on hinges for you to run cables along the rear. There are also cable passthroughs from the keyboard shelf to the rear.

We also purchased a pair of MIZA Rack 12 equipment racks, as a double-width unit was not part of the series at this time. Anticipating that many customers would place a few of these racks in series, there are useful cable passthroughs in the rear of the racks on the sides that make for clean patching from one rack to the other.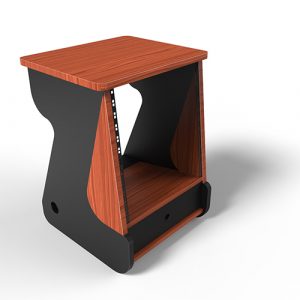 The racks are beautiful, with two color, sculpted sides that match the product family's style, and they feature pull-out drawers underneath to hold miscellaneous gear. There is cable management built into the rear of the racks, and while useful to those of you whose rack rears may be customer facing, we found this to be the one negative design element of an otherwise exceptional product line. We actually had some equipment that was too deep to fit into the rack until we came upon a perfectly workable solution—remove the rear of the rack! You've got to be handy for this move, as it required using a power saw in the workshop, but one straight cut was all it took, preserving the top portion of the rear that is part of the overall frame assembly. You can see in our photo the difference that this made.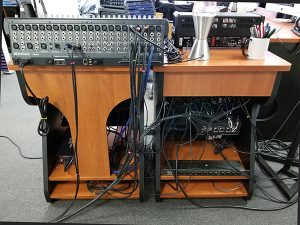 Zaor have informed us that they are working on redesigning the rack to better accommodate deep studio gear. And while it looks like you would have a hard time connecting all of your studio gear when the cable management column is installed, the beautiful design is equally functional, and the curved cut-out sides makes access from the rear rather easy.
In daily use, the Zaor MIZA line has proved to be as functional as it is beautiful, and everyone who has been to our studio has complimented and inquired about the furniture.
Installation is not for the timid, however. Just as complex musical performances require warming up, we suggest first getting comfortable building an IKEA desk, file cabinet, and series of drawers. How did you like the IKEA instructions? Hopefully you answered "piece of cake," because Zaor's assembly materials could stand some improvement. Experienced assemblers shouldn't have any trouble, but here are a few essential tips to be aware of before un-boxing the furniture:
Each piece of the furniture comes wrapped in padding that has a numbered sticker on it. Either don't unwrap until you need a part, or transfer the sticker onto the edge of the part you unwrap (easily accomplished).
Zaor uses some clever screw-in bolts for assembly. Do not tighten them all the way! They have to be oriented with their open eyelets facing in the direction of the piece to which they will be inserted so that a matching screw can connect. It's ok for the eyelets to not be 100% tight when screwed into the wood.
Price
MIZA M desk: $1,149.
MIZA Griprack 2U MkII: $279 per unit.
MIZA Rack 12: $499 per unit.
Our total cost: $2,705 delivered.
These prices include freight delivery, and the unassembled and extremely-well packaged furniture was shipped on a wooden palette with a final weight of nearly 500 pounds in total. Again, this is quality furniture that was hand crafted in Europe. For our studio requirements, it was money well spent.
Contact Information
Zaor
www.zaorstudiofurniture.com