With over 3,000 commercials to his credit, Michael Whalen knows a thing or two about writing successful jingles. Just ask clients like BMW and Lexus, Apple, Pepsi and Diet Coke, McDonald's, Nike, and more. He's also an Emmy-award composer and music supervisor, having created theme songs and/or music and cues for a variety of television shows including (among many others) The Oprah Winfrey Show, Inside Edition, Good Morning America, Nova, As The World Turns, and Martha Steward/Daytime. Throw in music for EA Sports video games, audio books for Audible.com, film soundtracks, and more than a dozen jazz, new age, and classical albums and you've got one busy artist!
We spoke recently with Michael regarding his career as well as his stunning, new age/ambient record, Sacred Spaces (reviewed here), for which he created hundreds of breathtaking sounds to paint a sonic tapestry that is sure to delight any keyboard player's or sound designer's ears (not to mention fans of ambient, new age music).
If you have trouble playing the video (we suspect your Safari browser is the culprint), please click here to view directly: https://youtu.be/zS6gthJnaMc
As if all that isn't enough, Michael has also been an adjunct professor at schools including The Berklee College of Music, NYU, and CCNY, and he is a recognized authority on the subjects of copyright law, music monetization, and digital rights.
Not content to simply pull up a random preset on one of his dizzying number of synthesizers, Michael Whalen is a premier sound designer as well. And while you'll hear plenty of Michael's beloved Yamaha acoustic grand piano throughout his various works, it's the richness of his synth textures and ambient effects that will carry you away to aural bliss. It also doesn't hurt that his synthesizer collection is insane by most players' standards.
Key synths in the collection: Moog One, Waldorf Quantum, Yamaha Montage 8 and MODX-6, Sequential Prophet-6, Kyma Workstation, ARP Quadra, Korg MS-20, Roli Seaboard Rise 25, modular synths, virtual instruments on the computer, plus a ton of classic analog and digital synths (see Michael's website for a more complete gear rundown), electro-mechanical keyboards, and more. Whew!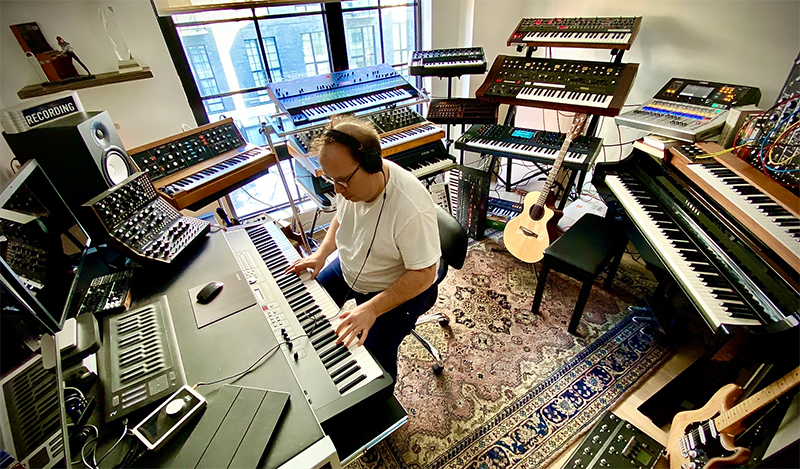 A lush, ambient record like Sacred Spaces shows off Michael's fabulous gift for musical storytelling and painting with sound, not to mention his extraordinary sound design talent. But just in case you're new to his music catalog and wonder just what else this guy is capable of, we feel obliged to share with you this riff-tastic tease that Michael recently shared on social media at the prodding of a friend, paying homage to prog-metal keyboard shredder, Derek Sherinian. Take that, doubters!
Below is one of Michael's beautiful piano compositions:
And if you're interested in composing for advertising, television, and film, his short reel is fabulous as well!