Los Angeles, CA, September 12, 2018 — On Thursday, September 6, 2018, Roland held a grand opening celebration of its new Roland Artist Centre London, located within Metropolis Studios in West London. The event, which was attended by leading members of the U.K.'s music community, included a ribbon-cutting ceremony and a welcoming address by Mr. Jun-ichi Miki, Roland Corporation CEO and Representative Director. Founded to serve the needs of current and prospective Roland artists, the new center will be a hub for a variety of activities, including product support, social media initiatives, interviews, sessions, and unique streaming events, photo shoots, gear demos and much more, with a complete range of Roland, BOSS, and V-MODA products on hand. The Roland Artist Centre London is managed by Jamie Franklin, Artist Relations Manager, Roland Corporation, and is under the direction of Brian Alli, Vice President, Key Influencers & Business Development, Roland Corporation.
The facility's co-location within the legendary Metropolis Studios, whose clients have included Led Zeppelin, The Rolling Stones, Madonna, U2, Michael Jackson, Queen, Adele, and more, will give Roland especially close access to top artists, producers, engineers, instrumentalists and music business professionals as well as allow Roland to benefit from Metropolis' close association with the Academy of Contemporary Music (ACM).
"Roland's artist relations facilities represent our company's ongoing commitment to engage with artists, engineers and producers and to work collaboratively with them, to ultimately shape future products and solutions for the global community of musicians," stated Mr. Jun-ichi Miki. "Metropolis has such a rich history in the music industry, and we are very excited to have our offices here. The opening of our Artist Centre London will better serve our artists in the U.K., Europe and beyond. I would also like to thank Metropolis Studios owner Kainne Clements, CEO Richard Connell and their staff for welcoming us to this facility, and their unique partnership with the Academy of Contemporary Music makes this a perfect place for us to call home."
The event attendees read like a Who's Who of the music industry, with leading journalists from the MI press and artists such as KT Tunstall, Peter Gordeno (Depeche Mode), Mike Lindup (Level 42), Neil Barnes and Sebastian "Bid" Beresford (Leftfield), VMAN (Slipknot) and more. Additional key Roland personnel in attendance included Gordon Raison (Chief Sales Officer, Roland Corporation), Atsuo Yukawa (Chief Marketing Officer, Roland Corporation), Paul McCabe (Vice President of Global Marketing, Roland Corporation), Brian Alli (Vice President, Key Influencers & Business Development, Roland Corporation), Gaku Terauchi (VP Marketing Operations, Roland Corporation), Chris Halon (Director, Global Live Events, Roland Corporation) and Christian Delfino (Director, Strategic Product Marketing, Roland Corporation).
The opening of the Roland Artist Centre London is part of Roland's ongoing corporate artist relations strategy, following closely on the heels of the opening of the Roland Nashville Artist Relations Center in June and Roland Los Angeles Artist Relations Center in May. This ongoing initiative will bolster Roland's global network and join other Roland artist relations centers in Vancouver and Toronto, Canada; Berlin, Germany; and Tokyo, Japan.
The grand opening party was sponsored by Southern Comfort. To learn more, visit Roland.com.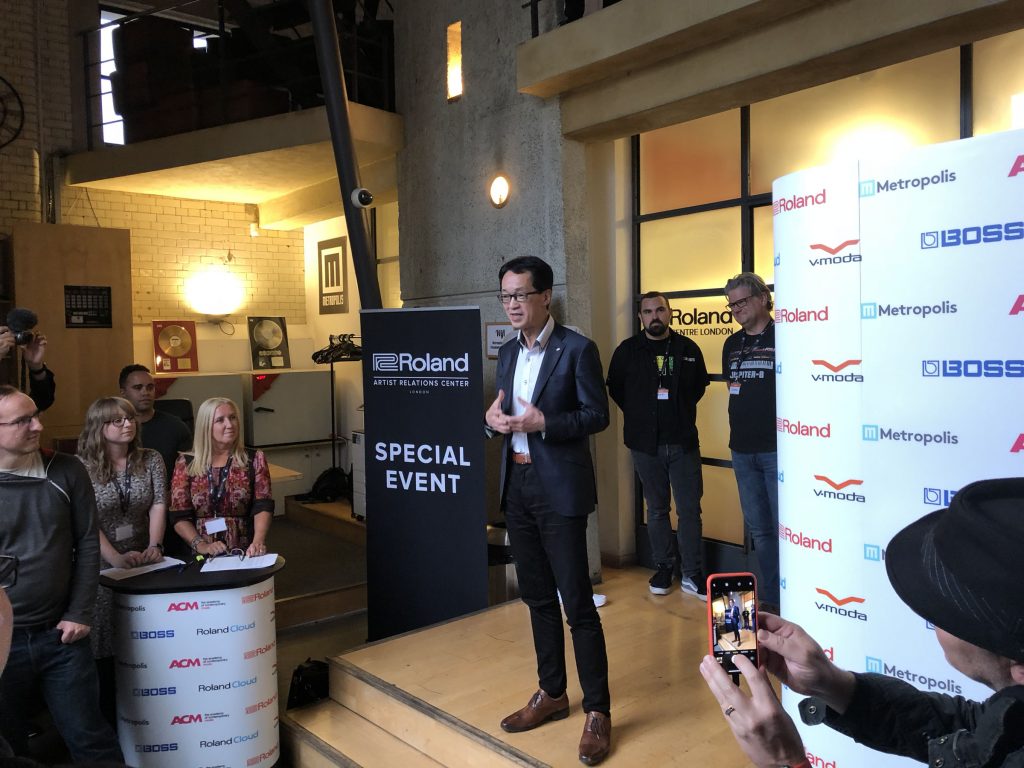 About Roland Corporation
Roland Corporation is a leading manufacturer and distributor of electronic musical instruments, including keyboards and synthesizers, guitar products, electronic percussion, digital recording equipment, amplifiers, audio processors, and multimedia products. With more than 40 years of musical instrument development, Roland sets the standard in music technology for the world to follow. For more information, visit Roland.com or see your local Roland dealer.