Motion Has Evolved.


Los Angeles, October 23rd, 2020 - Wide Blue Sound
today releases Elysium, an inspiring two-layer synth for creating music infused with tonal rhythms, movement and unrivaled playability.
With an entirely new way to create striking percussive pulses, beautiful organic arps, evolving pads, and hybrid instruments, Elysium simply cannot be replicated by any other synth on the market.

Using Elysium

Elysium features two layers: Perc and Synth.
The PERC layer includes synths, mallets, pianos, guitar, and many other types of percussive tonal sounds. By twisting a knob you can quickly add Morph and Bass sounds, and use the Flux, Analog, and Spread controls to easily add variety between each note.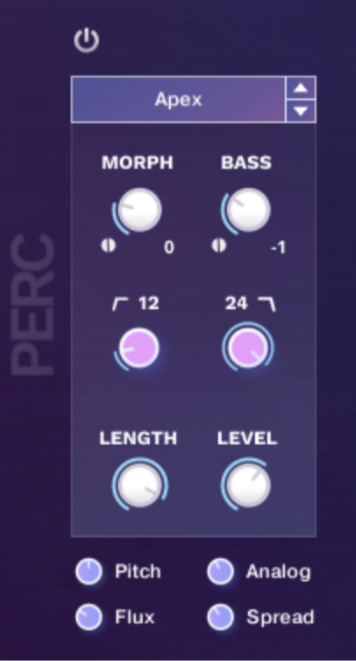 The SYNTH layer is familiar to Orbit + Eclipse fans, but with some special features never before seen in a synth, including 11 original & custom-shop filter designs. Combine up to 4 pads that include beautiful atmospheres, synth pads and even a live strings section. Then run them through one of the 3 engine modes — Pulse, Chop or Flow — to create anything from energetic rhythms to blissful atmospheres.
The 3 engine modes turn lush sustained sounds into rhythmic performers. Choose a mode, then adjust how it hits using the custom-tuned controls for each mode. The Depth knob brings in a sustain bed made from any of the 4 sounds, which you filter with the Settings icon.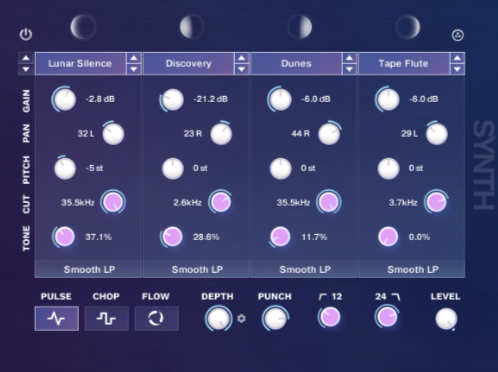 The two layers are optionally controlled by the Phase Sequencer, which allows intuitive sequencing of the Perc Layer, Synth Layer or any of their individual sound sources. Choose which layer plays when, and how fast their engine runs.
It also allows for step-based Pitch, Accents, and a set of Actions that includes Double and Triple hits (ratchets), Tightening notes and Reverse/Fade-in notes.

Performance features include the usual suspects: Mono, Glide, Force Legato (to force glide), and Input Quantize. Keyboard Split decouples the Perc and Synth Layers so you can split chord voicings between the two, e.g. Bass in the Perc and a string section on top.
The innovative Sound Browser allows you to preview entire pitch range of a sound before loading them into your patch. So if you know you want a great bass sound, you can preview the sounds in their bass range before committing. You can also filter by Mood or by the Type of instrument that was multi-sampled for Elysium.
Most fun of all, the Sound Browser includes a Generate Section that allows you to algorithmically generate Perc and Synth sounds based on your mood tags, or generate entirely new Perc FX and Synth FX chains! And the Cancel button allows for freedom of experimentation, as you can always revert back to what you had before opening the Browser.

Enter next the FX Pages, featuring one of the most comprehensive FX sections in history with a beautiful and fun experience. Run the show with 31 effects, 300 effect presets and over 700 practical and creative impulse responses. Create full FX chains for the PERC layer, SYNTH layer, and MASTER FX bus. And similar to the Sound Browser, you can conjure immediate inspiration by generating entire FX chains with the click of a button.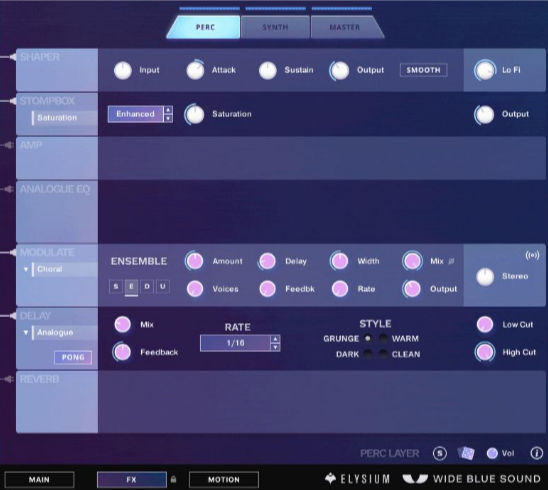 Last, the Motion Page gives you 6 elegant sequencers to automate any parameter in the entire synth, including the ability to change the Perc layer's Morph and Bass sounds on every step. It also features an innovative Tide module that allows you to create multi-bar swells or EDM-inspired LFOs. The Motion Sequencers can be generated for inspiration, or hand-drawn for precision. Elysium boasts a wide array of motion sources to add evolving motion to your patches.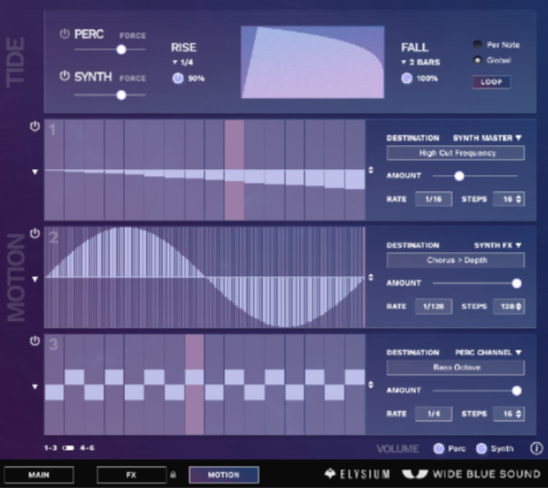 Over 300 presets were made by world-class sound designers who are also music producers in their own right. For ultimate variability for each preset, Elysium includes three useful sound locks to retain certain parts of the patch when changing presets:

Rhythm Lock locks all rhythmic elements of the Phase Sequencer and Synth Engine
Pitch Lock locks the Pitch sequence in the Phase Sequencer
FX Lock
locks the entire FX page
The sound locks are a perfect example of the dozens of thoughtful and innovative features sprinkled around Elysium to help make sound design a more fun and practical experience. There is far more to discover in the world of Elysium, which is available now.
Wide Blue Sound also worked with Native Instruments to ensure Elysium supports the full range of accessible NKS Keyboard and Maschine controllers, for a hand-on, mouse-free experience.
More information about ELYSIUM including specs can be found on the Wide Blue Sound website.
Pricing and Availability
Elysium releases on October 23, 2020 with fair pricing at $199 on www.WideBlueSound.com. Buyers will receive a serial number to redeem on Native Instrument's excellent downloader, Native Access, which will handle installation and also ensure that Elysium is always up-to-date.