Space Elevator are a rock band from England with a classic '80s, American, pop rock vibe. They've been winning rave reviews for their music and live shows, fronted by a fantastic singer/songwriter who goes by the name, The Duchess, and guitarist/songwriter David Young.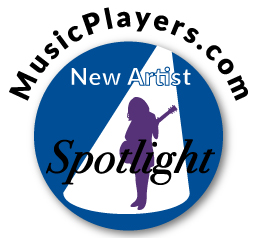 Just when we discovered them and fell in love with their debut, self-titled record, along came their new release, simply titled, II (review here). We checked in with Young, recently off the band's first headlining UK tour, to learn more about his great, emerging band.
How would you describe your sound?
Contemporary pop/rock but with an influence from the classic rock era. We focus on being a rock band but with plenty of melody and harmony.


Tell us briefly about the band and how it came together?
Myself and lead singer The Duchess wanted to record a bunch of the songs we'd written. The band was then effectively formed in the studio during the recording process for what became our debut album. At that time I was doing some gigs on guitar in the Queen show in London's West End. Through that show I met bass player Neil Murray (Whitesnake/Black Sabbath/Gary Moore/Brian May) and keyboard maestro Elliott Ware (The Who/Ray Davies). Our long-standing drummer is Brian Greene who also joined. The lineup changed with Chas Maguire coming in to play bass for all tours and the second album. Live we are a four piece.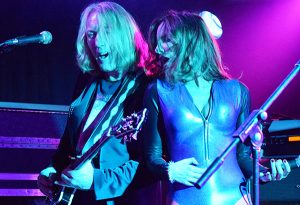 What do you think is the first thing a new listener will notice about your music?
Normally it seems to be the vocals of The Duchess, she has an incredible range and can sing any style. Space Elevator is fairly eclectic but all within the rock genre with melody and harmony to the fore, that said we're not scared of a big production. [laughs]
What was the inspiration behind your latest album? Who are some of your biggest influences?
The latest album is more straight ahead and slightly less flamboyant than the first one. We've been compared to Queen, Kate Bush, Thin Lizzy and even Genesis, Rush, and Pink! I think a couple of songs are similar to Queen but I can't really hear those other references. Influences are different of course to who we sound like. My main influences would be Queen, Rush, Led Zep and It Bites. The Duchess would probably say Queen, Kate Bush, The Beatles, The Stones, and Aerosmith.
What is your songwriting process like?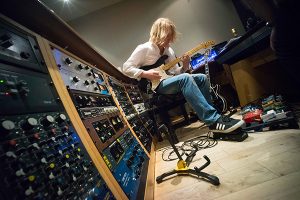 Either one of us can start a song independently and we demo it at my home studio which is very basic, but fine for demos. I take tracks I have put together to Brian Greene our drummer, he can then shape them with some groove changes that we hadn't quite thought of. The Duchess writes all melodies and lyrics but also writes on the piano. At a certain point we join up and re-arrange, add or remove sections and generally work on completing the song together.
Once we get to the studio to record and Chas Maguire our bass player and Brian play on the tracks they really come to life, and we examine tempo, groove, dynamics etc. but the songs are structurally and melodically complete by that point, if not always lyrically.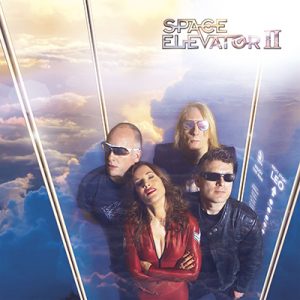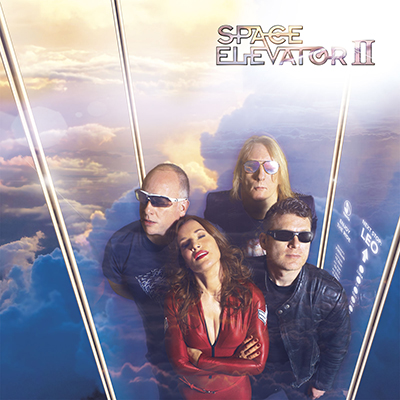 What has been the most exciting thing to happen to your band so far?
Probably our trip to Canada to shoot a video on top of the largest privately owned satellite dish in the world. Home of Thoth technologies, designers of the world's first 20km space elevator! hence the connection. Also being signed by our label SPV, which in turn saw Space Elevator II enter into the official UK Top 40 rock chart a couple of months ago.
What has been the biggest lesson your band has learned so far?
Hmm, that's tricky, we're all pro musicians and have been for several years prior to Space Elevator, so we're not green! I would probably say, perseverance. What's that saying? "Success is buried in a garden of failure." Persistence has moved us forward and each year there is a breakthrough.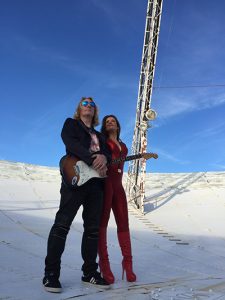 What can we expect from your band over the next 12-24 months?
More touring. We should be doing some German dates in March and a full European tour in September. We have just started working on our third album in terms of writing but I don't know yet when that release will be.
What are your bandmembers' favorite/most used pieces of music gear? And, do they obsess over gear like many of our readers?
Hmmm… I wouldn't say that we are gear obsessives. I am certainly not, but that's not to say we're disinterested! I think we like to keep it fairly simple although with all the multi-tracking on our albums it can tie me to my pedal board. Brian uses Pearl drums and Sabian cymbals. Chas uses Zon basses, Markbass amplification and speakers, and has recently taken to using a Porter and Davies KT platform live and in the studio.
On our most recent album, I did the whole thing on my 1986 Japanese [Fender] Strat which is a fantastic guitar with a Hughes & Kettner Tubemeister 36 (the variety of tones was great), a Yamaha and Taylor acoustic, and a Carlos Bonell classical which I'm bringing to market with Carlos.
On the debut album I used about seven guitars and a Peavey JSX 100 Head with a Marshall cab. Live though, I mainly use a Les Paul Custom and a Fender Hot Rod Deluxe. The Duchess uses Sure SM57 mics.