The evolution wireless ew 500 G4-KK205 will be available throughout Q4 2018
Wedemark/Berlin, 1 October 2018 – To mark Neumann. Berlin's 90th company anniversary, Sennheiser and Neumann have unveiled a very special promotional bundle that combines a Sennheiser evolution wireless 500 G4 microphone system with the Neumann KK 205 true condenser capsule. This special edition vocal set makes the acclaimed Neumann sound available to a much wider audience – as until now, Neumann microphone heads had been reserved for Sennheiser's 2000, 6000 and 9000 wireless series.
Based on Neumann's award-winning series of wired KMS stage microphones, the KK 205 true condenser microphone head features exceptional clarity and the characteristic Neumann sound. The super-cardioid capsule delivers an immediate, emotional vocal sound with airy trebles and fast transient response. The KK 205 can take sound pressure levels of up to 150 dB without clipping, ensures high gain before feedback and offers good lateral isolation towards other on-stage sound sources.
The new 500 G4 wireless microphone system offers up to 50 mW of transmission power and a switching bandwidth of 88 MHz, which gives engineers sufficient room to maneuver in the busy RF spectrum. The system is available in all standard UHF frequency ranges and comes complete with the handheld transmitter, capsule, rack-mount receiver, rack-mount kit, microphone clip, and power supply.
The promotional bundle is available at 1,600 EUR/USD from 1 October to 31 December 2018.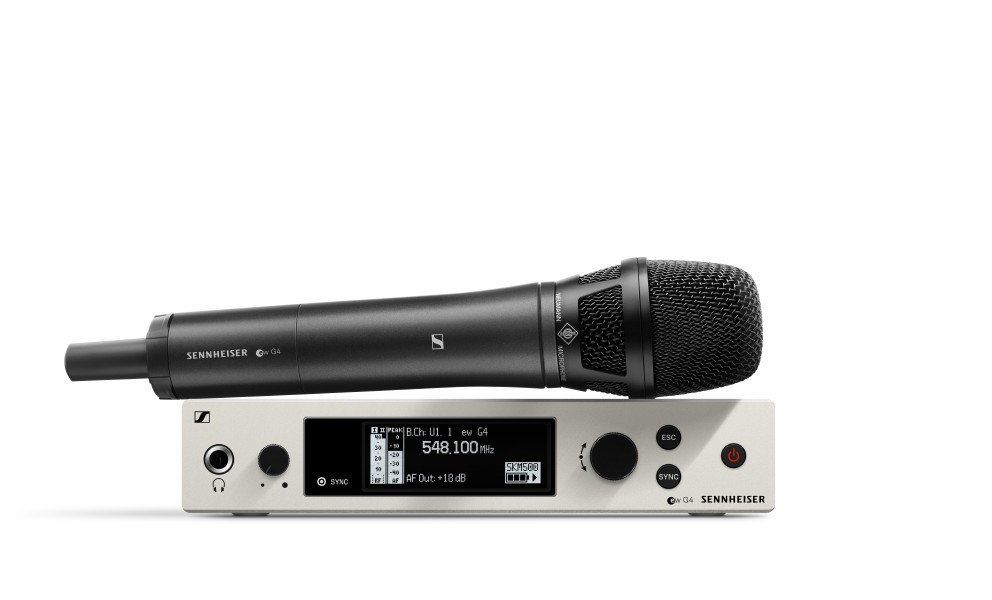 About Sennheiser and Neumann
Shaping the future of audio and creating unique sound experiences for customers – this aim unites Sennheiser employees and partners worldwide. Founded in 1945, Sennheiser is one of the world's leading manufacturers of headphones, microphones and wireless transmission systems. With 21 sales subsidiaries and long-established trading partners, the company is active in more than 50 countries and operates its own production facilities in Germany, Ireland, Romania, and the USA. Since 2013, Sennheiser has been managed by Daniel Sennheiser and Dr. Andreas Sennheiser, the third generation of the family to run the company. As part of the Sennheiser Group, Georg Neumann GmbH, known as "Neumann. Berlin", is the world's leading manufacturer of studio microphones. Founded in 1928, the company has been recognized with numerous international awards for its technological innovations. Since 2010, Neumann. Berlin has expanded their expertise in electro-acoustic transducer design to also include the studio monitor market. In 2017, the Sennheiser Group generated turnover totaling €667.7 million.