Steven Wilson, Home Invasion: In Concert At The Royal Albert Hall 
Genre:
Progressive Rock
Musicianship:
Songwriting:
Production & Engineering:
Vibe:
Overall Rating:
4.0
Forty minutes into the 2.5 hours-long concert, Home Invasion: In Concert at the Royal Albert Hall, I'm watching Steven Wilson grab the microphone, long bangs drooped between his eyes, while crooning "Arriving Somewhere, Not Here," and it's hard not to feel some kind of emotional release. As the tears well up inside, I can't tell if that's because I feel like I'm experiencing classic Porcupine Tree again, or because I'm listening to one of my favorite Porcupine Tree songs performed by Wilson's current band instead of the lineup who inspired my own musical growth. But whatever your feeling about who's on stage backing one of the greatest songwriters of the 21stCentury, this is a concert DVD/CD not to be missed.
Just in time for the holidays, Home Invasionbelongs in the pile of gifts for every fan of progressive and melodic rock. And, hey, don't get me wrong—I love Wilson's solo band, too. These guys are fantastic! Adam Holzman on keyboards, Nick Beggs on bass, Craig Blundell on drums, and Alex Hutchings on guitar, are all extraordinary musicians, and they do a fantastic job bringing this huge body of work from Wilson's catalog to life, sounding as close to studio perfection as you'd find in a Toto concert.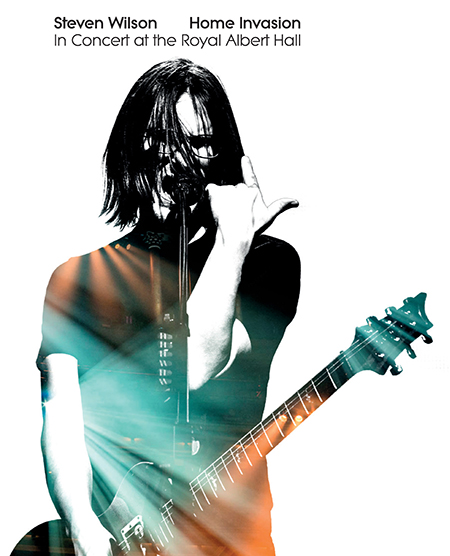 The staging and visuals are great, and the cinematography is vastly more exciting than typical concert videos. But then, Wilson has always produced fantastic concert videos that really immerse you in the experience and truly bring the concert to your living room.
Performing to his hometown crowd in London, Wilson even had the opportunity to bring out special guests like Israeli singer, Ninet Tayeb, who appeared on his latest studio record, To The Bone. And the DVD/Blu-Ray has some great interview/behind-the-scenes footage and a few extra songs. You can optionally purchase it with a two-CD audio copy of the concert.
The set list is fantastic, and truly, I love the inclusion of far more Porcupine Tree songs than have ever previously appeared in a Steven Wilson concert. It's a testament to just how great Wilson's current band is that you'll be forgiven for not realizing these are different musicians on stage. Major props go to keyboardist Holzman, though, because getting the right collection of keyboard sounds together is key to the authenticity of the musical performance. I'll leave it to you to watch the concert for yourself, and if you can avoid reading set list spoilers, you'll be blown away by some of the surprises.
Buy this one now!