It would be hard not to notice Sweden-based Clavia's Nord line of keyboards on stage or in the studio—the signature red chassis of their keyboards are hard to miss. However, Nord keyboards aren't known just for their bright color. The Piano and Stage synth lines have long been regarded as among the best sounding keyboards available.
Nord has now released the Nord Grand, taking their already impressive lines to new heights by combining legendary Nord sound quality with Kawai's equally impressive true-feel piano action. However, the feature set may not be for everyone (ignoring budgetary concerns), and the Grand's biggest competition just may come from the company's other keyboards!

Features
The Grand is a little bit different than the other Nord lines. It is physically less streamlined than typical keyboard products to accommodate Kawai's physical mechanics, but this brings with it the advantage of placing an easy-to-see, angled control panel. The wooden end caps feature a cherry wood grain, while the overall look is somewhat reminiscent of a vintage Wurlitzer 120 electric piano (if it came in red and with 88 keys).
Category

Value

Rating

Features

20%

Usability

25%

Sound

25%

Documentation & Support

10%

Price

20%

OVERALL RATING = 3.5 Stars


3.6 stars or better: Outstanding, WIHO Award




3 stars or better: Worth considering




2 stars or better: Suited to specific needs




1 star or less: Not recommended
The 88-note keybed is unique to the Grand, which incorporates Kawai's Hammer Action with triple sensors. As per Clavia, the triple sensors are designed to track the movement of the physical hammers rather than the key. Additionally, the Grand uses ivory touch keys, which also contribute to a remarkably piano-like playing experience. There is even a dedicated button on the panel to control heavy, medium, or light keyboard touch to allow customization to your playing style. Next to this are controls for string resonance and soft release, allowing for more legato phrasing and adding ambience to the resonating strings.
2GB memory is dedicated to the Piano library section, and an additional 512MB covers everything else, labeled "Sample Synth" section on the control panel, just right of the piano section. Fortunately, the presets are of a high quality in both sections, and even better, the Grand is compatible with the Nord Sample Library 3.0, meaning you can load sounds from Clavia's high-quality, long-established library, and replace the Grand's samples with whatever you need. Further, you can create your own samples using the free Nord Sample Editor software (Win/Mac). As the Grand does not come stock with any rocking Hammond B3 sounds, this may be particularly useful to those who desire at least one organ sound to fill out their live set, for example.
There are 16 banks with 25 programs, providing 400 locations to store sounds.
The Piano section specifically contains 29 piano types: 10 grands, 9 uprights, and 10 electric pianos/clavinets/digital pianos. There is 120-note polyphony for the pianos (interestingly, only 46 for the sample section sounds), so you shouldn't have any problems with voice stealing (we didn't). Of note in particular were the dedicated EP filters. These includes soft, mid, and bright controls, enabling you to boost or reduce the bell and midrange sounds. There's even the inclusion of the famous Dyno preamp, noted to create a more bell-like sound from the classic Rhodes piano (and which was very much associated with the recordings of Stevie Wonder and Al Jarreau). A side note is that these filters, as per Clavia, only work with version 6 of the EPs, which are available for the Grand, Nord Stage 3, Nord Electro 6, and Nord Piano 4. Everyone benefits! The idea behind the new EP versions is that the larger sample sizes include additional velocity layers for a more realistic playing experience.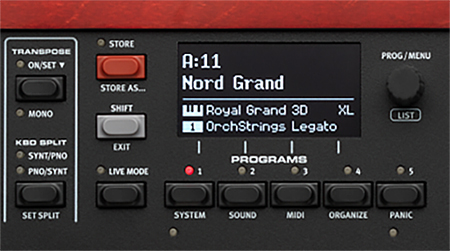 In the center of the control panel is an OLED display providing patch names and other relevant information. To the left of the screen is a rotating knob to scroll through whatever parameters are on the screen. It looks like so:
Though splits and layers are easily accomplished via dedicated buttons, one interesting twist is that you can only do these at specific set points that are also demarcated close to the keys at nine different points via green LEDs. These range from F2 to F6, with intervals in between at every F and C note.
To the right of the OLED screen are the various effects, many designed in the spirit of classic stomp boxes used with vintage gear. The Effects 1 section includes Pan, Tremolo, Wah, and Ring Modulator (these can be pedal controlled if desired), while the Effects 2 section includes Phaser, Flanger, Chorus, and Vibe, with two selectable depths for each effect. There are four more dedicated sections: Equalizer (three band with sweepable mids), Delay (with a very welcome tap tempo button), Amp/Comp (which includes modeling of a Fender Twin Reverb and a Roland JC-120, two of the most popular amps used with classic EP pianos). The Reverb section includes Room, Stage, and Hall settings with adjustable wet/dry ratios.
For live use, there are five dedicated buttons (under the OLED) for instant recall of your five setups. Certainly better than none, but double or even triple this would have been better for those with set lists that require a lot of patch changes.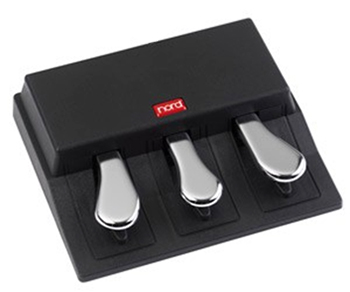 Peeking behind the Grand, there are several connections. There are two audio (L/R) unbalanced outputs, one monitor input, one headphone output, one piano pedal input, which is where the included Nord Triple Pedal plugs in (or other momentary pedal), one volume pedal input, standard MIDI In/Out, USB type B connector for USB MIDI and transferring sounds, and an IEC power connector. We do applaud Clavia for including the triple pedal, which gives you a Una Corda, Sostenuto, and sustain pedal all in one unit, delivering a complete piano experience. It looks like this:
Although not included, a matching wood keyboard stand and an attachable music stand are also available accessories.
Nord Piano Monitors
These are made by Audio Pro for Nord. The red, powered speakers can be directly mounted to the Nord Piano 4, Nord Grand, and Nord Stage 3 Rev B by using optional Monitor Brackets. Additionally, these same brackets can be used to mount the speakers to microphone stands. The left speaker houses most of the electronics: this is where you connect the single power cord and the L/R input from the keyboard. There is a speaker out jack that connects to the right speaker (not unlike many computer speaker systems). The left speaker also has a power switch, a standby switch, a sub out RCA jack, and an additional 1/8-inch Auxiliary In jack to connect an additional source (such as an iPad). There is also an Aux Volume knob for easy mixing. Surprisingly, these monitors pack 80W each, so you should be able to hear yourself quite well! Each monitor speaker houses a ¾-inch tweeter and a 4½-inch woofer.
Usability
A noted trend in many of today's stage pianos are sections of dedicated controls for general categories of sound, often at the expense of deep sound editing (particularly in the area of non-piano synth sounds). The Nord Grand is similar in concept, however, it provides above-average control of sounds from the hardware, and when combined with Clavia's software, you get deeper editing capabilities than most competitors' products.
First and foremost, let's talk about the keyboard. Clavia made it a point to put the new Kawai keyboard in the Grand and it feels great! The feel is very piano-like, and we found it easy to obtain a wide variety of dynamics. And, the dedicated buttons for touch control also help to adjust if you have a hard or light touch. We felt that a classical pianist would feel just as home as a pop/rock piano player, with the common denominator being that the Grand feels like an acoustic piano. It may have a slightly "stiffer" feel than the competitors, but only because it is more like a piano than a synth-piano hybrid that many companies choose to use. At 46 pounds, the Grand is no lightweight, but is comparable with other professional stage/digital pianos, and in some cases, even a few pounds lighter.
The panel was easy to navigate and well organized to allow quick access to what you want to get at. While there is an OLED screen, and a number of buttons have LED lights, most controls are labeled in small white letters against a black background, which could be problematic in some stage lighting situations.
One thing that we found that was a little funky were the sound banks. Out of the box, for example, Preset A11 was a Royal Grand, A12 was an upright, A13 was a Rhodes, A14 was a mixed choir, A15 was a string ensemble, and so on. The point being that similar groups (i.e., all the grands, all the Rhodes, all the synths, etc) are not grouped together, but rather scattered all over multiple bank locations. You can certainly go to, for example, the controls in the piano section using the dedicated buttons and knobs to select what kind of piano and which variant you'd like, but that's within a given preset location. You can also re-order bank sounds in any way you like, but we were surprised this wasn't better structured from the start.
We found navigating around pretty straightforward, but some things may require a quick read of the manual. For example, accessing the System, Sound, and MIDI menus require you to press the gray shift key while selecting program buttons one through four under the OLED screen.
Speaking of MIDI menus, we wanted to see how well the Grand could function as a master MIDI controller. While we were initially encouraged that there are menus for MIDI program changes, the choices are simply Off, Send, Receive, and Send & Receive. There does not appear to be a way to send MSB and LSB messages to other synths or modules, which is unfortunate as the keyboard itself is so great to play (and the Grand responds to those messages). While the keybed is best suited—unsurprisingly—for nuanced piano and electromechanical piano playing styles, playing synth leads shouldn't be much of an issue on this keyboard (and you'll get your chops into super shape for when you switch back to your traditional synth).
The Sound Manager software was very helpful for customizing our Grand. Not only for preset order and live mode content, but customizing what samples from the Nord Library (now at 3.0) we wished to carry on board at any given time. Additionally, you can create and import your own samples using the Nord Sample Editor. Between all of these options, you'd be hard pressed not to have an instrument in front of you that doesn't have the sonic content you desire (within the boundaries of memory space, of course).
Nord Piano Monitors
Turning again to the piano monitors, their operation was pretty straightforward. Attaching them to the Grand required removing a few large screws in the back of the Grand, placing the mounts in the corresponding places, and then screwing them in. We appreciated the design with just a single power cable.
Sound
This is what it always boils down to, yes? Clavia has built quite a reputation for great sounds over the years, and having not only reviewed previous iterations of the Nord Stage and Electro, but having used their products on large concert stages, we know firsthand that this reputation is well-deserved.
The acoustic pianos are lively and warm, and subtle nuances are easily coaxed from the great-feeling keybed. The EPs are also very strong, with Rhodes and Wurlitzer having the appropriate bite when you dig in. The two Dyno settings for the Rhodes are a great inclusion, and adding tremolo and chorus to the presets gave us easy reproductions of classic album tracks (Genesis, Billy Joel, Doors, etc.). We found these very easy to tweak to get the sound we wanted.
One of the biggest challenges with most stage pianos is to deliver synth sounds. Certainly, as the Grand has no pitch bend or mod wheel, it is not the ideal controller for synth sounds. Having said that, the included sounds do a nice job of covering the basics with pads and leads. Some nice inclusions are mellotron, Prophet, and even Roland JX-3P sounds. Could you cover a Jordan Rudess pitch bendy, angry guitar sounding, synth solo with the Grand? Probably not. But you could easily cover your bread and butter sounds with more oomph than many of the competitors stage pianos.
Best of all, the sound banks are customizable via both the Nord library as well as the ability to import your own sounds. Who says you can't sample your Juno-106 into the Grand?
Overall, the Grand delivers a fine sounding collection of sounds for both live and studio work.
Nord Piano Monitors
The Piano Monitors were a pleasant surprise, as we weren't expecting them to arrive with the Grand. Not only do they look sharp in red with black baffling, but they sound great! You are obviously not going to mix a session with them, but we thought they worked very well as near-field keyboard monitors. These could provide just the right amount of additional monitoring in many live settings where you're dependent upon the house to provide monitoring via floor wedges.
Documentation and Product Support
To our delight, a printed manual was included in the box! Simple and to the point, we could easily find what we needed within those pages. This is also downloadable, and there is a user forum on Clavia's website for additional support as well.
Price
The Nord Grand (MSRP of $3,999) sells for approximately $3,500. The Nord Piano Monitors (MSRP $699/pair) sells for approximately $600. The quality of the Kawai keybed combined with stellar Nord sounds justifies the price for pro players with the highest demands for a piano and/or EP experience, but it's probably beyond the reach of more budget-conscious players. While there are other keyboards in this price range that are fully-realized workstations, the Grand isn't meant to be a "swiss army knife" of keyboards (though it does many things well). If you're looking for a great feeling, great sounding digital piano, though, you'd be foolish not to check out the Nord Grand.
Contact Information
Clavia
www.nordkeyboards.com