CRUISE TO THE EDGE 2019 ANNOUNCES FINAL LINE-UP
WORLD'S GREATEST PROGRESSIVE ROCK CRUISE HOSTED BY 2017 HALL OF FAME INDUCTEE, YES
SAILING FEBRUARY 4-9 ABOARD ROYAL CARIBBEAN'S BRILLIANCE OF THE SEAS VISITING KEY WEST, FL AND COZUMEL, MEXICO
LINE-UP FEATURES ICONIC PERFORMING ARTISTS, INCLUDING: YES, STEVE HACKETT (OF GENESIS), MIKE PORTNOY, RIVERSIDE, FISH, JORDAN RUDESS, NEAL MORSE BAND, ADRIAN BELEW POWER TRIO, SPECIAL GUEST JOHN LODGE OF THE MOODY BLUES, INTRODUCING THE SEA WITHIN, PFM, FROST, GAZPACHO, PENDRAGON, HAKEN, FOCUS, BRAND X, SOFT MACHINE, ENCHANT, SPOCK'S BEARD, AIRBAG, MAGIC PIE, BARAKA, ELECTRIC ASTURIAS, IO EARTH, DAVID CROSS BAND, IN CONTINUUM, TONY MACALPINE, DISTRICT 97, FERNANDO PERDOMO, UNIKUE, MARBIN, ALAN HEWITT AND ONE NATION, RACHEL FLOWERS AND BROOK HANSEN
LIMITED CABINS STILL AVAILABLE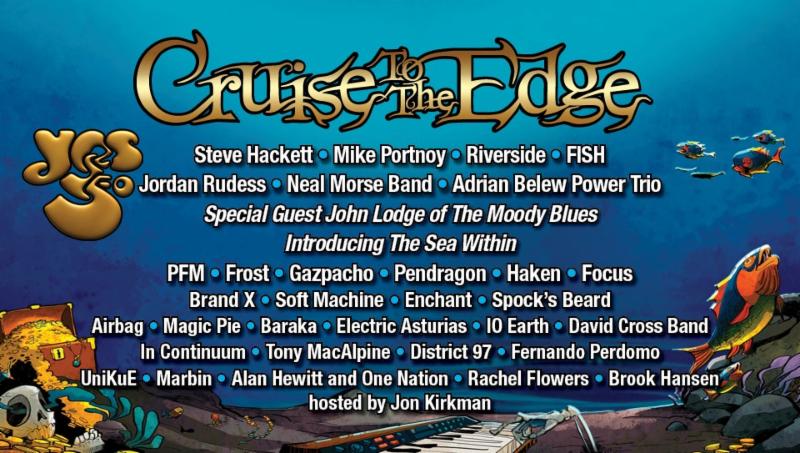 With only three months to go before sailing and just limited cabins still available, On The Blue -- one of the leading music cruise experience producers over the past 20 years -- has announced the final artist line-up for its sixth annual Cruise to the Edge.
Limited cabins are still available beginning at $1,299 per person, double occupancy. Government fees, taxes, and gratuities are additional and mandatory for all passengers, regardless of age. For booking and more info, visit CruiseToTheEdge.com and follow @CruiseToTheEdge on Facebook and Twitter.
Hosted by Jon Kirkman and the GRAMMY®-award winning, 2017 Rock and Roll Hall of Fame inductee, YES, this 5-night progressive rock cruise experience will sail out of Tampa, FL aboard Royal Caribbean's Brilliance of the Seas this February 4-9th and will visit two ports: Key West, Florida and Cozumel, Mexico.
As previously announced, the line-up for Cruise to the Edge 2019 includes: YES, Steve Hackett of Genesis, Mike Portnoy, Riverside, Fish, Jordan Rudess of Dream Theater,special guest John Lodge of The Moody Blues, PFM, Frost, Gazpacho, Enchant,Spock's Beard, Airbag, Magic Pie, Baraka, Electric Asturias, IO Earth, David Cross Band, In Continuum, District 97, Fernando Perdomo, UniKuE, Marbin, and Alan Hewitt and One Nation.
Just announced additions to the all-star line-up include: The Neal Morse Band-featuring Neal Morse (lead vocals, guitars, keyboards), Mike Portnoy (drums, vocals), Randy George (bass), Bill Hubauer (keyboards, vocals) and Eric Gillette (guitars, vocals). The band will be playing fan favorites, plus new material from The Great Adventure, its double-concept album due out January 25, 2019 on Radiant Records via Metal Blade worldwide.
Additionally, The Sea Within-an incredible new international rock supergroup formed in 2017 by Swedish guitarist and singer-songwriter Roine Stolt, bassist Jonas Reingold, guitarist Daniel Gildenlöw, German drummer Marco Minnemann and American keyboardist Tom Brislin-has been added to the line-up. Guitarist Casey McPherson will be stepping in for Daniel for the band's cruise performance, as he'll be touring with Pain of Salvation. Other new line-up additions include: Rachel Flowers, Adrian Belew Power Trio, Focus, Haken, and Brook Hansen.
The beautiful Brilliance of the Seas is the second ship in the Radiance class and she has a great contemporary feel, all the while keeping true with some of the incredible element's guests expect from Royal Caribbean. The ship offers the perfect balance of excitement and relaxation; featuring floor-to-ceiling glass windows throughout the ship which allow for breathtaking ocean views to be enjoyed almost anywhere on board. A favorite amongst CTTE veterans, the Brilliance showcases some of the finest music venues on the high seas, including an incredibly huge Pool Stage.
This exclusive cruise charter is a fantasy camp for progressive rock enthusiasts, with mind-blowing entertainment, activities and fun. Truly an experience that is over the top.
About YES:
Founded in 1968, Grammy-award winning Rock and Roll Hall of Fame inductee, recording artists YES have created some of the most important and influential music in rock history, such as iconic pieces "Roundabout," "Close to the Edge," "I've Seen All Good People," "Owner of a Lonely Heart," "Starship Trooper," and countless others. YES albums, including Fragile, Close to the Edge, Tales from Topographic Oceans, Relayer, Going For the One and 90125, have been certified multi-platinum, double-platinum, platinum, and more by the RIAA, and have sold over 50 million records total in the band's career that has so far spanned almost five decades. Among the world's most influential, ground-breaking, and respected progressive rock band's, YES continues creating masterful music that inspires musicians, fans and music lovers around the world. For more info, visit YesWorld.com and connect on Facebook, Twitter and Instagram.
About ON THE BLUE:
On The Blue -- promoter for Cruise to the Edge -- is a leader in cruise charter innovation, having sailed well over 100,000 passengers in the last 20 years. The principals of On The Blue have deep roots in the music industry, having provided world-class cruise ship production management for celebrities and musical artists for over two decades. On The Blue has run dozens of charter and large group programs for organizations, corporations, celebrities and artists throughout North America, and has played major roles in the development of ground-breaking theme cruise concepts. Past charters have included an array of Fortune 500 companies, plus theme cruises featuring entertainers such as Dave Matthews, Kenny Chesney, Tim McGraw, Journey, Def Leppard, REO Speedwagon, Styx, Night Ranger, The Moody Blues, Alan Parsons, The Orchestra, UFO, Queensrÿche, Tesla, Cinderella, Steve Hackett of Genesis, Yes, Little River Band, UK, Carl Palmer, Greg Lake, O.A.R. and many others. For more info, visit OTBlue.com.