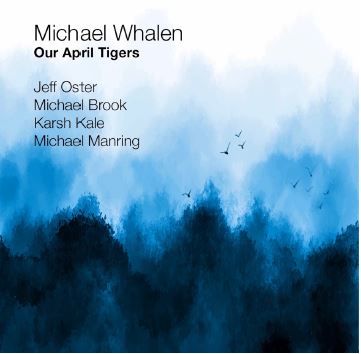 Once again, Michael Whalen delivers a stunning tapestry of ambient sound, but this time evoking the mood of a major Hollywood film score. On Our April Tigers, Whalen collaborated with a team of musicians who brought their own soundtrack scoring experience to the songwriting table, and the result is a beautiful collection of instrumentals that while subtly different from each of Whalen's recent releases, still delivers classic Whalen vibes with incredible moving soundscapes and impeccable engineering
Bassist Michael Manring, guitarist Michael Brook, trumpeter Jeff Oster, and percussionist/remixer Karsh Kale each lent their talents to a collection of songs that were begun by Whalen but completed in collaboration with his guest artists.
Compositionally, if you threw Jean-Michel Jarre and Philip Glass in a blender and then asked John Williams to edit the results, but then took away John's orchestra and passed the score to Michael to do the performing and arranging, accompanied by a handful of additional exceptional musicians, you'd find yourself squarely in the midst of Our April Tigers.
The results are more symphonic than some of Whalen's more ambient releases, but still this release sits firmly within the ballpark Whalen has carved for himself. You can definitely notice where some of the guest contributions show up. On "Morning Bell," for example, Manring's fretless bass performance is an obvious contribution that we might not have noticed in a purely Whalen production. Oster's trumpet is also on display, though with Whalen's particular mastery of all things keyboard related, you might not even contemplate the presence of a real horn player.
Michael Whalen, Our April Tigers

Genre:
Electronic, Ambient, Soundtrack
Musicianship:
Songwriting:
Production & Engineering:
Vibe:
Overall Rating:


3.75
There are all sorts of cool new sounds to be heard on this release, and the almost funky "Visceral Organ" is full of really cool and unusual sounds. Some of the ambient textures have an almost pop vibe to them, and tracks like "So Fragile" remind me of early instrumental excursions on records from artists like Simple Minds, Peter Gabriel, and Tears for Fears. Tracks like the closer, "Temporality" remind me
"Hope Haunts" opened with acoustic guitar! Yes, that makes it stand out on a Whalen release, but it's almost immediately accompanied by layers of contribution from the rest of this group of artists.
There's very little up-tempo about this release, so as an overall mellow record, it may be more easily grouped with ambient music, but it's definitely more of a movie soundtrack kind of record with light hints of jazz and classical influences sparkled around. However you try to categorize it, though, if you like lush textures, incredible electronic sound design, high production values, and emotive, film-esque instrumental composition, Our April Tigers will certainly keep your brain and your soul engaged.