Debut Solo Album 'CONTROLLED CHAOS' OUT NOW
Releases Brand New Music Video For Single 'Mariana Trench'
Track Was Featured As One Of The Official Songs Of WWE NXT's 'War Games' On Saturday
'The Guitar Collective' Tour Kicks Off Tonight in New Bedford, MA
Monday 19th November 2018 - The debut solo album from Los Angeles Born guitarist, Nita Strauss, one of the most sought-after and respected musicians in the world, is out now. 'Controlled Chaos' was released via Sumerian Records on Friday last week and went straight into the top ten on the iTunes Rock chart. The critically acclaimed debut is an epic, 11-track journey of jaw-dropping technical proficiency and highly emotive songwriting and is available now from nitastrauss.com
To complement the release of her debut solo album, Nita has also released the blistering new video for her new single 'Mariana Trench' watch below:
The track was featured as the official theme song of the breathtaking WWE NXT 'War Games' that took place this weekend at The Staples Centre in LA and was streamed to millions of homes worldwide. Nita also appeared on the pre-show panel and was interviewed backstage at the event. further establishing her amazing relationship with WWE, having already playing superstar Shinsuke Nakamura to the ring at Wrestlemania this year and opened the all-women pay per view, Evolution.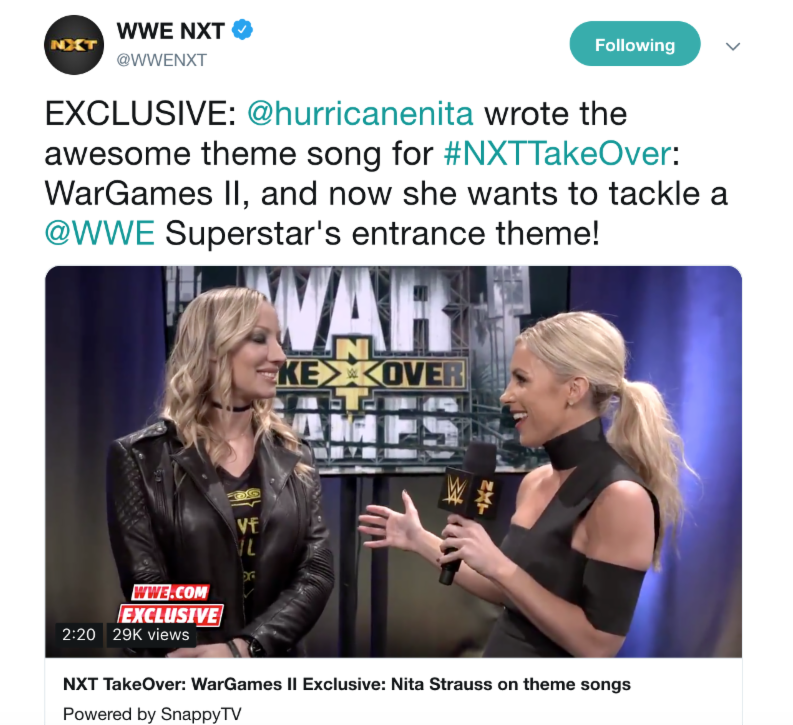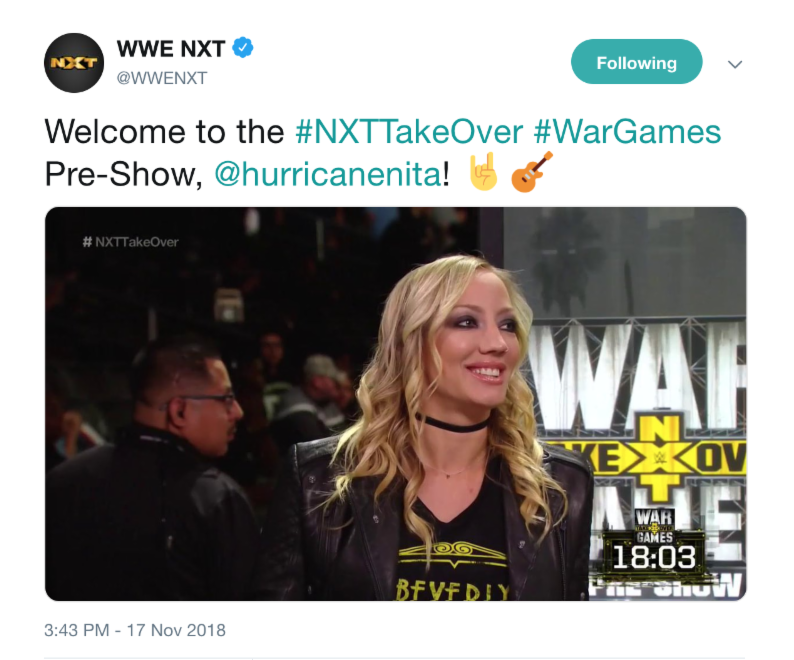 As well as wowing fans all over the world as Alice Cooper's touring guitarist, gracing the covers of Guitar World and Guitar Player, performing for millions upon millions of WWE fans worldwide at Wrestlemania and Evolution, becoming the first female to have a signature Ibanez guitar (which now hangs in the entrance to the legendary Guitar Centre on Sunset Blvd), breaking attendance records at guitar clinics across the country, playing 'America The Beautiful' at the recent Seattle Seahawks vs Los Angeles Rams NFL game and being interviewed about her strict fitness regime in the likes of Muscle and Fitness Hers, Nita also found time to write, produce, engineer and record all guitar and bass parts on her debut solo album, 'Controlled Chaos'.
Having launched a Kickstarter campaign to fund the recording of the record, which reached it's goal in 2 hours and ended up being over 800% funded, Nita signed a deal with world renowned independent record label, Sumerian Records who have released the album worldwide today. 'Controlled Chaos' is a complete expression of who Nita is as an artist and yet another example of the truly unstoppable force she is. Speaking on her solo debut, Nita says
"From bright and fun to aggressive and dark, from peaceful to chaotic, this album is a way for me to give the listener a glimpse into my personality and what goes on inside my mind."
Through obsession, dedication and sheer hard work, Nita has not only been firmly established as one of the best guitarists in the world, she is also a role model, a trail blazer, a fitness fanatic, a phenomenal performer and a total badass. As well as performing with Alice Cooper, she has also played with R&B star Jermaine Jackson, early MTV darlings Femme Fatale, video game supergroup Critical Hit and popular tribute band The Iron Maidens. Her skill, exuberant stage presence and love for all things guitar have seen Nita become a truly unstoppable, limitless force, blazing a previously untrodden trail.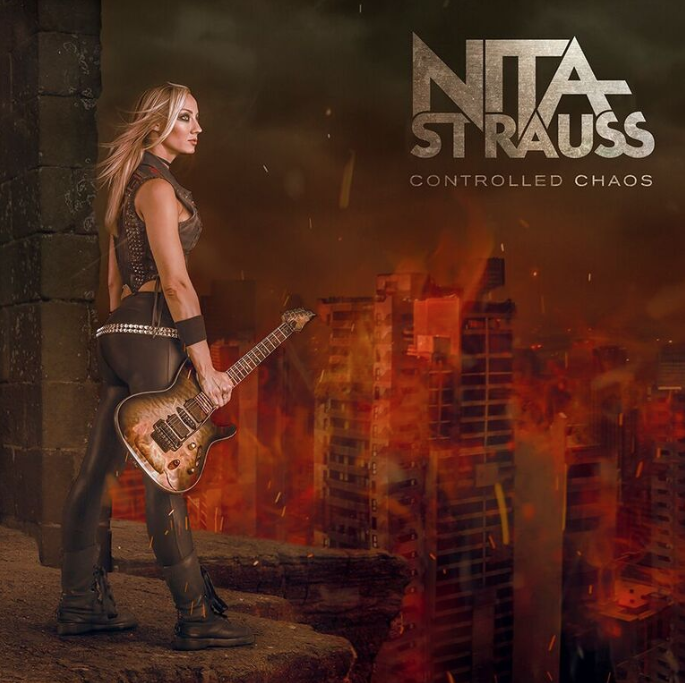 'Controlled Chaos' Tracklisting
1. Prepare For War
2. Alegria
3. Our Most Desperate Hour
4. Mariana Trench
5. Here With You
6. The Stillness At The End
7. The Quest
8. Hope Grows
9. Lion Among Wolves
10. Pandemonium 2.0
11. The Show Must Go On
Nita will be hitting the road next week for The Guitar Collective Co-Headline tour with Angel Vivaldi. Starting on Monday 19th in Bedford MA and playing a further 28 dates across the USA, the tour wraps on December 21st at Asbury Park, New Jersey. For Further information and tickets go to Nitastrauss.com
TOUR DATES
11/19 – The Vault @ Greasy Luck – New Bedford, MA
11/20 – Voltage Lounge – Philadelphia, PA
11/21 – Dingbatz – Clifton, NJ
11/23 – Brooklyn Bazaar, Brooklyn, NY
11/24 – The Outpost – Kent, OH
11/25 – The Loving Touch – Ferndale, MI
11/27 – Wire – Berwyn, IL
11/28 – Gabe's – Iowa City, IA
11/29 – Riot Room, Kansas City, MO
11/30 – Marquis Theater – Denver, CO
12/1 – Club X – Salt Lake City, UT
12/2 – The Shredder – Boise, ID
12/4 – Club Sur Rocks – Seattle, WA
12/5 – Paris Theatre – Portland, OR
12/6 – The Boardwalk - Orangevale, CA
12/7 – Brick By Brick – San Diego, CA
12/8 – Pub Rock – Scottsdale, AZ
12/9 – 1720 – Los Angeles, CA
12/11 – Come and Take It Live – Austin, TX
12/12 – Scout Bar – Houston, TX
12/13 – Trees – Dallas, TX
12/14 – The Hi-Tone – Memphis, TN
12/15 – The Masquerade (Purgatory) – Atlanta, GA
12/16 – Haven Lounge – Orlando, FL
12/17 – O'Malley's – Margate, FL
12/18 – Crowbar – Tampa, FL
12/19 – Ground Zero – Spartanburg, SC
12/20 – Canal Club, Richmond, VA
12/21 – House of Independents – Asbury Park, NJ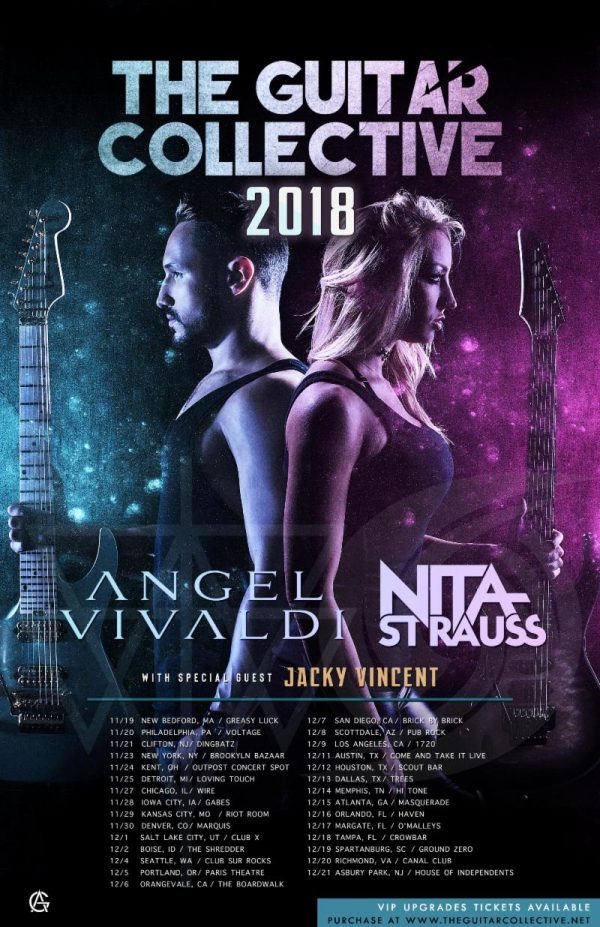 Find Nita Strauss Online at www.nitastrauss.com
Facebook: www.facebook.com/NitaStrauss/
Twitter: www.twitter.com/hurricanenita
Instagram: www.instagram.com/hurricanenita