Scottsdale, Arizona— 2019 marks the 40th anniversary of the Charvel® Custom Shop, which holds the unique distinction of being the longest continually running guitar custom shop.
To commemorate four decades of hard-earned glory, Charvel is proud to have recreated 11 stunning Custom Shop models from Charvel's original 1979 catalog offering.
The 40th Anniversary Custom collection includes a pair of Charvel San Dimas® Style 1 guitars in their original Candy Apple Red and Cherry Burst forms; a pair of San Dimas Style 1 finished in vintage Hot Rod Flames and Pink-and-Black Bullseye; a trio of Charvel Star models in solid Rocket Red, Pink with Black Spider Web, and the prized Gold with Shazam Lightning Bolt; a pair of San Dimas PJ bass guitars in Lime Gold and Taxi Cab Yellow; a San Dimas P Bass in Blue Diamond; and the beastly Charvel XP Bass in Platinum Pink.
Aside from being hot-rodded with the original wild shapes, colors and graphics, the instruments also boast original-era specs, including an 11"-radius straight fingerboard designed for fast single-note soloing, and original Charvel-branded brass NOS bridge and tremolo systems.
These custom throwback models were even assembled with an old-school Charvel mindset, said acclaimed Senior Master Builder Mike Shannon.
"On the 40th-anniversary models, we handmade all of them like we would have done 40 years ago," he said. "We used pin routers, band saws, pencils, drill pressers, joiners, planers, all the machinery that we had available to us back in those days. We still have all of that stuff, and still, remember how to use it."
Charvel history is as colorful as the guitars themselves. In the late '70s, Grover Jackson built the first guitars bearing the Charvel name. Jackson had worked at Charvel's Guitar Repair, a small shop in Azusa, Calif., that specialized in hot-rodding traditional electric guitars before he bought the company from founder Wayne Charvel in late 1978.
It's been said that necessity is the mother of invention, and that was the foundation Charvel was built upon. Players sought high-quality, reliable instrument that played especially fast and could scream like banshees, and leading manufacturers of the time such as Fender and Gibson weren't meeting those particular demands. Realizing this, Grover Jackson stepped in with traditional-style electric guitars loaded with high-performance refinements, to which he affixed the Charvel name.
Jackson officially debuted his first Charvel guitars at the 1979 summer NAMM Show. These hot-rodded Charvel instruments steadily gained acclaim, especially among a flashy new early-'80s generation of dazzlingly talented Southern California guitarists. Among them was a young Eddie Van Halen, who commissioned a Charvel "super Strat" with yellow and black stripes. In Van Halen's talented hands, that guitar helped blast Charvel to astronomic heights.
"Back in the early '80s when the hair bands started, Warren DeMartini would come in," Shannon said. "He liked specific back shapes—I still do those today for him. He was one of the up-and-coming rock stars with Ratt, and they became famous. The band practiced in our paint department before it was completed. Allan Holdsworth was another one of the guys who would come in. Jake E Lee would come in to pick up a new guitar. If we went a week without a rock star coming in, it was like, 'What happened?'"
Charvel quickly found its innovative niche, becoming the gold standard in customized high-performance guitars. And back then each instrument truly was a custom creation.
"We would get 3"x5" index cards with directions written out on them," Shannon said. "Each guitar was built individually and pre-sold. We weren't building things to load up a warehouse."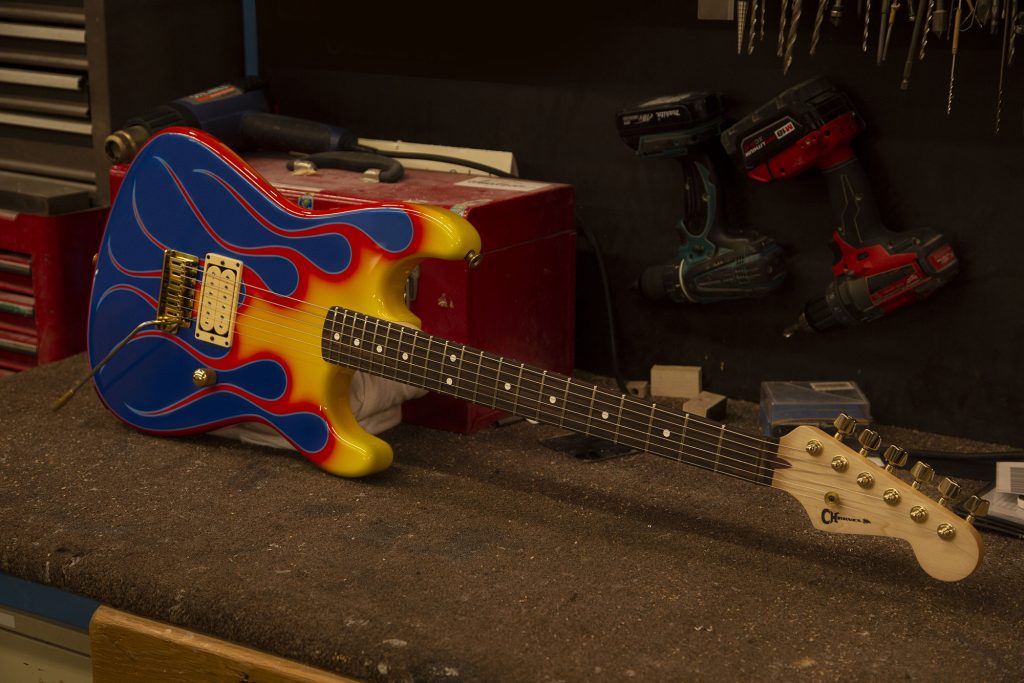 Charvel Master Builder Joe Williams noted that from its inception, Charvel was an avid purveyor of the latest in high-performance guitar technology.
"Back then Charvel was doing things like fretboard radius, back shapes, all of these things that were customized and better suited to the emerging playing style," Williams said. "They started using Floyd Rose® [bridge/tremolo systems], so you could wank on the guitar all day long. The playing style was faster; more aggressive—a whole new level of playing, and so the playability of the guitar had to progress with the style of music."
Eventually, hair metal and super Strats waned in popularity, falling victim to the early-1990s advent of grunge. Changing musical tides meant a series of struggles for Charvel, which went through several ownership changes before Fender bought it in 2002. The acquisition was a fresh start for Charvel, and signature models and the distinctive original designs outfitted with vivid finishes were soon introduced.
Shannon credits the brand's perseverance and unorthodox genius to its roller-coaster history.
"Charvel hasn't really stayed in between the lines," he said. "That's where great ideas came from. Some of the paint jobs; butcher blocks glued together; body spreads —a lot of these are ideas from employees who have worked for Charvel over the years."
Charvel Master Builder Dave "Red" Nichols believes devotion to the unconventional is what continues to set the Charvel Custom Shop apart.
"We can do anything with Charvel," Nichols said. "Nothing is out of bounds. It is kind of sacrilegious to put a Floyd on a Strat, but that's second nature on a Charvel. We take the guidelines and throw them out the window and do what we want. We glue funky woods together. We do awesome crazy graphics. The trends have changed over the years, of course, and we're always changing with them. Lately, we're seeing a lot of cooked woods and natural finishes."
And whatever they build, Charvel Custom Builder Pat McGarry notes that the goal is always perfection.
"When people come to the Charvel Custom Shop, they expect it to be top-notch and so do we," he said. "It should be the absolute best so that it's worth every one of their pennies. I think about the customer constantly. We want to keep the spirit and vision right so that when they get the guitar, they feel that it was perfectly made for them and done right the very, very first time."
With the current resurgence in deftly virtuoso guitar playing and a versatile stable of signature artists, Charvel continues to forge its sterling legacy of innovation, high-performance, and playability. Toward that end, it has enlisted modern masters including Guthrie Govan, Angel Vivaldi, Joe Duplantier, Russell "Satchel" Parrish and other greats.
"Charvel has always been able to keep up with the demands of the world's best players," Williams said. "Those signature artists are all unbelievable players, but all from different genres. I think that truly shows the diversity of Charvel. It's a versatile and innovative high-performance brand that has continued to evolve, and I'm just excited to be part of this illustrious team and to see what the next 40 years bring."