In 2013, we reviewed the Analog Lab and MiniLab, and in 2016 we reviewed the Keylab 88. While we love the software that comes bundled with the controllers, and are huge fans of Arturia's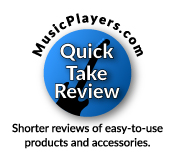 WIHO Award-winning V-Collection, the original keyboards proved to be a mixed bag, with the keybed specifically being the thing most people lamented. We didn't find those to be particularly well made, with a few of them breaking on us from strictly studio use. Arturia has now released the Keylab MkII, in which they claim a better built keyboard. But before you go digging through our other Arturia product reviews , we will say that feature-wise, the Arturia Keylab controllers make excellent controllers for your soft-synths, and their deep integration with Arturia's own software products—like the incredible V-Collection—make them an easy choice for many players.

The Keylab MkII comes in 49- and 61-key versions, in both white and black. You get 16 multicolor backlit pads, nine faders, nine rotary knobs, and the pitch and mod wheels have now moved to a more popular position at left of the keybed (the original Keylab had them located above the keys). The net effect is that the 49-key MkII version is nearly as long as the original 61-key version. To see the different layouts, we took a photo of them side by side (with the MkII on top), as seen here: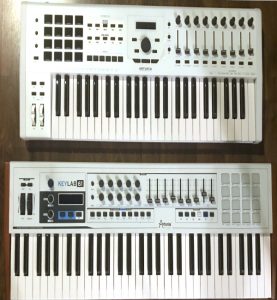 A nice touch is that pretty much all the knobs and buttons are backlit, though the sliders aren't. It would have also been cool if there were demarcations on the sliders—which the original had—though this is certainly not a deal breaker.
In the center is the "big knob," which these days has become more common on Arturia and other manufacturers products. Below this are three buttons labeled Analog Lab, DAW, and User respectively. Analog Lab mode, as you might guess, automatically maps the controls to specific functions in Analog Lab (now at version 3 and included with KeyLab). DAW mode switches controls to your recording software, and Arturia even includes magnetic overlays for Pro Tools and other DAWs (Logic, Reaper, Cubase, Abelton, and Studio One) to help you see what the ten buttons above the transport controls do. Finally, User mode gives you access to ten user-defined maps of your creation. You can set up a custom map for another instrument or effect you wish to control.
One major upgrade from the original is the addition of CV connections! The rear panel, besides the expected USB, pedal, and MIDI connectors, also includes five control voltage connections: Pitch Out, Gate Out, 2 Mod Outs and CV In. The CV outputs can be used to send control voltages and triggers to a modular synthesis system, while the input can be used to receive incoming control voltages and turn them into MIDI data that go into your DAW. The voltage range can be defined using the "User Edit" mode, or through Arturia's free software, MIDI Control Center (MCC). So you are essentially getting a CV to MIDI converter! Arturia diagrams this as below: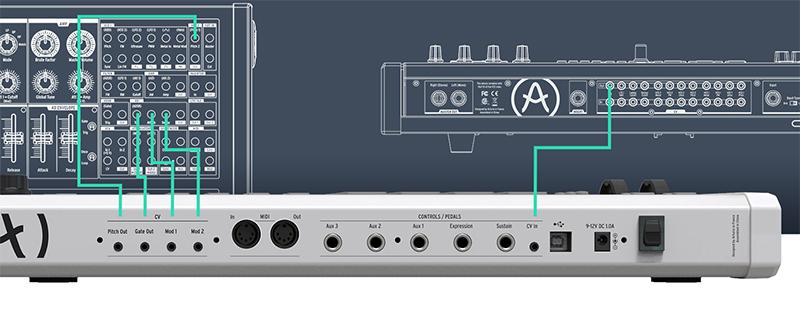 Of course, many are wondering, "how does it feel?" The sliders and knobs feel a bit sturdier and better quality than the original, and the sixteen pads definitely provide a big upgrade in feel from the original. And, the dedicated chord buttons provide additional functionality.
So how about the keys? Happily, they are velocity sensitive and provide aftertouch. But are the keys really any more reliable than those in the original? Honestly, only time will tell. In a side by side comparison, compared to the original Keylab 61 in our studio, the MkII did feel slightly better: more even key-to-key and less "sticky," so this is obviously a different keybed. But only time will tell if the keys hold up better. Feel is subjective, but the keys do feel better to us, but just slightly. The difference in feel is not as large as the marketing might suggest.
Bundled software includes Arturia's excellent Analog Lab, Abelton Live Lite, and Piano V (which can be read about in previous Keylab reviews mentioned at the beginning).
The Keylab MkII 49 (MSRP $499) and Keylab MkII 61 (MSRP $549) can be found online for approximately $450 and $500 respectively. If you don't already own the original versions, or if you have a lot of modular gear in need of a flexible keyboard interface, these are nice controllers.
Contact Information
Arturia
www.arturia.com