NEW YORK—January 2019— Emerging as a fan favorite and carving out its own territory in the semi-hollow landscape in the seven years since the brand's reignition, the Excel SS semi-hollow has been upgraded for 2019. For elevated tone and maximum versatility, the SS now features Seymour Duncan 59 humbuckers paired with coil-tapping push/pull tone knobs, allowing for a vast range of tones and making the SS an all-in-one instrument across genres.
Joining the double-cutaway Excel DC, the SS now features split-block inlays and a gold truss rod cover, as well as new finish options—including a stunning Iced Tea Burst. Available with a traditional stopbar or trapeze-style Stairstep tailpiece and retaining its slim C-shape neck for maximum performance comfort, the new Excel SS re-asserts itself as a modern classic.
Available February 2019.
MAP $1799.99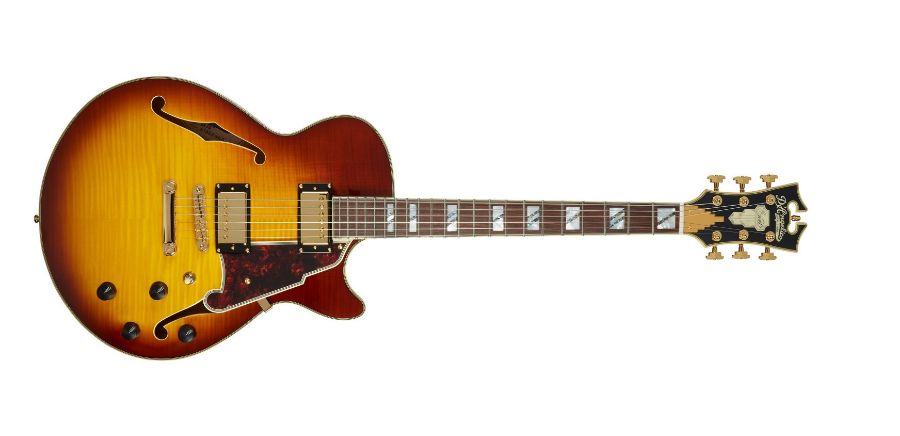 ABOUT D'ANGELICO GUITARS
Founded in 1932 by master-luthier John D'Angelico, D'Angelico Guitars is a New York City-based guitar brand built on the history of one of the most revered luthiers of all time. Revered for making some of the finest guitars in the world, D'Angelico is in the midst of a modern resurgence. New designs broaden its line every year and the community of artists bringing the guitars to the world's biggest stages continues to grow. Committed to maintaining the legacy of its original founder, D'Angelico intends to honor its roots while building ambitiously toward the future.