Arturia
Arturia released the curious Microfreak synth. Using some of Mutable Instrument's Plaits Eurorack open-source oscillator algorithms (including Superwave, Harmonic Oscillator, Karplus-Strong, Wavetable, Virtual Analog, Waveshaper, FM, Grain, Chords, Speech, and Modal), an SEM-style filter, an odd PCB keyboard, a modulation matrix, four-voice paraphonic sound, and polyphonic aftertouch, all housed in a form factor reminiscent of the Microbrute, you've got a curious sounding synth. It comes with 128 presets and additional space for your own creations. We did squeeze in a few moments with it, and there's definitely potential for creating some funky sounds. If you want something a little bit out of the mainstream, check this out.
—JB
---
Dexibel
Most American musicians are unfamiliar with the Italian company Dexibel, but we're beginning to think they should be. Dexibel was showing their new VIVO S9 digital piano, with a newly developed 88-key, hammer action keyboard with "hybrid structure" (wood & plastic) and aftertouch! Even more impressive, the S9 is equipped with motorized draw-faders for Organ/Mixer/MIDI control, and this stage piano also includes XLR balanced outputs. Other features include unlimited notes polyphony, 24-bit/48kHz sound quality, and over fifteen seconds of recorded waves (for some samples) for "more accurate decay" as per the Dexibel staff.
The VIVO S9 also has a wave memory bank of 1.5 GB with the possibility to fully reconfigure the instrument using new sounds from the DEXIBELL library or alternately from standard Sound Font-format files, which are readily available online. The S7 shares similar specs, but lacks the motorized faders and has fewer hardware controls. We were impressed by the sound quality, and the keyboard itself felt good, too. We're planning to start reviewing their products in 2019.
—JB
---
Deskew Technologies
Deskew Technologies introduced the new Gig Performer V.3 software, and this popular solution for running soft synths and virtual instruments on your laptop gained a few fantastic new features including arranging of songs and set lists, and song parts, which makes it easier to reuse plug-ins in multiple songs without having to set up duplicate audio chains. Ilio also added Ableton Link integration as well as a MIDI recorder function.
—SK
---
KORG
Korg was busy this year, though most of their releases were upgrades of previously released products. The two Volca releases are the Volca Modular and the Volca Drum. The Volca drum is a battery-powered, digital percussion synthesizer with a 16-step sequencer and custom LCD. It is six-voice polyphonic, and its sounds are modelled analogue waveforms with bit reduction, a wave folder, and an optional overdrive. The output then passes through a modelled waveguide resonator. Korg Sync In and Out jacks are provided, and the Volca Drum can be locked to MIDI via a MIDI input. The Volca Drum retails for $149. The volca modular is the volca form factor take on a modular system, and Korg has squeezed quite a bit in: dual oscillators, capable of wave folding and frequency modulation, two function generators, two low-pass gates, a utility module, a splitter, a sequencer, and a digital effect simply known as "Space Out" which is kind of like a delay/reverb effect. Many of the modules are internally connected, allowing the synth to be used without pin cables.


The Minilogue was originally introduced in 2016, and was Korg's take on four-voice analog synthesis in a small (37-key) keyboard form factor. The next-generation Minilogue XD features the same twin analogue oscillators and 37 "slim key" keyboard, but adds a third digital oscillator. Each voice includes a a noise generator, a VPM oscillator, and the possibility to load user programmed oscillators! The Minilogue XD has a 16-step polyphonic sequencer with SYNC IN and SYNC OUT jacks as well as two CV IN jacks, letting you connect to other modular devices. MSRP is $619.99.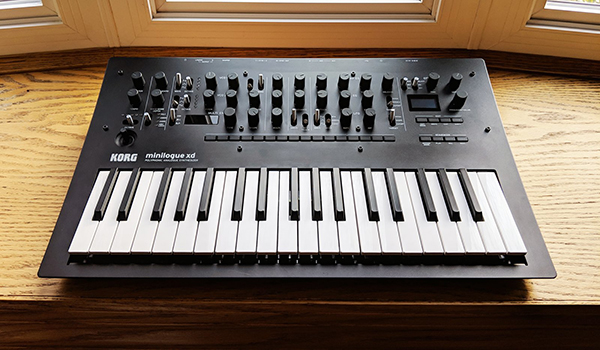 The Kronos SE, as you can guess, is a special edition of the Kronos that adds a graded metallic red finish, as well as additional orchestral sounds, plus a new Italian‑made grand piano that debuted in the Korg Grandstage (reviewed here). It's available in 61-note ($3,099.99), 73-note ($3,499.99), and 88-note ($3,799.99) versions.
—JB


---
Roland
Roland didn't release any new pro synths this year, but did add two new entries to its Roland Cloud virtual synthesizer collection. For those unaware, the SRX-series boards were first introduced in 2000: they were small boards with 64MB ROMs containing patches and rhythm sets that upgraded (internally) quite a few Roland synths and modules. SRX World was one of these, and has now been recreated for the virtual platform. SRX World contains instruments found in Africa, Asia and India, as well as around the globe. It comes with 407 unique patches, 10 rhythm sets and 867 waveforms. Interestingly, we asked the Roland staff at NAMM if this was an exact duplication of the original card of the same name, to which they said it was not, stating there were some name changes and sample upgrades, but was close.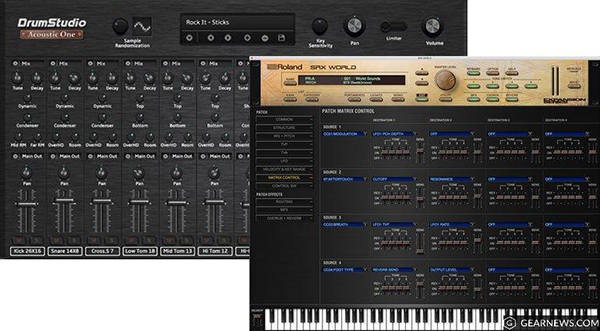 The other virtual instrument is Drum Studio—Acoustic One. Designed to run through Roland's sample player Concerto (also a Cloud download), it contains several classic drum kits and features six kicks, five snares, nine toms, and seven cymbals, all sampled with varied articulation and multiple microphone placements and played with sticks, brushes, and hot rods. You can also choose microphone type and placement. Presets help you get started in a variety of styles. During the demo, we noticed there were no loops or drag and drop MIDI patterns, so for now, you'll have to program your own beats. But we were told that pre-defined loops/grooves/beats are likely to come in a future update.
—JB
---
Spectrasonics
While other software products seem to get updated with major point releases nearly every year, Spectrasonics takes a much more calculated path, taking their time, and just introducing things when it truly matters. This year, they introduced Omnisphere 2.6, which has some updates sure to please many users of this outstanding soft synth.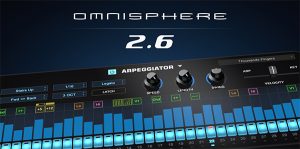 External hardware synth integration is awesome, and it just got better with support for over 60 popular keyboards. Rather than going through the tedious process of MIDI mapping or utilizing MIDI learn features to map synth controls to generic MIDI controller keyboards (which you can do, of course), Spectrasonics includes auto mapping to the controls on popular current and past synthesizers, such as the Roland Juno 106 and D-50, Access Virus (many versions), and even maps to recent products like the Sequential Prophet 08, Behringer Deepmind, and Yamaha Reface CS.
The arpeggiator has been greatly expanded in its functionality, and we love that the MIDI data generated by the arpeggiator now gets written out as standard MIDI data for external manipulation in your DAW/host.
And yes, lots of new sounds, too! Get ready for more D-50 sounds as the sound development team dug deep into L.A. synthesis for this release. Omnisphere 2.6 should be shipping this month (March).
—SK

---
StudioLogic
The SL MIXFACE is the interface we've wanted since first reviewing the fantastic SL88 Grand keyboard controller (review here). This compact control surface is a match made in heaven (or perhaps, China), as its magnetic base secures it firmly to the metal housing of the SL88. Suddenly, that elegant yet sparse controller gains eight control knobs and nine faders, plus additional transport controls. You can, of course, use this fabulous control surface with any MIDI products, but if you've got a StudioLogic controller, adding this interface is a no-brainer.
—SK
---
Yamaha
Yamaha introduced the new CP-Series stage pianos, which were definitely among this year's keyboard highlights.The CP73 (73 keys, balanced hammer action) and CP88 (88 keys, graded hammer, natural wood, triple sensor action, synthetic Ebony and Ivory key tops) both have the same internal sound engine. Like other popular stage pianos, there are three main sections that can be split or combined quickly as desired: Piano, Electric Piano, and Sub (sub contains pads, strings, and other synth sounds). Both models include voices sampled from the Yamaha CFX and Bösendorfer Imperial grand pianos, Yamaha U1 upright, CP80 electric grand and other instruments, including strings, pads, organs and chromatic percussion. Also included is a rotary speaker simulation, as well as synth-like attack and release controls, plus tempo-syncable delay, reverb, and a three-band, global, master EQ. There are balanced XLR outs to allow connection on stage without direct boxes, too! Amazingly, the 73-key version weighed only 28 pounds (and the 88 key was still a reasonable, but heavier, 41 pounds).
We had the opportunity to play the CP88 just prior to the NAMM Show in the quiet and calm of Yamaha's Manhattan studio and were impressed by everything: the playability, the sounds, and the user interface. We'll have a complete, in-depth review coming shortly, but our initial impression is that this is a top contender in a crowded market.


Though not aimed at the pro market, you might enjoy the fun factor of the Sonogenic SHS-500 keytar. When used in conjunction with the free Yamaha Chord Tracker app, this keytar altars your performance so that you never play a wrong note. It's a way to get young players enjoying the experience before they have their training wheels removed. The rest of us can alternately use the SHS-500 as a true keytar, wrong notes and lousy performance included. And with an internal sound engine of its own (including piano, synths, and two drum kits), you can be up and running in an instant. MSRP $499.
—JB and SK