Category

Value

Rating

Features

20%

Usability

25%

Sound

25%

Documentation & Support

10%

Price

20%

OVERALL RATING = 3.8 Stars,
which earns it a WIHO Award!


3.6 stars or better: Outstanding, WIHO Award




3 stars or better: Worth considering




2 stars or better: Suited to specific needs




1 star or less: Not recommended

If you're not familiar with Prashant Aswani and you're serious about your shredding, you should be. He's toured the world with numerous well known recording artists, produced the likes of Greg Howe, and released highly praised solo instrumental guitar albums. His playing covers a wide array of styles but is always grooving, coming from a song-first perspective as opposed to writing chord changes simply as a pad to shred over.
Prashant mixes classic rock, jazz, funk, and more to create a unique musical voice, but newcomers will find he comes more from the Joe Satriani/Andy Timmons space than the die-hard metal shredders. An avid Charvel user, Prashant wanted to create something that would meet his diverse needs in the studio and on stage—in his words, a "high performance super Strat with iconic wood combinations and vintage vibe but with modern features." And, that's just what the Charvel team delivered.
The PA28 has a familiar look shared with many of the Super-strats in their product family, but as you'll soon discover, this guitar has more than a few special touches that make it one of a kind in the product lineup.
Features

The Charvel PA28 is a double-cut Stratocaster-style guitar with a variety of modern features both visible and under the hood. There's a scalloped lower back bout, a shredder's cut neck heel, graphite reinforcement in the neck, custom designed Charvel humbucking pickups, Dunlop Super Pots, a locking Wilkinson temolo bridge, and some really cool luminary side dots. Let's explore the guitar in more detail:
Neck
The bolt-on neck is maple with a dark rosewood fretboard. While most Charvel superstrats feature the company's Speed Neck, Prashant made a few changes to the formula, opting for the feel of a '60s slim C neck with an even taper. And also to his spec, the back of the neck is finished in a hand-rubbed satin urethane. The fretboard has a 12-inch radius with 22 nickel jumbo frets and a standard Fender/Charvel 25.5-inch scale length. Fretboard edges are nicely rolled for increased comfort and a well-played feel. Fretboard position inlays are cream dots while the side inlays are glow-in-the-dark Luminlay. The nut is a GraphTech TUSQ XL with standard 1.650-inch (42mm) width. The body joins the neck in a shredder's cut heel for easy upper fret access.


The front of the Stratocaster-shaped headstock is finished in matching Inca silver color with a cream Charvel logo. The guitar features a chrome Fender standard string guide
Electronics
The guitar comes stock with custom Charvel PA28 humbuckers designed in collaboration with Prashant. These are open pickups with individual white pickup covers. There are a master volume and master tone control, and a five-position blade switch with unique options. Position 1 is the bridge humbucker. Position 2 uses the outer coils of the bridge and neck pickup together. Position 3 is both humbuckers in full. Position 4 is the inner coils of the bridge and neck pickups together, and position 5 is the neck pickup. There are no coil split switches or taps on the pots/knobs.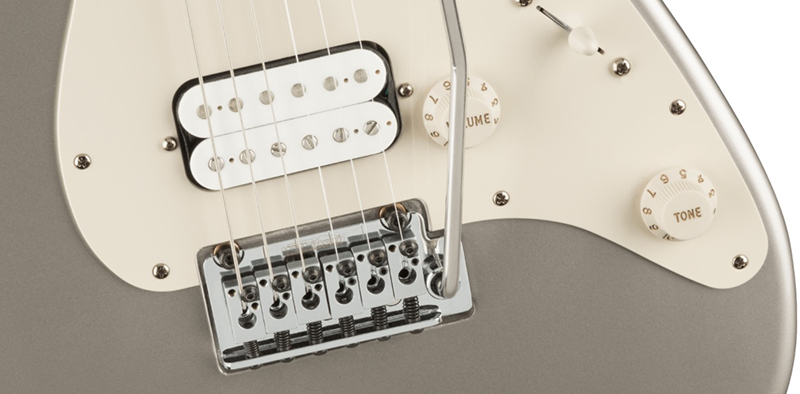 Hardware
The bridge is a premium Wilkinson WVS 130 CR, 2-point locking tremolo which is recessed into the body and features a pop-in tremolo arm with adjustable tremolo arm height. The string spacing at the bridge is 10.8mm, which falls closer to more modern, narrow-style Strat bridges in comparison to wider, vintage 11.27mm string spacing. Tuners are Charvel-branded, die cast locking tuners, and all hardware is chrome finished. The pickguard is a 1-ply parchment, and control knobs are Strat-style skirt in parchment color as is the switch tip, matching the pickguard.
Miscellaneous
The guitar is strung stock with 9-42 gauge strings with standard strap buttons. It does not include a case or gig bag.
Sound and Usability
Want to know more about the guitar? Check out Prashant Aswani's personal introduction of the PA28:
Price
The Charvel PA28 sells for $1,399.99.
Contact Information
Charvel Guitars
www.Charvel.com