(The NAMM Show, Anaheim, CA – January 24, 2019) – Ernie Ball (Booth 4320, D5), the world's premier manufacturer of guitar strings, musical instrument accessories and volume pedals, introduces the new Ernie Ball VPJR Tuner pedal, a two-in-one unit offering the perfect combination: an enhanced-definition digital tuner and volume control.
The pedal features a fast and accurate chromatic tuner with graphic volume display that is visually attractive and easy to operate. The large display, easily seen under low-light stage conditions and in direct sunlight, automatically switches between tuner and volume modes depending on the signal level, allowing the player to tune at minimal volume. However, other "always on" configurations are accessible via a double tap on the touch screen. The tuner can also be calibrated to a variety of ideal reference pitches.
The pedal's compact, rugged design features a junior-sized chassis consisting of a tough aircraft grade aluminum housing. The pedal also features an ultra-durable PVC-coated braided Kevlar® cord that improves strength and potentiometer traction to ensure consistent tension throughout the smooth foot sweep.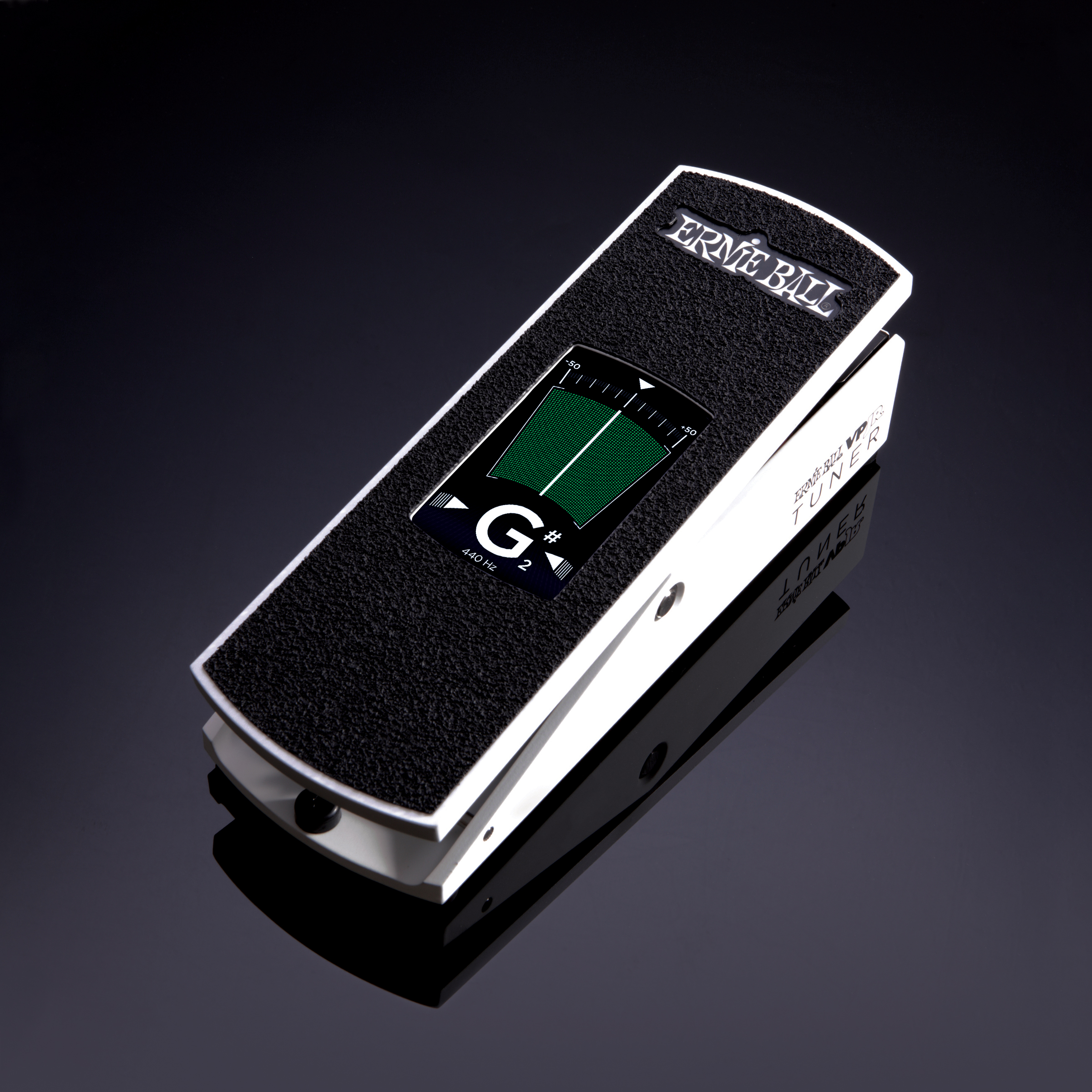 Ernie Ball VPJR Tuner pedal features:
Combined tuner and active volume pedal saves space, power, and signal routing on pedal boards
Fast and accurate chromatic tuner and graphic volume display
Enhanced definition touch screen
Intelligent display activates tuner mode at minimum volume, and a graphic volume readout when signal is present
Treadle can be routed as a gain control or as a master volume control
Discrete buffer circuit with no tone loss through any signal chain
Accepts industry standard 9-18 Volt power adapters (not included)
Stronger PVC coated braided Kevlar cord improves strength and traction
Available in four colors: Gold, Black, Red, and White
Pricing and availability are TBA.
See video here:

About Ernie Ball:
In 1962, veteran player and teacher Ernie Ball created Slinkys®, the iconic light gauge electric guitar strings widely revered by hundreds of guitar greats including Eric Clapton, Keith Richards, Jimmy Page, Paul McCartney, Metallica, Brad Paisley, Slash, John Petrucci, The Edge and John Mayer. In addition to industry-standard strings, as well as hand-crafted high-end Music Man® guitars and basses, Ernie Ball Inc. offers state-of-the-art instrument accessories that are carried in more than 6,000 stores in the U.S. and 120 countries worldwide. The family-run company maintains its founder's dedication to preserving the musician's playing experience and delivering superior sound quality through the development of new products, such as Cobalt Slinkys, M-Steel, Earthwood and the revolutionary Element Shield Packaging, keeping each set as fresh as the day they were made. The company also fosters artist development through musician-focused programs such as the world's largest and longest running Battle of the Bands, where unsigned bands compete each year for the chance to play live on national tours, festivals and events. Visit them online at www.ernieball.com and www.music-man.com.