Fly rigs have become all the rage over the past few years. For players not ready to make the leap to modeling solutions, compact multi-effects units that can fit in your gig bag or guitar case for use with your favorite tube amp have become increasingly popular, combining a handful of "essential" effects in a small form factor for easy on-the-go use.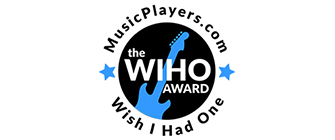 We've reviewed a number of these products, and while they tend to provide pretty favorable sound, none left us wanting to ditch our pricier, more complex, effects rigs. But the Mooer Red Truck proved an exception to the rule, as it found immediate favor in a way that other similar products did not: it delivered sounds that were musically inspiring and which made us purposely want to use the product for its sound, as opposed to wanting to use it simply as an easy-to-carry alternative to the big rig.
Combining key effects in an easy-to-use package, with the flexible configuration of more complex (and pricey) effects products, we found the Red Truck to be a winning solution. A few of us liked the Red Truck so much that we ended up buying a few of them.
Category

Value

Rating

Features

20%

Usability

25%

Sound

25%

Documentation & Support

10%

Price

20%

OVERALL RATING = 3.7 Stars, which earns it a
WIHO Award!


3.6 stars or better: Outstanding, WIHO Award




3 stars or better: Worth considering




2 stars or better: Suited to specific needs




1 star or less: Not recommended
Features
The Mooer Red Truck Combined Effects Pedal is a multi-channeled guitar digital effects pedalboard. Housed in red and black aluminum enclosure and weighing just over two-and-a-half pounds (1200 grams), this 9V unit is lightweight and compact but by no means skimps on functionality, boasting its six full-featured effects pedals, tuner, tap tempo, and integrated effects loop.
Mooer designed the footswitches in a manner enabling toggling between two basic operations: Live mode and Preset mode. Live mode enables the footswitches to activate that specific effect; stomping "DIST" activates the distortion. Preset mode changes the footswitches as toggling agents to select one of the five available customizable preset channels. The display screen reads either "L" (Live) or "P" (Preset) to represent the current operation mode, which is toggled by selecting the TAP and Reverb selectors simultaneously.
In Live mode, the Red Truck features its five selectable effects pedals via footswitch: Drive, Distortion, Modulation, Delay, and Reverb. The Pure Boost channel is only accessible via a toggled switch, but it can be activated by switching to a saved preset. Every footswitch illuminates a green led indicator once selected, except for the TAP/tuner, which flickers different colors to represent its control of modulation and delay based on which two footswitches are selected simultaneously (delay + mod = purple, delay only = red, and mod only = blue).
All of the knobs within each effects module illuminate red when the channel is active. When the tuner is active, all the lights from the footswitches and knobs are turned off, and focus is drawn to the screen's tuner.
Each effect is fully customizable through relatively easy to understand knob configurations based on what you'd expect for each pedal:
• PURE BOOST has adjustable Boost, Bass, and Treble knobs
• DRIVE offers tweakable Volume, Gain, and Tone knobs
• DIST has the essential equalization features (Treble, Mid, and Bass), adjustable Level and Gain knobs, and a Mid Boost on/off toggle switch.
• MOD has adjustable Level, Rate, and Depth knobs, a "rhythm knob" modulation speed selector (ranging from whole notes to "X"—which is described in the owner's manual as Mooer's "random 7s pattern." A three-way toggle switch alternates between Tremolo, Phaser, and Chorus/Flanger modulation functions.
• DELAY also features three adjustable knobs (Level, Time, and Feedback) and a subdivision selector (ranging from quarter to sixteenth notes, quarter to eighth note triplets, and dotted quarter and eighth notes. The delay's three-way toggle switch alternates between Analog, Echo, and Digital functions.
• REVERB strictly uses six adjustable knobs: Level, Decay, Tone, and Shimmer as well as Depth and Rate mods.
The back of the Red Truck has six jacks: a ¼'' input, effects loop send and return, headphone out, and stereo outputs. The headphone output also serves as a dedicated direct output with speaker simulation for connecting to a mixing desk, computer, or headphones.


The small number of jacks may seem relatively straightforward in functionality, but this configuration is perfect for utilizing various FX loops, including the four cable method effects loop. This is where the first cable from your guitar to the Red Truck input, the second from the Send of the Red Truck to your amp's input, the third cable from your amp's Send back to the Red Truck's Return, and the fourth from the output of the Red Truck to your amp's "effects return." This feature is worth noting because it brings out the best in the pedalboard by placing the modulation, delay, and reverb effects into the amp's effects loop rather than in front of it.
The Red Truck ships snuggly in its hard-exterior carrying case, but this case has a significant flaw—nothing else fits in it! This means the case transports your Red Truck safely but leaves your cables and external power supply by the roadside.
Usability
Using the Mooer Red Truck couldn't be any easier. By default, the Red Truck is in classic stomp mode, and the footswitches beneath each effects block are easily switched on/off. When an effects block was engaged, all of its knob tops turned red. There is obviously an LED illumination system at work, but the knobs looked like they just happen to be colored—it's an awesome illumination effect that worked extremely well. The footswitches were circled by a green LED when engaged, too, and when the tuner was engaged, all of the knob tops returned to their default black state.
Stepping on the Tap Tempo/Tuner button and switch #1 (you can do it with a single shoe) toggled the Red Truck into its preset mode. We then engaged the desired effect blocks, adjusted the settings, and then held our desired storage location footswitch for a few seconds to save our sound into one of the five memory locations.
The knobs themselves are small, well spaced, and they provided good resistance to avoid accidental adjustments when used in stomp mode. Most of the effects have individual level controls, so it was very easy to maintain proper balance between the various effects.
Sound
We reviewed a number of Mooer's micro-sized effects pedals years ago, and they were good, though nothing we were specifically excited about beyond the space saving size. They were just your basic bread-and-butter, quality effects. And it was with that mindset that we approached the Red Truck. We've experienced plenty of other "fly rig" products and expected this to be another routine, "decent" effects processor. But as it turns out, this one really impressed us!
The Mooer Red Truck has some exceptional sounds, starting with the Distortion block. Wow! We typically prefer to get our distortion from a channel on a pricey, high-gain tube amp, as so many pedals sound like… pedals, and not amps. But this distortion circuit, which is based on the Mooer Rumble Drive circuit (which is supposedly based on legendary Dumble amp tone), kicks ass! Fans of classic '80s and '90s hard rock tone will not be disappointed, as it was rich and musical. By contrast, the Drive circuit had more of a classic tube screamer voice that doesn't excite us much in particular. The Pure Boost was an excellent boost circuit, mostly clean, and we appreciated that it had bass and treble controls so that we could contour our sound in addition to simply raising the volume. It worked in tandem with the Drive and Distortion circuits, just as if you chose to engage a boost pedal before hitting any other guitar preamp.
The time-based effects really set the Red Truck apart from the competition because the Reverb has a wonderful sounding Shimmer effect, as well as an additional chorus effect. This is another effects block that would be totally worthy of its own pedal (which presumably exists somewhere in Mooer's extensive pedal collection).
Unlike basic delay effects found in combo products, the Red Truck's Delay block was quite feature rich, offering numerous time divisions including triplets and dotted notes, and options between analog and digital delay effects, and vintage echo effects with shorter delay times.
The Modulation block was also more advanced than your typical mod pedal, and provided excellent sounding tremolo, phaser, and chorus/flanger effects. We love that with a four-cable hookup, the modulation effect lives in the effects loop, though we know some players prefer to have their modulation effects in front of the preamp. In that case, just stick to the standard cable hookup in front of your amp.
Documentation and Product Support
The Mooer Red Truck comes with a useful, printed product manual. Getting past inconsistencies in spelling "Red Truck" and obvious mis-translations into English, the owner's manual details the features and functionality of the pedal in great detail, going so far as explaining different effects loop configurations as recommended to enhance this pedal's usability.
The Mooer website contains FAQs and other useful support content.
Price
The Mooer Red Truck sells for $249, which is a fantastic price given the quality of just a few of its sounds. This really is an all-in-one pedal that we'd grab first when running off to a gig without our large pedalboards and rack systems. But more than that, we'd use it for more than just the fly dates, as it's got some really inspiring sounds inside. Well done!
Contact Information
Mooer Audio
www.mooeraudio.com