Stompbox-sized instrument wireless system featuring plug-and-play operation, rugged
metal construction, high-quality audio, up to 130' line-of-site range, and professional I/O.
CALABASAS, Calif. — January 24, 2019 — Line 6, the market leader in digital
wireless for guitar, today introduced Relay® G10S, a compact-yet-powerful, easy-to-use
instrument wireless system designed to be mounted on a pedalboard.
The Relay G10S wireless system is the newest member of the #1 selling Relay Wireless
Family of products, long embraced by professionals for their reliability and transparent
sound. The unit offers up to 130' line-of-site range, enough to cover the largest of
stages, and delivers crystal-clear 24-bit lossless digital sound quality, providing accurate
signal reproduction that's free from dropouts and interference.
With its stompbox design, the Relay G10S wireless system integrates seamlessly into a
guitar or bass effects pedalboard, but it also excels as a standalone unit. Encased in a
rugged metal housing, the G10S is built to withstand the rigors of gigging, and is
significantly more durable than plastic-housed receivers.
Getting the Relay G10S up and running is as easy as turning it on—there's no need to
manually select frequencies. Thanks to its intelligent setup features, the unit immediately
locates and locks onto the strongest available wireless frequency as soon as the
transmitter is docked in the receiver. It's that simple.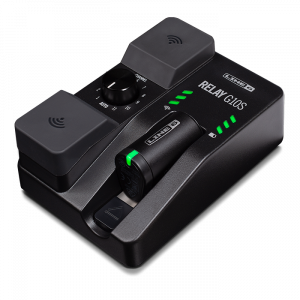 The Relay G10S receiver is equipped with with highly visible RF and Battery Life
indicators on its face, providing the user with constant visual monitoring of system
status. The receiver sports a convenient 9-volt DC power input, making it compatible
with standard pedalboard power supplies, but also includes an external power supply.
The included G10T transmitter runs on a rechargeable battery that lasts for eight hours.
The unit automatically enters sleep mode when there's no signal present, significantly
extending battery life between charges. When it is time to recharge, plugging the G10T
into the Relay G10S automatically initiates the process.
The Relay G10S provides two separate outputs: a 1/4" jack for connecting it to an amp
or pedalboard and an XLR DI output, which can be used to connect instruments like
acoustic guitars and basses directly to the P.A. system.
"We leveraged our experience in designing and building professional wireless systems
to create the Relay G10S, which, like the other Relay products offers excellent sound,
reliable performance, and solid build quality," says Arne Wallbrecher, Product Manager,
Line 6. "With its pedalboard design, affordable price, and intuitive user interface, this
system is designed from the ground up for guitarists that want to integrate wireless into
their pedalboards without hassle while maintaining the best sound quality."