Next in our review of Fender's Parallel Universe 2018 collection is the American Elite Telecaster Limited Edition. Th

is is a supercharged Telecaster with all the refinements one could need that make it an extremely versatile axe and a modern-day workhorse. As Allen Abbassi, senior product development manager for Fender, points out in the demo video for the guitar, "The Parallel Universe concept is kind of mixing and matching different Fender elements or modifying traditional platforms to give the player something exciting and new, and some modifications that will enhance their playing."
Telecasters have been used since their inception for blues, jazz, country, rock, and even metal. You name it and you can find someone slinging a Tele. Telecaster style guitars are one of the most modded guitars, too, and every pickup permutation has proved to be a viable option. Standard Tele pickup configurations offer two single-coil pickups with a three-way switch for three different sounds. In this limited-edition Telecaster, Fender has added a humbucker in the bridge position and instead of typical Strat pickup in the middle position, they put the bridge Tele pickup there! With the addition of a five-way switch as well as an S-1 switch incorporated into the tone control, the sound options have now been expanded to seven. This creates the most versatile Telecaster ever, sonically speaking, for all styles of music. It's such a cool update to the classic guitar that you may not have much left to modify on this one!
Category

Value

Rating

Features

20%

Usability

25%

Sound

25%

Documentation & Support

10%

Price

20%

OVERALL RATING = 3.6 Stars


3.6 stars or better: Outstanding, WIHO Award




3 stars or better: Worth considering




2 stars or better: Suited to specific needs




1 star or less: Not recommended
Features
The Fender American Elite Telecaster Limited Edition comes in one beautiful, antique cherry color with a high gloss, nitrocellulose lacquer finish with an exquisite grain. This Telecaster body has an arm contour like a Stratocaster but it is more of a soft-beveled contour. Also, the forearm contour extends further towards the neck for additional comfort based on how low you like to wear your guitar. There is also a comfort contour on the top back of the guitar, and the traditional Telecaster thumb notch on the upper body where it meets the neck.
The 22-fret, 25.5" scale, maple neck is pretty sophisticated, featuring a Fender modern "C" to "D" compound shape anda compound radius fretboard, going from 9.5'' to 14." These details make it more comfortable for rhythm work and as you climb the neck for your lead work, things flatten out and get shreddier. The neck has a lightly tinted, satin, nitrocellulose finish and a contoured neck heel for easier upper fret access. Frets are medium jumbo, and the guitar came strung with easy-to-play Fender NPS strings (.009-.042 Gauges).

The Limited Elite Tele comes has an innovative, three-pickup configuration: a Shawbucker bridge humbucker direct mounted to the body, a Pure Vintage '64 single-coil Tele pickup in the middle position, and a Pure Vintage '64 single-coil Tele pickup in the neck position, each height-adjustable and mounted to the pick guard.
The Shawbucker has an Alnico 2 magnet with a DC resistance of 7.2-7.8 kOhm, which Fender considers Low Medium output. The middle and neck pickups have Alnico 5 magnets with a resistance rating of 5.4-6.6 kOhm middle 6.6-8.1 kOhm neck, placing the '64 set in the medium output category.

There is a five-way switch, master volume, and master tone with an S-1 switch. The S-1 switch opens up two additional pick-up configurations (bridge plus neck, and all three pick-ups) for a total of seven options. The S-1 switch on the Limited Edition Elite Tele functions differently than the one you'll find on the "standard" Elite Tele:
Position 1: bridge pickup.
Position 2: bridge and middle pickup.
Position 3: middle pickup.
Position 4: middle and neck pickup.
Position 5: neck pickup.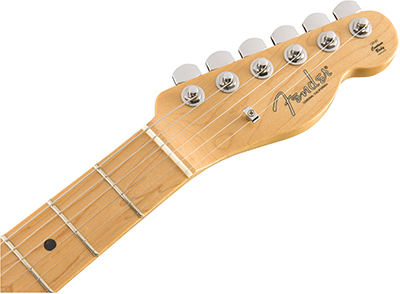 This looks pretty typical so far. The S-1 switch engaged adds the neck pick-up to the positions where it's not typically found. But unlike the Fender American Elite Series, the vintage single-coil pickups here are not noiseless. Further, positions two and four are not hum cancelling, in contrast to what you'll typically find on a Stratocaster with five-way switching.
The tuners are short-post deluxe cast, sealed, and locking, with a brushed metal back and the Fender "F" logo stamped on each tuner. The string tree is a modern design dome shape, and the nut is cut from the bones of people who don't play Fender guitars. Just kidding. But it is a bone nut.
The hardtail Telecaster bridge has chrome-plated, brass saddles.
Usability
It was obvious from the get-go that this was a high-end, high performance instrument. When we think of all the bells and whistles and mods that one would want in a Telecaster, this had many of them and made this a very versatile guitar. The guitar was light, weighing in at just over seven pounds, and perfectly set-up and intonated. The back of the neck was smooth and silky, ripe for some fast playing whether it be blazing country licks or some sizzling Ritchie Kotzen-style rock.
This was not a vintage beefy Tele neck. This was a modern, thinner, and fast neck that in combination with the compound radius fretboard, accommodated many playing styles and hand sizes. We were very pleased that the back of the neck and the fretboard had a thin, matte satin, finish rather than the thicker, high-gloss finish we've experienced on some other recent Fender guitars. And as expected on an American-made guitar with the word "Elite" in the name, the frets were perfectly dressed with no sharp edges, but there was a lacquer residue on them that needed to be polished off a bit.
Another upgrade found on the American Elite Limited Edition Telecaster was the presence and shape of the forearm contour. Most Telecasters don't have an arm contour, and this was not merely an adoption of the Stratocaster contour. The contour on this Tele, which has a soft bevel and gives it a sharp contemporary look, also extends further towards the headstock. Why is this desirable? Well for players who hold the guitar down lower or tilt the neck more upwards, the arm becomes straighter and rests less on the heel and more in the area straight up from the bridge. On a Strat, this often results in the arm not resting on the contour at all, making the arm contour not very useful. We were pleased to experience this modern upgrade on the Telecaster. And the addition of the contoured neck heel (in addition to the standard thumb groove) offered easier access to the upper frets.
The locking tuners made string changes a breeze, and the short posts help with the string angle when not using multiple wraps around the post (as with traditional tuners). The guitar still required a string tree for proper angle for the high E and B strings, though, since the headstock was not tilted back at an angle.
Sound
This guitar takes a Fender Telecaster design to a new level of versatility, and the American Elite Limited Edition Telecaster sounded as good as we anticipated. There's not much that a Tele doesn't sound good with, and we almost felt like we were cheating when we played it with all of the comfort features, the fast neck, and low action. We tested this guitar all along the spectrum from clean and twangy to high gain and it did not fail us at any point. If you're a fan of the Tele shape but want a modern and versatile take on it, then there isn't much more you could want here. Allen Abbassi, senior product development manager for Fender, nicely reviews all the features and demonstrates the different tones very well:
True to Fender's demo video, there were no surprises when we ran through the different pickup positions in clean, dirty and high gain modes.
Interested to see how an HSS configuration with these pick-ups sounded, we were very impressed. Each pickup on its own was harmonically rich and very touch sensitive. Rolling down the tone control in any position gave a very vocal quality to the notes. The volume control was not as useful, though, and could probably benefit from the treble-bleed circuit as there was a significant drop in volume after just rolling off a bit, along with a loss in tonal quality. For those that keep their volume knob at 10, this isn't an issue. But for those of you who frequently use the volume knob, you may want to consider adding a treble bleed, which is a very simple mod that only requires basic soldering skills. Treble bleed circuits are standard on the Fender American Professional series guitars, but not on the Elite series.
With the S1 switch not engaged, there are typical, versatile, humbucker tones in the bridge position. Positions two and four give tones similar to jangly funk tones achievable on a Strat: glassy, touch sensitive, and great for rhythm. But in this case, positions two and four are not hum cancelling, thus not noiseless as they would be on a Strat. Position three is the middle pickup, which is a Tele bridge pickup that has been moved to the middle. The nice thing about it being here is that it still delivers classic Telecaster bridge tones, but slightly more rounded sounding. Position five is standard neck Tele pickup tone, with the expected warmer neck tones that are great for jazz and blues especially.
With S1 switch engaged, position one becomes the humbucker bridge plus the neck pick-up. This sounded similar to the middle position on standard Tele with a three way switch, but with the added growl of the humbucker. Position two with the S1 switch engaged activates all three pickups and can best be described as a tone similar to the tone Jimmy Page has on "Black Dog"—woody and warm and unique nonetheless.
We first paired the Telecaster with a 5W tweed-style amp. On this style amp, we felt the single coil pickups really shined more so than the humbucker. Adding just a little grit to the tone, though, brings the humbucker to life.
To test the high-gain capabilities of the humbucker, we ran through various modelled amps in ToneBridge and Positive Grid's Bias Amp 2. Then we fell into la la land and lost all track of time. Shredders and prog guitarists will have no problem finding great tones with this guitar while still having the classic Tele capabilities. It really sounded spectacular on a Peavy 6505 modelled amp and any variation of Marshall modelled amps.
Documentation and Product Support
The Fender website is a comprehensive resource for most things that are needed including videos for set-up, intonation, truss rod adjustment, etc. There is also a very general printed manual included in the case in English and Spanish that covers warranty information. However, only the Spanish part of the manual includes any setup information. Fender's website is your best starting place once you receive the guitar for warranty, registration, maintenance, and more.
The guitar comes with a certificate of authenticity and two Allen wrenches for truss rod and bridge saddle height adjustments and strap locks. There is also a small guide on precautions and care with lacquer finishes, which is a nice feature.
Price
The 2018 Limited Edition American Elite Telecaster sells for $1,999. Fender no longer uses MSRP, so expect this to be the street price for the guitar. That said, this is a very good price for a boutique-ish, production guitar with all the upgrades that professional players have requested. We think this one has the potential to remain in the Fender line-up and with that, we hope there will be more color options in the future—and noise canceling in those in-between positions!
Contact Information
Fender
www.fender.com
Evaluation Short List:
Fender American Elite Telecaster
Kiesel S6X
Tom Anderson Top T