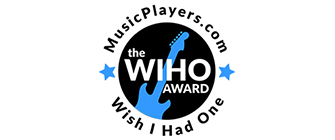 By now, pretty much everyone has a plug-in (or even a hardware device) that pitch corrects and/or adds harmony to your own voice. But what if you want someone else's voice? EastWest gives you just that—a plug-in that lets you "play" singer C.C. White's fantastic singing voice, which has been multi-sampled and include phrases in every key. Not sure who she is? You've probably heard her, as she has sung and recorded with Ben Harper, Charlie Mussellwhite, Jason Mraz, Lenny Kravitz, Jackson Browne, Crosby, Stills & Nash, Stewart Copeland, and Barry White… to name a few. EastWest describes her voice as "a thrilling blend of Funk, Soul, Reggae, Southern Blues, Gospel, R&B, Jazz, with a bit of Latin flair."
Category

Value

Rating

Features

20%

Usability

25%

Sound

25%

Documentation & Support

10%

Price

20%

OVERALL RATING = 3.6 Stars, which earns it a
WIHO Award!


3.6 stars or better: Outstanding, WIHO Award




3 stars or better: Worth considering




2 stars or better: Suited to specific needs




1 star or less: Not recommended 
By also providing a number of useful real-time controls, as well as effects, Voices of Soul (VoS) is a surprisingly powerful and realistic sounding plug-in. Producers and composers are going to want this in their studios whenever a live singer isn't available, or in addition to live vocals, making use of some of the phrases for additional vocal embellishment. This is fun stuff that sounds fantastic.
Features
EastWest VoS is 13GB sample library (24-bit/44.1kHz) that runs as a plugin (VST, AAX, AU) or standalone, each through EastWest's own Play sample player application/plug-in. While VoS can be purchased as a single virtual instrument, it is also part of EastWest's ComposerCloud, which is a subscription service to all of their plug-ins, similar to how other companies are now making their collections of products more easily accessible.
VoS contains C.C.'s vocals arranged in several different categories. To best summarize, we will take it from EastWest themselves; these categories include:
SUSTAIN: contains a variety of single-syllable vocal instrument types including Ah, Doo, Ee, Eh, Ha, Hm, Ho, Ho Expressive, Hoo, La, Mm, Oh, Oh Expressive, Oo, So Expressive, Wo, Wo Expressive. Most contain multiple velocity-sensitive dynamic layers, and a few contain additional "expressive" versions.
LEGATO: contains instruments that play back true legato intervals when playing notes in a connected fashion (legato) for every interval up to an octave in either direction, and sustain layers that play back when playing disconnected (separated) notes.
COMBO MOD: contains instruments that combine multiple articulations and use the Mod Wheel (MOD) or Velocity Sensitivity (VS) to determine which playback.
COMBO RR: contains instruments that combine multiple articulations by using Round Robin programming to cycle through articulations.
MOD XFADE CHORDS: contains polyphonic, single-syllable vocal instruments that use the Mod Wheel (CC1) to crossfade between dynamic layers.
PHRASES: contains over 600 phrases and adlibs sung in a soulful style, spread out across 12 instruments, one for each of the 12 root note positions.
KEYSWITCH: contains instruments that combine multiple articulations into a single instrument, and uses keyswitches to activate the desired articulation.
PHRASES KS FX PRESETS: contains the phrases keyswitch instruments saved with a variety of FX Rack presets. The FX Rack includes an SSL Channel Strip and Bus Compressor, OhmForce Ohmicide, and EastWest EP-1 Delay, ADT, Amp Simulator, and Convolution Reverb.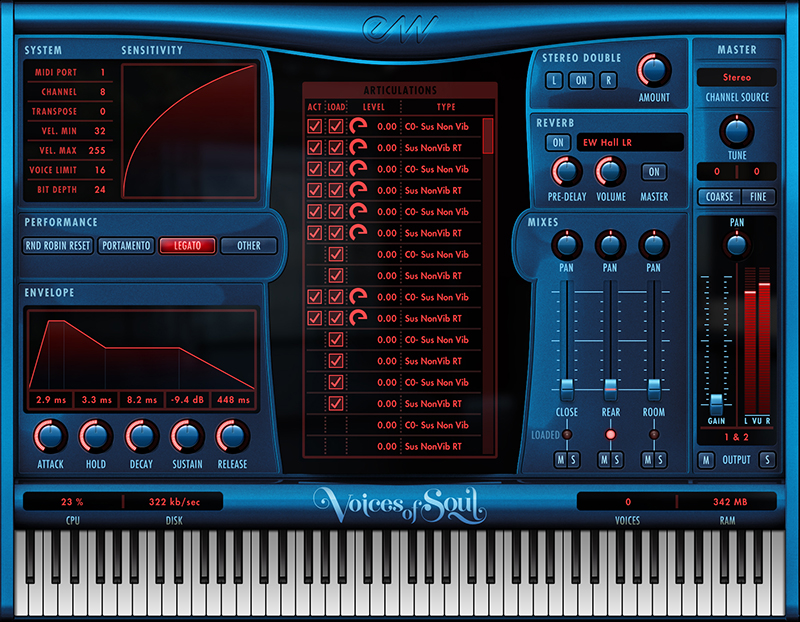 Play, a sample player conceptually similar to Native Instruments' Kontakt, is something we found very easy to use and navigate around. The meat of what you'll use to get around are the browser, mixer, and player screens, each accessible via a labeled tab towards the top of the window. The browser tab gets you the above-mentioned choices (and their associated sample sets). The Mixer tab gets you, not surprisingly, to the mixer screen, with the expected faders, mute, and solo controls.
The Player tab gets you the preset's patch ingredients (among other things), enabling you to turn on or off articulation layers. A keyboard at the bottom graphically shows which keyswitches are on or off as well, by having the keys turn blue when activated. Besides sonic tailoring, this feature is useful because it allows you to turn off samples you might not be using in a given preset, allowing for a smaller memory and CPU footprint. This screen also enables you to tailor the blend of microphones, as the vocals were recorded in three different positions: close, rear, and room. Coarse/fine tuning, stereo doubling, reverb effects, and envelope controls are also available from this screen.
Usability
As mentioned earlier, we found Play pretty easy to get around. Starting from the browser screen, the presets are divided into eight categories with varying numbers in each group. Not surprisingly, these are labeled by vowel types ("oohs" and "ahs"), sustain and legato, but VoS goes way beyond these expected types. There are subtle differences between each pitch, and even subtle differences in the performance, creating a very natural sounding single line, and even better for harmonies. The presets that involve the mod wheel were particularly cool, and easy to use (though it took a little practice to get the most convincing results).
The Combo MOD presets provide mod‑wheel switching between different vowel sounds (i.e., ooh to ah). The MOD Xfade Chords presets are likely intended with chordal/harmony use in mind. These presets used the mod wheel to crossfade between soft and loud articulations.
So basically, if you can move a modulation wheel, you can do this! Presets that use key switching are similar to other programs that utilize key switching: a graphical keyboard shows keys in blue that represent the possible key switches, while white keys are playable notes. Beige notes are out of range and will have no effect or sound.
The mixer was very straightforward, though our one small gripe is that the "FX" button is rather easy to miss when you're looking to get into the full page of effects.
Finally, the Player section gives you a nice overview of most parameters at once. The presets are so good that tweaking them was rarely necessary, but we were able to make most of our adjustments as needed without any fuss. A nice touch is seeing the CPU and disk use percentages, letting you know what kind of drain you are currently putting on your computer's system resources.
Sound
This is what caught our attention in the first place. We were a NAMM this past January at a nearby booth when we heard someone demoing VoS. We went over and checked it out, knew that we needed to explore this in our studios, and now that we have been able to use it personally… wow!
While the basic oohs and ahhs sound good, VoS goes well beyond that with mod wheel articulation control, and our favorite part of the sound engine, soulful vocal phrases. Many of these are so inspiring that you'll want to write entire songs around them, and it occurred to us that using something like AutoTune or Meoldyne, you could even change the pitch and tempo of any of the phrases beyond what is already built into VoS.
But even without modification, we found VoS to be one the best sounding vocal sample libraries that we have ever used. Not only is CC White's voice fantastic, but the multisampling and control implementation makes this something every composer or producer should have in their studio. Watch the demo video and check out these soulful voices!
Documentation and Product Support
A manual is downloadable, but even better, EastWest has a great walkthrough video that is informative and pretty encompassing. It had us writing songs around VoS in a matter of minutes. Most users should be up and running pretty quickly with this plug-in.
Price
Voices of Soul (MSRP $299) sells for approximately $200, or another option is to subscribe to the EastWest ComposerCloud for 19.99/month, which gives you access to the entire EastWest plug-in collection (including Voices of Soul). We're looking forward to exploring more of EastWest's software products. This one is definitely going to stay in our collection.
Contact Information
EastWest
www.soundsonline.com/voices-of-soul