SANTA MONICA, CA, USA: Having turned heads and opened ears with a show-stopping showcase at The 2019 NAMM Show in Southern California, January 24-27, trailblazing pro audio manufacturer Antelope Audio is proud to announce availability of Edge Go. As the world's first bus-powered modeling microphone, it is a studio-in-a-mic magical experience like no other with circuit-level microphone and expertly-crafted effects emulations aboard Antelope Audio's real-time FPGA FX platform.
Watch Antelope Audio's cutting-edge Edge Go modeling microphone promo video here:
Antelope Audio's all-new Edge Go is a studio-grade, large-diaphragm condenser USB microphone that provides producers, travelling musicians, podcasters, music vloggers, and tech reviewers with unprecedented access to Antelope Audio's industry-leading microphone-modeling technology. The question is: what would recordings sound like with access to a locker-full of classic vintage microphones? And, as if by magic, Antelope Audio answers with Edge Go, unlocking precise software emulations of many of the world's most iconic mics and studio effects processors. Plug the USB-equipped Edge Go directly into a Mac or PC, launch the included Edge Go software application, and simply start the recording ball rolling!
Reality shows that Edge Go is a studio-in-a-mic magical experience like no other. By being built to Antelope Audio's exacting specifications, with the same dual-diaphragm capsules featured in the company's cutting-edge Edge Duo condenser microphone, Edge Go gives its users a USB-C output for conveniently recording directly to their computer — no need for an external preamp, mixer, or audio interface. Indeed, Edge Go functions as an audio interface in its own right, offering pristine A/D conversion with up to 192 kHz/24-bit resolution — far higher than a typical USB mic musters. Meanwhile, in the wider world of pro audio, Antelope Audio is known for building high-end, analog-to-digital converters and super- accurate digital clocks found in world-class recording studios and broadcast facilities; furthermore, Edge Go gainfully draws upon this excellent engineering pedigree to provide Antelope Audio sound quality in a go-anywhere, bus-powered modeling microphone.
Edge Go comes complete with the Edge Go control panel software, so users can instantly audition and compare 11 expertly-crafted emulations modeled on time-tested studio microphones making their musical mark on thousands of hit recordings. From fat-sounding tube mics (like the Tokyo 800T, Berlin 49T, Berlin 67, and Vienna 12) through to crisp FET condensers (like the Berlin 87, Berlin M103, Berlin 47 FT, and Vienna 414) and beyond into the realms of smooth ribbons (like the Sacramento 121R and Oxford 4038)... simply select the mic in question, then dial in the pickup pattern needed — omnidirectional, cardioid, bidirectional, figure-8, and everything in-between. Antelope Audio's software models meticulously emulate the distinctive character of each iconic microphone — effectively allowing access to an awesome mic collection. Conversely, users can choose to record through the Edge Go microphone with no mic emulation applied for a transparent, flat 20 Hz - 20 kHz large-diaphragm sound.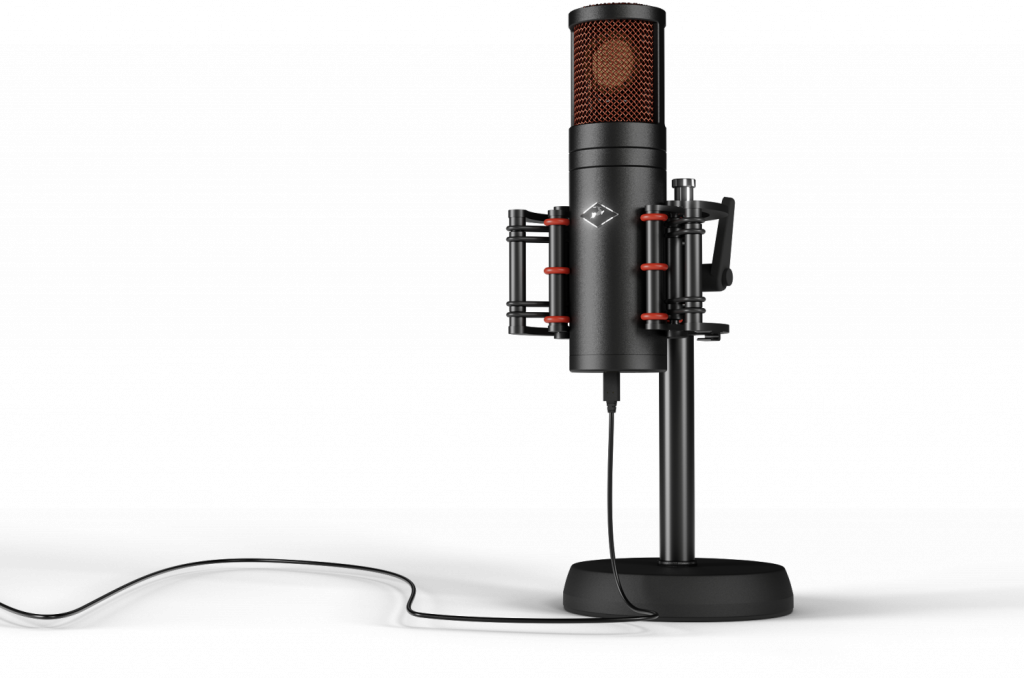 Software magic far from finishes with Antelope Audio's microphone modeling since Edge Go also allows access to a killer collection of 22 effects modeled on classic studio gear. These collectively cover all bases with must-have preamps, dynamics processors (including limiters, compressors, gates, and expanders), and a de-esser — namely, PowerGate, PowerEx, VEQ-1A, VEQ-HLF, BAE-1073, VEQ-55A, Lang-PEQ2, VEQ-4K BLACK, Master De-esser, BA-6A, FET-A76, VCA160, Liverpool, Stay-Levin, ALT-436C, Gyratec IX, VPA 76, BAE-1073MP, RD-47, and BA-31 — alongside Antelope Audio's AuraVerb. The latter features six reverb types to assist with dialling in the right ambiance, ranging from barely-there atmosphere right the way through to epic echoes. Edge Go generously includes Reel to Reel, a reel-to-reel tape effect to give recordings a distinctively vintage vibe, helpfully. Help is at hand, fortunately, for those users who are not sure where to start, since the Edge Go software supplies one-click access to aptly-named presets like Telephone Effect, Massive Reverb Space, Fan Noise Reduction, and many more, meaning users can quickly nail the sound in their head and get going. Getting creative and building the effects chain of their dreams, then saving it as a preset, means that inspiration is only ever a click away.
All the processing power needed to run Antelope Audio's awesome-sounding mic emulations and effects models is built right into the Edge Go microphone's hardware in the form of a dedicated FPGA (Field Programmable Gate Array) chip. So there's no need to bog down a DAW (Digital Audio Workstation) with effects processing plug-ins, sap a computer's limited CPU (Central Processing Unit) power, or buy an external DSP (Digital Signal Processing) accelerator or audio interface. Indeed, Antelope Audio is an industry-leader when it comes to harnessing the power of FPGA chips for real-time processing — and all that power is now available to anyone armed with an Edge Go microphone.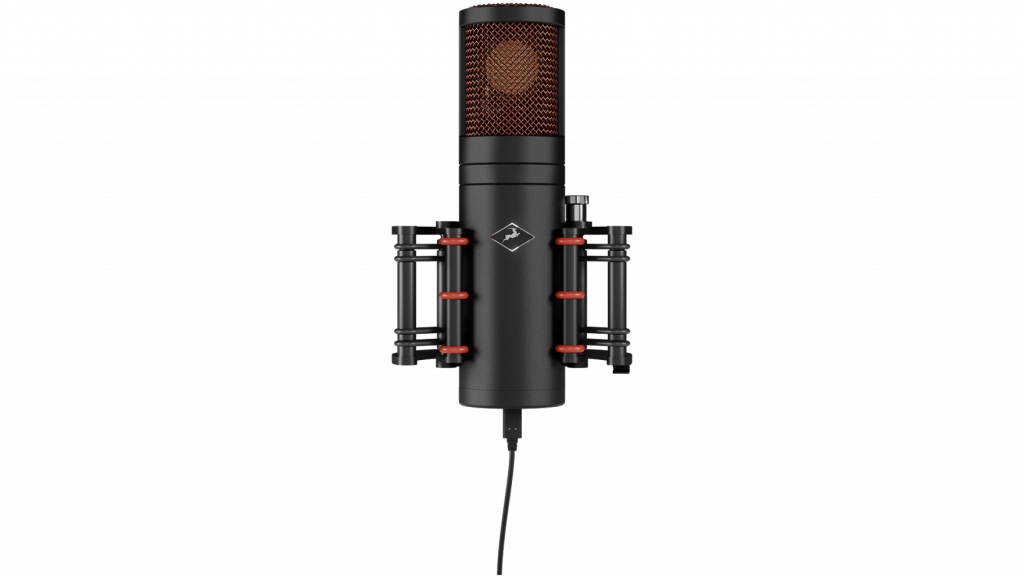 Antelope Audio's all-new Edge Go microphone comes packed in a road-ready hard case with a heavy-duty shock mount, a professional metal mesh pop filter, an adjustable-angle desktop mic stand with a sturdy non-slip base, and a USB-C to USB-A cable. There's even a 1/8-inch headphone jack right there on the Edge Go microphone's body for easy zero-latency monitoring. Add a favourite pair of headphones, a USB input- equipped computer, and audio software of choice, and everything needed to start recording is all at hand.
Edge Go is now available for purchase through Antelope Audio's growing global network of authorized dealers (https://en.antelopeaudio.com/dealers/) or order online directly from Antelope Audio via the dedicated Edge Go webpage (https://en.antelopeaudio.com/products/edge-go/), which also includes more in-depth information.
About Antelope Audio (www.antelopeaudio.com)
Antelope Audio is a leading manufacturer of high-end professional audio equipment. Founded in 2004 and reinventing the industry with its flawless master clock technologies and versatile multi-channel interface solutions, the company has been steadily expanding its portfolio over the years under the guidance of visionary engineer and CEO Igor Levin. Antelope Audio's products offer the best of both analog and digital technologies. Among its most recent innovations are compact interfaces with discrete mic pres, FPGA-based FX plug-ins for all DAWs, and next-generation modeling microphones.These are distributed through Antelope Audio offices in Europe, the Americas, and Asia, and highly acclaimed by users all over the world.The company's customers include GRAMMY® award-winning sound engineers, top-tier producers, world-class artists, and some of the most renowned, recording, mastering, and post-production facilities around the globe.