LATEST SINGLE, "THIS IS HOW IT'S DONE," OUT NOW
Los Angeles, CA (March 8, 2019) – Kiefer Sutherland is set to release his sophomore full-length album, Reckless & Me, worldwide on Friday, April 26 via BMG. The 10-track Reckless & Me delivers Sutherland's Americana and country rock-infused songwriting style and highlights his gift of soulful storytelling. Pre-order is available now, here.
The new album holds beautifully arranged ballads and authentic country rockers such as the album's lead single, "Open Road," and latest offering, "This Is How It's Done" – all delivered with Sutherland's distinctive, whiskey-soaked and gravel-laced voice.
Watch a video incorporating tour footage for "This Is How It's Done" below:
Sutherland's three-decade, award-winning acting career has made him a familiar face around the globe, but his other passion is music. "I asked myself," says Sutherland, "'what is the thing that I love about acting, and music?' 'What is the common denominator?' For me it's storytelling and music is a very different way of doing it."
Produced by Jude Cole, Reckless & Me marks the follow up to Sutherland's critically acclaimed debut album, Down In A Hole (2016), which had Jill Lawless of Associated Press identifying Sutherland's "…unexpected, unvarnished authenticity as a singer/songwriter." Consequence of Sound's Collin Brennan simply raved Down In A Hole is a "…boozy, bad-ass country album."
Now returning with Reckless & Me, Sutherland wants to keep touring and sharing these songs with his fans. Though he loves writing and recording, the stage holds a special place in his heart, and for the last three years, he's toured extensively earning a reputation as a relentless road warrior.
"I couldn't have imagined the depth with which I have fallen in love with touring," says Sutherland. "To have the opportunity to convey intimate, personal stories to an audience has proven to be priceless."
U.S. tour dates are expected to be announced soon.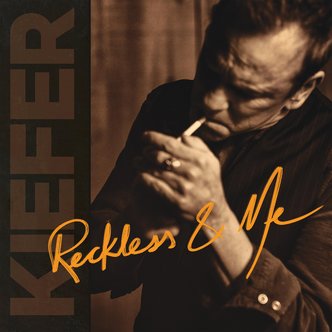 Track listing for Reckless & Me:
"Open Road "
"Something You Love"
"Faded Pair of Blue Jeans"
"Reckless & Me"
"Blame It on Your Heart"
"This Is How It's Done"
"Agave"
"Run to Him"
"Saskatchewan"
"Song for a Daughter"
For more information on Kiefer Sutherland, visit: